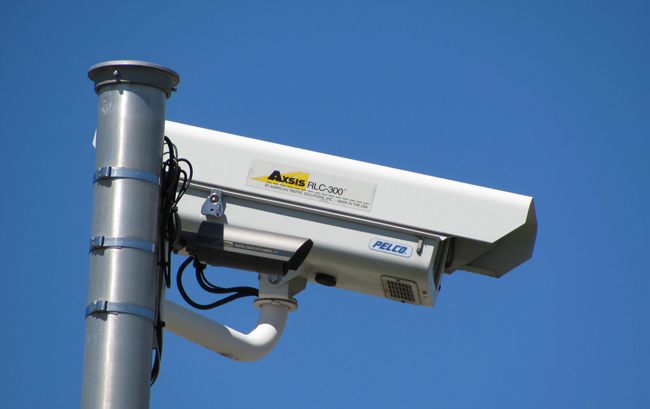 Since 2007, the Palm Coast City Council, like 25 other cities in the state, had been breaking the law by automatically snapping pictures of drivers running red lights and collecting $125 fines from them. (The cameras ostensibly focus on license plates.) State law explicitly states that the Legislature alone may pass traffic laws. Palm Coast and other cities evaded the prohibition by classifying red-light running under code violations: the same department that keeps an eye on the height of your grass was administering your traffic fines.
In February, Circuit Court Judge Jerald Bagley in Miami declared the scheme illegal, opening the way for lawsuits that would place cities like Palm Coast in a vulnerable position.
State legislators for years had been attempting to codify the use of red-light cameras. They failed year after year as lawmakers were uncomfortable with the Big Brother aspect of cameras at intersections. A compromise law passed last spring and will be in effect beginning July 1. All red-light cameras will have to abide by one, uniform state standard. Schemes such as those running in Palm Coast would be invalidated. Code enforcement departments would be taken out of the equation. The devices could stay as long as they were in compliance with state rules on how they are calibrated and administered.
Most significantly, cities can no longer use the cameras as cash-cow revenue, as they had. The fines are set at $158, but $83 of that must go to the state. Localities can keep $75, but must pay whoever runs their camera system out of that pot—and they must pay that company a flat fee, not, as Palm Coast and all other cities had been doing until now, a per-ticket kickback. That diminishes the incentive for companies to run such systems. But it also decreases the likelihood that cameras are calibrated in such a way as to maximize the possibility of infractions. (It is obviously illegal for a police officer to get a $40 kickback, or commission, every time he writes a traffic ticket. But that's exactly how the system was set up with companies like American Traffic Solutions, which runs Palm Coast's cameras.)
Also, the city will no longer have a hearing officer for appeals from red-light running. Drivers may pay their fine within 30 days or appeal through the normal county and circuit court system. If drivers don't pay within 30 days, and don't appeal, the fine becomes a state violation. No points are added to the driver's license, but the fines would have to be paid at license renewal time—or no license.
And cities will have to clearly indicate where cameras are in use. That's not always evident in Palm Coast.
Palm Coast claims the cameras—10 of them at six intersections, including Palm Coast Parkway at Belle Terre and at Old Kings Road—are there for safety, not to make money. That's debatable: numerous studies show that traffic cameras don't necessarily reduce accidents. They change their nature (from t-boning to rear-end collisions). Around the state, cities banked on the new revenue from traffic cameras to make up for lost revenue due to the recession. Palm Coast has generated $1.65 million since the cameras have been installed, according to the city's finance director. About $500,000 was paid to American Traffic Solutions. That company, which lobbied cities hard to win contracts, grew 500 percent since 2003. Goldman Sachs became a big investor in 2008.  Traffic cameras, in other words, as investors know, are about generating money.
Palm Coast is re-writing its contract with American Traffic Solutions. That contract will be presented to the council for approval on July 6. It's possible for the city to increase the number of traffic cameras at various intersections to make up for lost revenue. But it won't necessarily follow that more cameras mean more money. Now that the company running the cameras must be paid a flat fee, adding more cameras will cost that company more without generating additional revenue, and more cameras at less-trafficked intersections may be a losing proposition for both the city and the company. The state's rule is designed for just that sort of balancing—to deny cities and companies the incentive to add more cameras just to make money.
At a Palm Coast City Council meeting on Monday, the change was interpreted as an infringement on the city's governance. "It's not the city proposing this. This is something the legislature says you have to do," City Manager Jim Landon said. "This," Mayor Jon Netts said, "is one more example of the erosion of the concept of home rule, where the state pre-empts one more thing."
Not quite. This is the state telling cities they must follow the law, not find ways to evade it like red-light runners and hope no one notices.