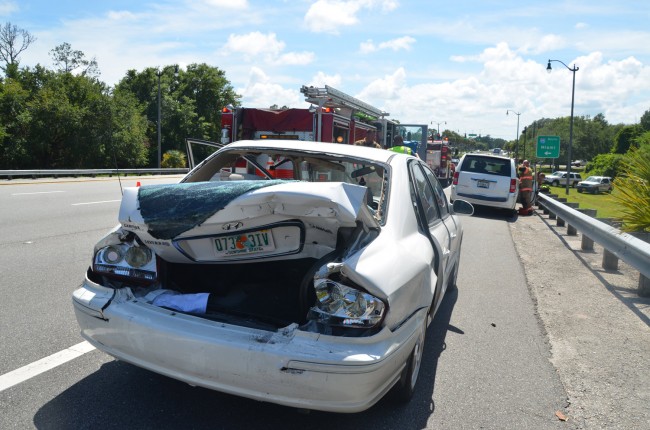 A mid-afternoon wreck involving three vehicles sent two people to Florida Hospital Flagler, one with serious and one with minor injuries, tying up traffic on Palm Coast Parkway westbound at the I-95 interchange.
Palm Coast Fire Department crews worked for 20 to 25 minutes to extract a woman in her 20s who was at the wheel of the white four-door Hyundai Sonata that ended up sandwiched between a dump truck and a minivan.
The wreck took place at about 3:15 p.m. The exact sequence of events is still under investigation by the Flagler County Sheriff's Office. But evidence at the scene showed the Hyundai was struck from behind by a Ford F-450 truck belonging to Corey Enterprises, the landscaping company. The truck had three occupants. Its front was slightly damaged, as was an orange water jug tied to its front grille. The occupants were not injured.
The Hyundai was damaged front and back. Its driver's side had to be cut to extract the driver. The minivan that the Hyundai struck was only slightly damaged, and its occupants were not injured.
Palm Coast Parkway west was reduced to one lane for firefighter safety, Fire Chief Mike Beadle said at the scene. The vehicles involved in the wreck were all on the shoulder of the road. Traffic backed up from the west side of the bridge, where the wreck took place, to the Old Kings Road intersection. The Palm Coast Fire Police provided traffic control.