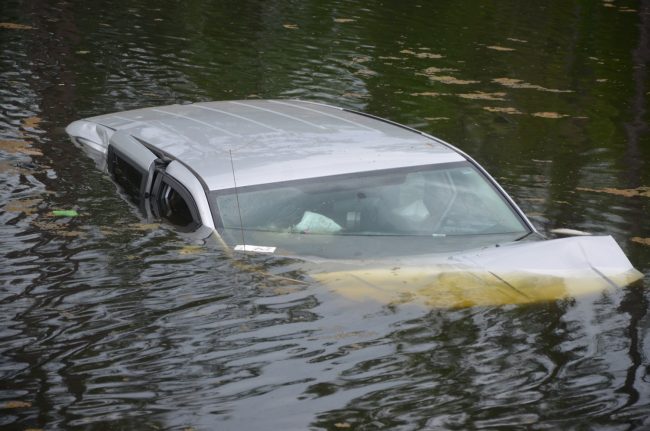 Last Updated: 8:30 a.m. Friday, with victims' names.
A van and an SUV collided on Palm Coast Parkway shortly after 5 p.m. today, sending one van into a deep pond and overturning the SUV. Four people, including two children, were hospitalized, none with life-threatening injuries.
The crash took place on Palm Coast Parkway's westbound lanes, near Tire Kingdom. A Dodge Caravan with Jacqueline Brimhall, 34, and her two children, 7 and 11, on board, was heading west. Linda Svihlik, 70, of Palm Coast, was driving a Chevy Equinox toward the Parkway from a north access road (the road has no name), just off Tire Kingdom. The two vehicles crashed, with the Caravan ending up in the pond and the Equinox on its side, facing north, and blocking one of the three lanes of the Parkway.
Svihlik had to be extricated from the Equinox by rescuers. But she was conscious and coherent when she emerged. She was later listed in serious condition.
A Florida Highway Patrol report found Svihlik to have violated Brimhall's right of way. The Equinox had stopped at the stop sign on the access road's intersection with Palm Coast Parkway but then attempted to cross traffic, at that point violating the Caravan's right of way. (An earlier version of this story inaccurately characterized the maneuver as "blowing through a Stop sign"). She was charged with the right-of-way violation, which carries a civil traffic infraction fine.
Traffic was reduced to one lane as rescuers and first responders worked the scene, which was under investigation by the Florida Highway Patrol.
The FHP investigator at the scene said that an off-duty corrections deputy from Volusia County was nearby when the crash took place. He dove into the water and rescued the family in the Caravan, the investigator said, based on other accounts. The three victims were by the side of the pond when rescuers arrived. But there were conflicting reports of who actually got involved in the rescue.
The children were not seriously hurt. They and their mother went to Florida Hospital Flagler. The victim in the Equinox was transported by ground to Florida Hospital Flagler. None of the injuries entailed trauma.
Responders hurried to clear the scene on the approach of a storm and possible hail, with Saxon's Towing of Bunnell pulling the Caravan out of the water shortly after 6. The whole scene was almost cleared by 6:15.
Responders included Palm Coast's Engine 21 (which was first on scene) and Engine 22, Battalion 20 and 21, Flagler County Fire Rescues 41 and 21, and the Palm Coast Fire Police, along with the Flagler County Sheriff's Office.