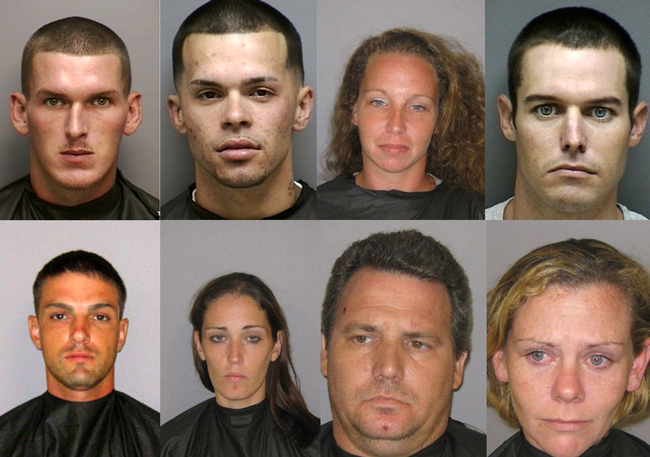 In what they dubbed "Operation Script Club," The Flagler County Sheriff's Office and the Florida Department of Law Enforcement Tri-County Narcotics Task Force concluded a four-month investigation into the unlawful trafficking of prescription drugs early Thursday morning, rounding up 15 local suspects in connection with the illegal sales.
All the suspects arrested are from Palm Coast. Most have a criminal history. Three suspects (one of them from Bunnell, one from Jacksonville, one from Palm Coast) are still at large.
The main focus of the investigation was on the drug "Roxicodone,"  also known as Oxycodone or Oxycontin, which has become the drug of choice for prescription drug traffickers.
The main source of supply for the drug comes from pain clinics throughout the South Florida area as well as Orlando and Jacksonville.  Traffickers can enter a pain clinic and pay cash for an office visit. Most receive a prescription for pain and a prescription for anxiety which includes a prescription for Roxicodone, which contains the drug Oxycodone, the same as Oxycontin. In recent years the focus has been on the brand Oxycontin because of the high milligram content of Oxycodone per dosage.  Recently Roxicodone has replaced Oxycontin as the brand of choice because of its availability and high milligram content.
The prescriptions that are obtained range anywhere from 180 to 210 thirty milligram Roxicodone pills, and 90 Xanax (Alprazolam) pills. The price for a 30 mg Roxicodone pill on the street ranges anywhere from $12 to $20. The price changes based on the time of the month and availability on the street.
This investigation developed a drug trafficking organization that is not typical of most organizations. Most drug organizations form a chain which begins with a source of supply then branches out to other members that distribute the drugs.  The trafficking organization identified in this investigation resembles a web rather than a chain with multiple sources of supply.  The main source of supply changes daily and reflects who was able to get their prescription filled that particular day.  Once a member of the organization was able to fill a prescription the other members were notified and made purchases from that member to redistribute.
Eleven members of the drug trafficking organization were identified during this investigation, as well as seven others engaged in the illegal distribution of prescription drugs.
The Flagler County Sheriff's Office Narcotics Enforcement Team, along with the FDLE task force, worked closely with the North Florida High Intensity Drug Trafficking Area (HIDTA) and their Tri-County initiative, a drug task force in St. Augustine.  The Tri-County task force is made up of federal, state, and local agencies from this area and assists Flagler, St. Johns and Putnam Counties and their municipalities with larger drug investigations. The Unites States Marshals Service Florida Regional Fugitive Task Force assisted the Sheriff's Office in locating and apprehending the traffickers involved in this investigation.
"This was an intense investigation which enabled us to identify those who are important players in the local drug trafficking scheme that centers on prescription drugs. This is not a problem that is unique to Flagler County, but it is a problem that needed to be addressed. We have done so,"  Flagler County Sheriff Don Fleming said.
Abuse of prescription drugs now claims more lives in Florida (and Flagler County) than auto accidents. Prescription drugs  make up more than two-thirds of the drug purchases made by the Sheriff's Narcotics Enforcement Team.
For years, Florida was the largest state in the nation without a prescription-drug monitoring system. The Florida Legislature finally drafted such a law in 2009. The law passed. It's designed to stop so-called "doctor shopping" and "pill mills."The system was to go in effect in December 2010. But it's being held up.
The Florida Tribune reports that "a bid dispute by rival companies seeking to run the database has put the project on hold for now. And one of the companies in the dispute contends that the winning bidder is unlikely to get the database up and running by the deadline of December 1. Susan Smith, a spokeswoman for the Florida Department of Health, said last week that the department could not discuss the bid protest but she acknowledged the program is on hold until the dispute is resolved. She said that the plan was to activate the database 'as soon as possible after the conclusion of the bid protest.' The protest is currently scheduled to go before an administrative law judge later this month."
The Legislature refused to fund the database system with state dollars. Rather, the state is raising private donations to run it. As of last week, $500,000 had been raised.
By lagging behind so many other states, Florida has become a favorite destination for illicit prescription drug buyers, both addicts and dealers, who routinely "shop" for opioid painkillers such as oxycodone, methadone, and hydrocodone, at as many as 150 storefront pain clinics operating in South Florida, according to Novus, a prescription-drug detox center. Officials say 89 of those clinics are in Broward County, many more just south in Miami-Dade County, and the rest sprinkled around other southern counties.
In Flagler County, three suspects in the "Script Club" operation were still at large: Diante Holmes, Sandra Golden and Brandon Henderson. Anyone with knowledge of their whereabouts is asked to contact the Flagler County Sheriff's Office at (386) 313-4911 or Crimestoppers at 1-888-277-8477.
Those arrested include:
Erin Bracken, 26, of 45 Boxwood Drive in Palm Coast, held on $60,000 bond on charges of trafficking and selling Oxycodone. She's been arrested before, for habitually driving on a suspended license (a felony) and for being a fugitive.
Sherri Le, 25, of 9 Pinelynn Lane, held on $50,000 bond on a charge of trafficking Oxycodone.
Diante Holmes, 19, of 162 Plainview Drive in Palm Coast, charged with trafficking Oxycodone and two charges of selling cocaine.
Jose Fonseca Jr., 43, of 171 Plainview Drive in Palm Coast, held on $55,000 bond on a charge of trafficking Oxycodone and possession of a controlled substance.Fonseca has a long criminal history, including theft, burglary, drug dealing, battery, fraud and contempt of court.
Dennis Kraemer, 44, of 4 Bolling Lane in Palm Coast, held on $50,000 bond on a charge of trafficking Oxycodone. Kraemer has a history of arrests for theft, marijuana possession and conspiracy to distribute, several larcenies, fraud, forgery, trespassing and altering odometers, among others.
Theria Shenton, 27, of 48 Raintree Place in Palm Coast, held on $55,000 bond on a charge of trafficking Oxycodone and possession of a controlled substance. Shenton has no prior criminal history.
Michael Cundall, 28, of 6 Rymm Place in Palm Coast, held on $50,000 bond on one charge of trafficking Oxycodone.
Denise Rauchbach, 31, held on $5,000 bond on a charge of being principal in the first degree in the sale of Oxycodone. Her history includes distributing heroin and cocaine and possessing a controlled substance on school property.
Joey Bourke Jr., 23, of 131 Breeze Hill Lane in Palm Coast, held on $25,000 bond on a charge of selling a controlled substance. He previous charges include cocaine possession, disorderly conduct, battery, aggravated assault with a deadly weapon, and a history in the juvenile justice system.
Justin McCalligan, 26, of 45 Boxwood Lane, held on $60,000 bond on charges of dealing in stolen property and possession of a controlled substance. His criminal history includes larcenies, grand theft auto, burglary and forgery.
Andrew Forkner, 25, of 48A Raintree Place in Palm Coast, charged with selling Oxycodone. His history includes a charge of aggravated assault with a deadly weapon.
The operation in Flagler County mirrors a similar operation that took place at the same time, dubbed "Operation Pill Poppers," in the Tampa Bay area. The following video details that operation: