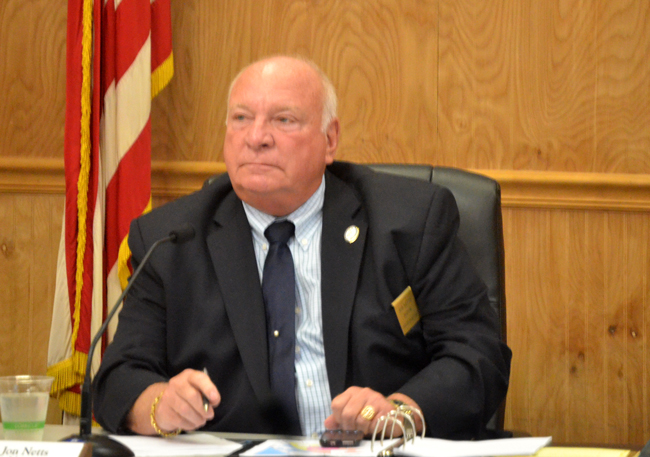 Jon Netts will run for re-election as mayor of Palm Coast. He made it official today, after months of uncertainty, making the coming mayoral race the second-most contested in the city's brief history. (Nine people ran in the inaugural mayor's race in 1999). The three other candidates are Joe Cunnane, Charlie Ericksen Jr., and Ray Mimami. Others still have time to join.
The field couldn't represent a sharper generational divide. Netts and Ericksen were born just after the attack on Pearl Harbor. Cunnane was born during FDR's first term. Mimami, whose candidacy is more whimsical than convincing, was in elementary school when Netts, who's been on the Palm Coast City Council for 10 years, first won the District 2 seat, in 2011. He defeated Jerry Full with 56 percent of the vote. Netts won re-election unopposed in 2005, and won the 2007 mayoral race with 63 percent of the vote, defeating Victor Good (27 percent) and Cunnane (10 percent).
Netts is among the more astute politicians and nimblest minds in local government, making him a formidable opponent in any setting. The deference he commands on the council is second only to that of City Manager Jim Landon. The respect he commands among elected officials is second to none: no local elected board has a mind as versatile and as broadly fluent on local and regional issues, though this year he's appeared off-stride on several issues on which he's had to recalibrate: a new city hall, stormwater fees, Palm Coast's direct involvement with the county in economic development, and one issue he's still trying to calibrate in the face of one more dire budget year: taxes. Opponents are sensing vulnerabilities, and Netts himself was at times hesitant to join the race.
Now that he has, his abilities to turn the tables as deftly as he can a phrase were on display when he addressed the matter of being the longest-serving member of the council running again in a time of flux, when "change" is every election's manifesto: "To say that I don't represent change is ridiculous," Netts said on Thursday. "Of course I represent change. Life is change. I'm different than I was 10 years ago. So are you. We are growing, we are maturing. There's going to be change. The issue is not whether you're for change or against change. The issue is, can you manage change."
Has he? He answered the question in the context of another—about one of his opponents, Ericksen, who's projecting himself as the fiscal conservative against an incumbent whose establishment Republican credentials are not in doubt. But in the battle for the influential tea party vote, Ericksen is positioning himself as the more conservative choice.
"What does fiscal conservatism mean?" Netts asks. "I'm willing to stand on my record. Palm Coast, second-lowest tax rate for a city our size. Now, that says something. The truth of the pudding is in the eating. I've had four years and people can evaluate what we've done in four years. Are we, if not better off, are we at least as good or have we been backsliding? It's easy to say you're a fiscal conservative. Talk is cheap."
There has been backsliding even by the most objective measures. The city is also the hub of the county with the highest unemployment rate in the state. It has some of the highest foreclosure and vacancy rates in the state (and the country). Commercial spreads, from St. Joe's Plaza to Palm Harbor to European Village to Roma Court to Town Center to City Market Place (the city's own home) are either ghost-like, anemic or in foreclosure. Poverty is rising. Population growth has stalled, younger families are no longer moving in (judging from the school district's declining enrollment). And the city's one big deal with an economic developer—Palm Coast Data, which promised three years ago to increase its ranks by 700—never panned out. The Washington Post twice in the last year (the second time just this month), chose Palm Coast as a prism of the national economy's worst consequences. Netts was quoted in both.
Most of those problems are far larger than Palm Coast, even if the city's binge of overdevelopment accentuated them. Still, Netts says, the city has taken steps to deal with the problem. He points to the federally funded neighborhood stabilization program, which enables cities and counties to subsidize the recovery of homes stressed by the housing crash and put homeowners back in them, with conditions. He points to the city's just-opened Business Assistance Center (13 counseling sessions last week), and again, despite the recession, to the city's enduringly low property tax rate. He points to the calculation that about 40 percent of the unemployed in Flagler held jobs in surrounding counties, but file for unemployment locally, jacking up the local rate.
And he points to what he's doing as mayor to ensure that Palm Coast and the county have a place at the table in regional economic development and transportation matters. He conducted this interview, in fact, while driving to a meeting of the Regional Community Institute of Northeast Florida in Jacksonville. "It's more important than ever that Palm Coast and Flagler County have a voice, have a place at the table, with these organizations," Netts said. "I think I have the expertise, I think I've got the experience, I think I've got the recognition from within this region to do an effective job."
The election will also be fought over immediate matters: jobs, quality of life, experience, and the perennial booby-trap of so many contemporary elections, with trip-wires connected less to reality than to ideology: taxes. The tea party's candidate questionnaire, for example, asks whether the candidate is willing to freeze the city's property tax rate at $3.5 per $1,000 in taxable value.
"It's a realistic question," Netts says. "What you're looking for a is a realistic answer. You can only mix so much sawdust in with the horse's oats. There clearly are essential services that must not be cut. I don't know if you heard Ray Britt's comments at the end of the meeting." Britt is the city's finance director. "He said, do the wild fires burn less intensely because there is a recession? No, they don't. Do the criminals take a day off because the economy is worse than it was once? In fact many people would argue that there is more criminal behavior. Law enforcement has to be funded." (Actually, crime has been falling, in Flagler County and across the nation, despite the severe recession.)
Netts continued: "Are there things that can be cut? Of course. But those become decisions for city council as they respond to their residents."
He's asked whether the tax rate can remain the same for a third successive year, a notion Netts himself said was extremely unlikely, last year, when he imagined one more year of falling valuations. "It's hard to tell because we don't have a full analysis yet, we haven't gotten down to the department level," Netts said. Unlike the county or the school board, the city keeps its detailed budget analyses cloaked until two usually cursive budget workshops later in the summer, preventing the public from having its own analytical look. County commissioners go over their budgets line by line. City council members have been satisfied to watch a power point, and Netts hasn't pressed for more transparency. Britt, the finance director, has been providing a series of explanatory powerpoints about the budget over the last few council meetings, but the focus is on process, terms and organization, not on who's making how much, what's costing most, where the deficits, loans and long-term liabilities are.
"I would argue that through this current fiscal year there has not been any substantial reduction in service. I do not think you can reduce government expenditure anymore without cuts in service," Netts said. "My goal is to maintain level spending. We have cut spending in the last two years. I think at this point if we can maintain level spending, we'll be able to survive. The question is, it's easy to say you should cut more. But nobody wants to affect themselves personally. If I've paved your road already you're perfectly happy to cut road repavement, just don't cut my road out of the repavement. It's a question of realistically looking at what has to be done to maintain the infrastructure, and where there are the amenities that you can reasonably cut. Keeping in mind that when you talk about property taxes, 17 cents of every dollar goes to the city of Palm Coast–17 cents out of a dollar. So if you're looking for significant cuts out of your taxes, 80 percent or more has got to come from somewhere else. We only control 17 percent of your tax bill."
Netts's goal in coming years is to maintain the city's infrastructure, "providing for growth in the entrepreneurial, small business sector, trying to facilitate that component to diversify our tax rate."
Netts defended his close association with Landon, the city manager (whose pay is also a sticking point on those candidate questionnaires), a relationship that at times makes Landon appear to be leading the council rather than the other way around. "The city manager does almost nothing without the direction of city council," Netts said. "Every council member meets with the city manager individually. I think the city manager has a very good finger on the pulse of city council. He does what we direct him to do. He didn't create Prosperity 2021 out of a blank piece of paper. We gave him direction, we gave him guidance, this is what we want to do. I think the city manager has a very good relationship with the council, he understands our wishes, he understands the direction we want to go, and he uses his best efforts to move us in that direction."
Netts said his biggest strength as mayor is "the ability to understand the law of unintended consequences. The ability to plan not only for tomorrow, but for 10 years from tomorrow. Having been through recessions before in local government–there are really no new issues in government. You change the names, you change the numbers a little bit, but the issues remain pretty much the same. I think bringing experience to the table, bringing respect from other people to the table, I think I'm a known quantity within this part of Florida."
"What are my vulnerabilities?" Netts paused. "The inability to curry political favor. The inability to take the easy way out. My father used to tell me when I was a little kind, I've told this to 100 people, he used to grab me by the shoulder and say, Jon, the man who stands for nothing falls for everything."