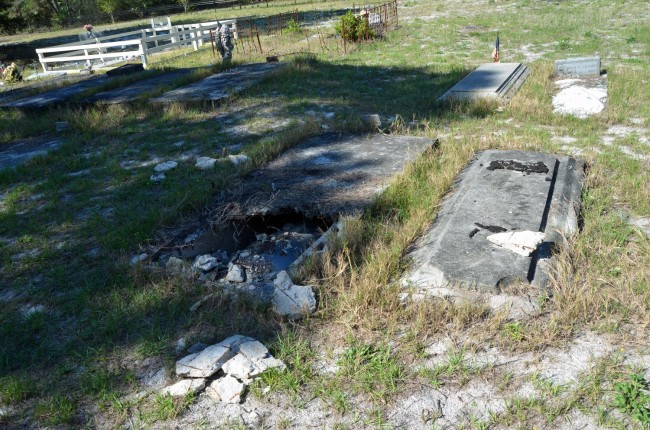 It's a terrible sight at the Masonic Cemetery in Palm Coast: a desecrated grave, exposing the pale metal-blue casket below. A third of the concrete slab covering the tomb appears to have been ripped off, the concrete's reinforcement wiring pried up, chunks of broken slab thrown to the foot of the grave and to its side. It's not clear how long it's been like that. A local resident alerted the Flagler County Sheriff's Office on Sunday. The grave remains uncovered.
Aaron McKinnon, the cemetery's groundskeeper for the Masonic Lodge in Espanola, which is responsible for maintaining the cemetery, says it's the result of kids who must have stepped on the grave or pulled on some of the wiring, causing the slab to shatter. "Somebody pulled the wire up on it and made it look like somebody was trying to break in on it," McKinnon said.
But the explanation doesn't match the scene: it took effort to demolish a third of what is, after all, not an overly old tomb: David McCall Chase was buried there in 1988, or 24 years ago. Many older tombs around the cemetery are in better shape.
And many are not. The Chase tomb is only the most violent example of desecration, most of it by neglect rather than intent, but much of it by errant vandalism, too: there are several grave-marking crosses thrown about, face down, in various parts of the cemetery, severed from their gravesite.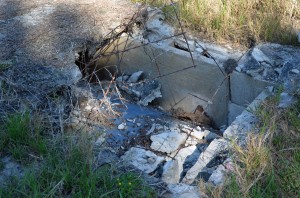 Piles of refuse have been collected in clumps around the rim of the cemetery, inside its relatively new black fence—donated and installed there by Palm Coast when the city joined with the lodge to refurbish the cemetery, take a census of all gravesite, refurbish the grounds and build a parking lot. It was Palm Coast's way of giving the cemetery something back for losing its old entrance and brick gate when Old Kings Road was four-laned. The 64-year-old black cemetery was re-dedicated in June 2010.
Now even that fence has been plundered, torn up in a couple of places, with one section, its concrete base clinging to it like a millstone, leaning against a remaining section of fence, and another section twisted up in one of those refuse piles. One of those sections was removed by the cemetery's caretakers to let in vehicles during funerals, McKinnon said.
At the entrance of the cemetery, in the parking lot, a big garbage pile is strewn with Coors Lite bottles and Bud cans and fast-food receptacles, as if it were the site of picnicking for slobs. Nearer the entrance, a big, dirty mattress sits against a box spring.
The neglect is pronounced. Deep inside the cemetery, next to the new, still flowered grave site of Darius Giddens, the young son of Bunnell who died from an injury to the head several days after a fight in Daytona Beach, a tree has fallen, splintered at the base, its fall strong enough to have uprooted an adjoining grave-marker. But it sits there, the dead tree and the cracked marker, ignored. It's not the only fallen tree in the cemetery.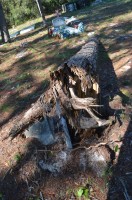 Several tombs' slabs are riddled with crevices and broken corners. It wouldn't take much to finish them off. Glass shards from flower vases broken by wind or time are common, artificial flower bouquets that have traveled in random directions from their original spot, worn and shredded, dot the grounds. Between a cluster of graves, a clump of excrement from a large animal—not uncommon in cemeteries, which remain the crowing paths of wildlife, but not usually left to decay in place, either.
McKinnon says he's preparing to fix the broken grave this week and reinforce several others. He says at least eight graves need their concrete re-poured, but that he's redone about 10 in the last eight months. A concrete mixing tub sits near the middle of the cemetery, half-filled with grayish water. But he concedes that there's a problem at the cemetery. "I'm not saying we don't have people who come in and turn headstones," he says. But, he adds, "we don't have any funds to really maintain the cemetery or anything like that."
Vandals aside, it's not as if anyone can be blamed, exactly: the Masonic Lodge in Espanola is poor. So are many of the families that bury loved ones at the Masonic Cemetery, where it costs about $350 for a burial (compared to $5,000 in more upscale cemeteries). There's no money for so much as dragging a dumpster there and cleaning up, though it does so once in a while (and did so with Palm Coast's help two years ago).
"The real problem with historic cemeteries is they're intermittently used," Dana St. Claire, the archeologist who worked with Palm Coast to restore the site and inventory its more than 500 graves, said. "Unless it's owned by a company, unless it's a family plot that's protected by a family or there's an organization that's dedicated to the upkeep of the cemetery, they very often find themselves unattended, especially after they're no longer used. The Masonic Cemetery is still used, it isn't used as often, and because of its remote location it's difficult for anyone to maintain it, and it's also very diff for anyone to secure it."
The city is not in charge of the cemetery. "We kind of extended ourselves and helped them out as part of the four-laning," said Bill Butler, Palm Coast's landscape architect who oversaw the project two years ago. "Beyond that, it's not our property. It's private property. We've really kind of helped them as much as we can."
Not that the city hadn't projected a more continuous involvement in some form. "We will be moving forward on an archeological site, acquiring grants and donations for upgrades," City Manager Jim Landon told the city council in January 2008, "and meeting with community leaders to initiate an ongoing volunteer cleanup projects. Grants and donations will be utilized to restore and beautify the site."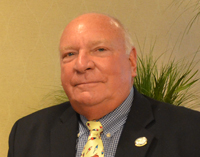 Palm Coast Mayor Jon Netts took particular interest in the project. "This cemetery represents a valuable piece of Flagler County history," he said later that year. "City staff will work with members of the Masonic Lodge to develop a 'management plan' that will insure the preservation of this unique piece of Flagler History."
With St. Claire's lead, the management plan was developed. But grants or donations for continuing clean-up and beautification didn't materialize. "Developing a preservation plan conceptually and implementing that are two diff things," St. Claire said. "It's costly and it's typically not something you find in the budget of city governments or county governments, to maintain a historic cemetery, especially when it's private."
Two years ago Butler had mentioned the possibility of the Flagler County Rotary getting involved in providing a kiosk for the cemetery. That hasn't happened. The lodge organizes cleanups with volunteers once in a while. But they're rare, and there hasn't been one in a long time, McKinnon said: unlike the beaches or Bunnell's streets or trails or community problem solving projects that puff up community chests, mobilizing volunteers for a cemetery clean-up seems to have little appeal. Especially a black cemetery.
But that's an old story for the Masonic Cemetery: its neglect these days is merely the latest expression of a long legacy born of discrimination against and contempt for the people who filled its grounds: when they died, Bunnell's black residents were buried in Bunnell until, more than half a century ago, a developer wanted to build in place of their cemetery. Those dead were never re-interred: they were just plowed over. A white landowner made slight amends by granting the five acres of lost land where the Masonic Cemetery sits now, though at the time—in 1948—it was a thickly wooded trek of wilderness near the old Old Kings Road, several miles from Bunnell. If blacks were to bury their dead, or visit them at graveside, they'd have to make the haul.
It's still a haul, in more ways than merely geographic.
And It's part of a larger historic preservation issue, St. Claire says: how communities take care of the fabric that defines their history and heritage, and what portions of either communities choose to preserve.  "It'll be a looming issue for the rest of our lives and for centuries beyond I'm sure." He credits the city's work but acknowledges limitations. "Unfortunately," St. Claire says, "vandals love to vandalize cemeteries, I'm not quite sure why, but they are attracted to cemeteries, and many people don't understand the sacredness and sensitivity of cemeteries, historic or otherwise."