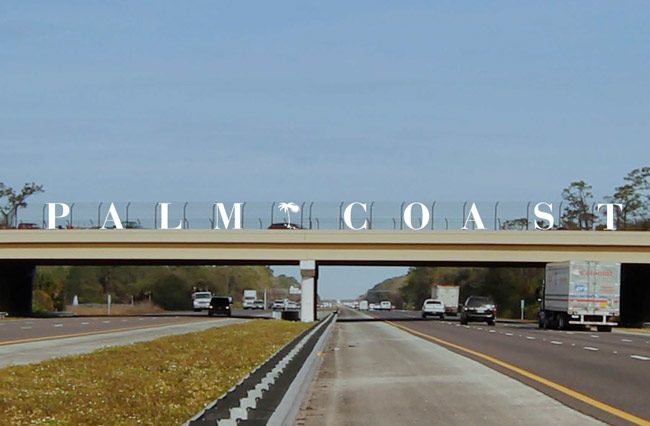 Palm Coast government will spend $200,000 to add letters that spell "Palm Coast" on either side of the I-95 overpass at Palm Coast Parkway. The amount is two to four times as much money as City Manager Jim Landon had estimated when he first presented the proposal to the City Council last year. The cost is still an estimate, so it may yet go up.
Landon presented the idea to the council in March 2016 and again last Tuesday, now that the council has three new members. As has become routine with Landon, he presented the matter with key omissions, and by stating, vaguely, that it was "something that previous council asked us to put together."
In fact, while the previous council had shown interest in the proposal, there was concern about the cost, and the council made very clear that it wanted to know whether the Florida Department of Transportation would approve.
"It sounds to me like the least costly part of the project will be to see if DOT will approve it at all," then-Mayor Jon Netts said at the time. "Let's not go out and buy letters if we're not going to put them up."
"We don't want to do that, unless you all are going to say yes, at least let's take a look at it, that's all we're asking for now," Landon said. The consensus Netts received was "at least to look at it," but not yet to approve it, or, as Landon put it to the council this week, to "put it together" as a done deal, though he went even further than that Tuesday: "We're at that stage where we're going to spend some money, get approval, so once again don't really need city council's approval at this time," Landon said, "but didn't want to go through this whole process, go out to bid etc., unless you all were still on board."
---
"We're estimating somewhere between $50,000 and $100,000," Landon had told the previous council.
---
Having somewhat deceptively framed the issue as something to which a previous council had given its go ahead, Landon then mumbled the cost of the project as an estimate of $200,000, as other council members were speaking, so the figure did not get much attention. Landon never mentioned the estimate he had given the previous council.
"We're estimating somewhere between $50,000 and $100,000," Landon had told the previous council. Carl Cote, the city's chief engineer, said at the time that he couldn't get a more precise figure. Jason DeLorenzo, one of the council members who's since left, liked the idea, but said at the time: "I'm a little concerned about—that's a big gap, $50,000 to $100,000, but I understand the issue."
Department of Transportation approval has still not been secured for what will be 4-foot letters on either side of the overpass. The letters will be lit at night, and braced to the grill-like fence that runs along the overpass. When presenting the idea to the council in March 2016, Landon had given as an example the similar lettering at a Jacksonville overpass and at an Orlando overpass.
Those letters at the Orlando overpass were blown away by Hurricane Irma and are no longer there. There is no timeline for their restoration, though the city told News 13 it intends to put them back.
The state Transportation Department does not pay for such cosmetics. "The City had set aside some money from our Street Improvement Fund for contingency," Cindi Lane, the city's spokesperson, said, referring to contingency during the six-laning of Palm Coast Parkway, "and that money wasn't spent. So we have the funding needed – the $200,000."
Money from the street fund is discretionary and would normally be spent on street improvements, on repaving, on paths, or on sidewalks rather than on beautification "branding."
Just a few weeks ago some council members, echoing a clamor for it among residents there, sought to have a temporary sidewalk installed along Old Kings Road in the F Section a few weeks ago. Landon pushed back hard against the suggestion, saying a foot path under FPL powerlines was in the works and would do the job, even though many residents object to the footpath. One of the objections to building a temporary path along Old Kings Road: the cost. Landon never mentioned the $200,000 contingency dollars that were never spent, but available, from the four-laning project, and killed the idea of an alternative when he announced that the contract for the foot path had already been awarded.
None of that context, none of the history or the previous dollar figures were part of Tuesday's discussion, though two council members—Steven Nobile and Heidi Shipley—were on the council during the March 2016 discussion.
Nobile, normally a fiscal hawk—and the council member most angered by Landon's crafty maneuvering to outflank him during the FPL footpath controversy—was the most enthusiastic supporter of the lettering on the parkway overpass. He said he used to drive to Jacksonville daily, and was impressed by that city's big letters. (They're 5-foot tall.) The Jacksonville sign was added in 2004 as part of the $22 million interchange project at I-95 and St. Augustine Road. It appears only on the south side of the highway.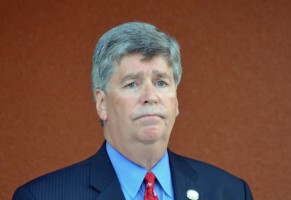 "It just changed how you looked at when you were driving up in there," Nobile said. "It's like, you are entering Jacksonville, you know what I mean? It's like Disneyland's arch. I think it's a great idea and a great use of our dollars."
"We get quite often when people drive up to Jacksonville, how come we can't have one of those, kind of comments," Landon had said last year.
Mayor Milissa Holland did not address the sign directly, but pointed to the water tower sign as Palm Coast's identifier through the years—ironically, the very thing that has "branded" the town for two decades quite effectively. "It's always very strange to me," Holland said of people she's spoken to over the years, "they're like oh, we see this blue water tower, its logo, what is Palm Coast, you know? They don't know what Palm Coast is, but once they come here, it's like they never leave, which is good. There's always that story there."
A lot of people, Landon claims, "don't have a way to know" where they are except for the water tower.
That's not quite true. If there's one thing "branding"-obsessed Palm Coast has never failed to advertise, especially during the Landon years, it's been its insecurity about its name, plastering it on innumerable (and expensive) signs around town, on city limit signs on U.S. 1 and I-95, and through other means. Drivers would have to go out of the way—literally—to be unable to know where they are, driving north or south on I-95, as they pass Palm Coast, given the city's gargantuan sign on its equally gargantuan water tower, Palm Coast City Limit signs at either end of town, highway signs announcing that the next three exits are Palm Coast exits, the exits themselves, one of them featuring the name of Palm Coast Parkway, and the further, marbled Palm Coast signs that jut from the landscape as drivers get off the highway.
Cote said the lettering project is still at the conceptual stage. "The next step is to submit it to DOT to get their approval on the concept," he said, following which will be the engineering and design phases to put bid documents together and get final approval from DOT.