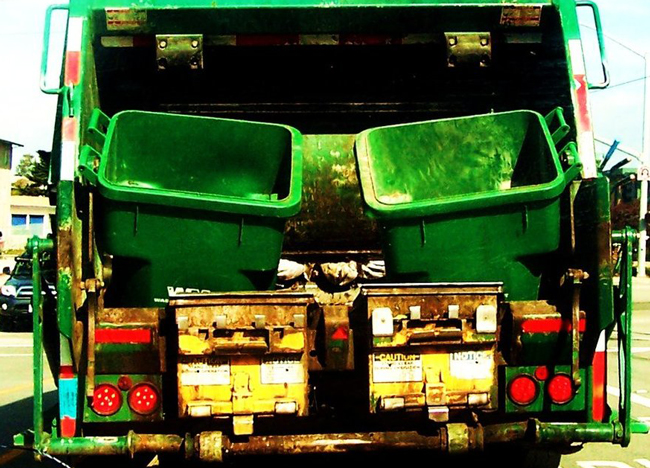 There are 32,000 households in Palm Coast. Each pays $239 a year in garbage-collection fees, or the equivalent of two-thirds the median residential property tax bill. For the city, it's very big business: $7.7 million a year, up from $1.5 million in 2004. And for whichever contractor gets the plum, it's very good business.
The city pays its contractor $7 million and keeps the rest because it levies a 10 percent franchise fee on the charges, sending $500,000 of that to the general fund. It's one of the means the city has used to keep its property taxes low: residents typically scream less when the fees go up than when their taxes go up. For the last five years, that contractor has been Longwood, Fla.-based Waste Pro. When Waste Pro got the contract in 2006, garbage fees jumped considerably, as did the city's franchise fee revenue. That contract is up this year.
The city has the option to re-negotiate and renew for another five years. It can also go out to bid. Going to bid doesn't preclude the existing hauler from bidding or even winning the bid. It doesn't preclude the city from sticking with it even if it doesn't provide the lowest bid, if the city is interested in sticking with a known quantity. But only a bid that several companies will bid and put forth a dollar figure on their offer. For a contract with a potential value of $35 million or more, bidding it out would appear to be the normal route.
Not in Palm Coast. At least not yet, if at all.
Bidding Blahs
"Going out to big sometimes sounds like oh, well, we'll get the best price," City Manager Jim Landon told the city council last month, when explaining there would be no bid process just yet, "but it's not always the case if the company that's currently doing the hauling feel that there's a potential for being able to keep the customer. They might even give a better rate versus what you get during the bidding process."
Instead, Landon sent a "request for information" letter to garbage haulers, inviting them to submit presentations based on a set of precise criteria provided by the city. Just three companies responded: Waste Pro, Republic and Waste Management. Companies don't thrill at requests for information because they don't like tipping their hand: the material can be used by their competitor, in this case Waste Pro, to lift its profile when it already has the inside track for re-negotiations.
The city invited the responders each to make a 30-minute presentation to a six-member administrative committee, which included Landon, Public Works Director Richard Adams and Planning Manager Ray Tyner, plus 15 minutes for questions. The presentations, held on July 6, were literally timed. The haulers were also told in no uncertain terms not to contact council members. The presentations, each of which were based on written presentations, were not conveyed to the city council members. Nor were they posted on the city's website, though they are public information. (They are included in this article.)
City Council's Choices
"What we have established in this process is to develop a recommendation for city council," Landon said. Based on those 30-minute presentations, Landon will submit his recommendation to the council on Tuesday, along with three options: stick with Waste Pro and the existing contract, renegotiate with Waste Pro, presumably to get more favorable rates, or go out to bid. Landon said he'd submit "an informational report for city council and a recommendation as to which one of those three options we want to proceed with. It will then be city council's decision as to renew as is, renew with the new renegotiated contract, or
instruct us to go out to bid and start a formal procurement process."
Neither the report nor the recommendation—nor the haulers' presentations—were included as part of the back-up material in Tuesday's agenda, as back-up material is included for other, more routine (and less consequential) matters.
A Hauler's Perspective
Landon isn't wrong about lobbying by any means. One hauler—Republic Services—has openly challenged the process, saying 30-minute presentations, which were not followed up by questions or requests for additional information in subsequent days, isn't enough to provide a complete picture of a contract of that size, particularly when council members are virtually barred from informing themselves directly.
"We would like to save the city money if we were given the opportunity to bid on the work," Lee-Catherine Bateh, a marketing manager with Republic, said. Absent a bid the city will never know if it got the best deal or not, she said. "If was in Waste Pro's shoes and this is my city and they're considering putting something up to bid and they didn't do an early renewal with me a year ago or so, I would probably drop their rate a little bit, whatever they want, maybe give more recycling options or do something for them, but if they put out a competitive bid, I'm going to fight very hard to keep it. I'm going to lower my rate even lower."
What Republic wants most, of course, is what each hauler wants: win the contract. Republic has been going after the prize, and suggesting it could lower rates by going to a single-day pick-up, with larger, 96-gallon trash bins that would be automatically hauled by a single truck driver who would not get out the truck, along with so-called single-stream recycling (which Waste Management is also offering): in other words, no need to split your recycling bins into two batches anymore. Single-day pick-up won't cut costs in half by any means: trash dumping fees at landfills will remain the same whether trash is picked up four times a week or once a week, and truck costs won't change. But fewer personnel may well mean lower costs.
Regardless: without dollar figures to go along with their proposal, haulers—and staff and council members—will be speculating on presumed savings.
Landon Lobbying
Landon may have had Republic in mind when he told the council that the lobbying is out there—and when he derisively referred to some of the very services Republic was pitching. "You'll hear haulers say oh we can cut your costs," Landon said, "We'll do one a week service, we'll do the automatic carts, which nobody can fit into a garage if you have two cars in there so now you have these big ugly carts in everybody's front yard, but you know, they'll tell you they'll cut their costs, but there's consequences."
Mayor Jon Netts had no issue with the way the administration was handling the process. "Unless you're assuming that the city is going to misrepresent the proposals from the waste haulers, what's the problem?" he said. "I'm sure that every bit of information will be put out."
"I have no problem with going out for bids, but what happens if your lowest bid is not as good as what you've currently got?" Netts said. He said he had not seen any of the haulers' presentations, nor discussed matters with haulers, but had had general discussions about the contract with Landon—and paralleled some of Landon's comments about the single-day pickup. Netts said the city several years ago had a pilot project in the B Section of town, using the larger, 96-gallon cans and the automatic trash haulers. At first residents appeared to like it, he said, but then complaints started, and the experiment was not deemed a success. "If all you ever knew was that 96-gallon container, yeah, what the heck, you learn to live with it," Netts said. "But the change now, people would find it more inconvenient, more time consuming, less esthetically pleasing."
The city may well want to renew its contract with Waste Pro simply to avoid the difficulties of a transition, which could entail some work for the administration and an adjustment period for residents. The city may also be in negotiations with Waste Pro to lower rates to some extent, but also as part of a plan to increase the franchise fee, which would increase the revenue the city is generating from the contract for its general fund. The city is looking to close a deficit by raising its property tax rate as little as possible. Trash fees have been a cash cow. The cow could be milked a little harder.
"That would not be my approach," Netts said. "Then you're getting into smoke and mirrors. Here's the franchise fee, here's the service we want. Tell me what it's going to cost. Give me the best price."
The Three Haulers In Play
Waste Pro began negotiating with Palm Coast at the end of 2010. "Why go to the expense and time consuming process of bidding this service, not knowing who you're going to get, and a disruptive transition process when [your] existing contract anticipated a five year renewal, your city officials are very happy with Waste Pro and Waste Pro has made substantial investment and commitment in local infrastructure?" Robert Hyres, the company's executive vice president, wrote Palm Coast's administration on June 7 in response to the city's request for information.
The company's arguments: it is more locally based than its competitors, owning a state-permitted garbage transfer station in Elkton, 20 miles north of Palm Coast. That facility is now used only for yard waste but is permitted for expansion. It can also sort special waste (such as electronic and fluorescent waste) at its Bunnell truck terminal. The city uses 30 trucks in Palm Coast, including garbage, recycling and supervisory trucks. It did not provide a breakdown of the three categories.
Longwood-based Waste Pro is a young company: it's been around about 10 years. In 2010, it had $209 million in revenue, and pre-tax profits of $34 million ($21.3 million after taxes), according to its audit.
Its 2010 revenue was up from $189 million in 2009. The company provides garbage pick-up for 113 cities or counties, including Tallahassee (47,000 residential households, $5.1 million annual bill), Daytona Beach (16,400 residential households and 1,200 commercial containers, $7.5 million annual bill) and Deltona (33,800 residential households, $3.8 million annual bill). The company also has a $123 million line of credit from Bank of America.
Houston-based Waste Management is 40 years old. It's a publicly traded $12.5 billion company with net profits of $953 million in 2010. The company has a Florida subsidiary in Ormond Beach. The national company operates 273 landfills, 16 waste-to-energy plants, 73 landfill gas-to-energy facilities, 90 recycling plants, some 345 transfer stations (three of which are within a 90-mile radius of Palm Coast, including two in St. Johns), and more than 450 collection units, serving 25 million residential and 2 million commercial customers.
Waste Management provides garbage pick-up for Ormond Beach, Holly Hill, Ponce Inlet and 200 municipalities in Florida. The company is playing up its environmental expertise (and its ethics: it made Ethisphere's list of the world's most ethical companies in 2008, 2010 and again this year; the list is quite selective.) The company is offering single-stream recycling (it operates 34 such single-stream recycling plants in the nation, its newest one in Tampa).
Phoenix, Ariz.-based Republic is the nation's second-largest hauler—behind Waste Management. It's also publicly traded. Its Florida headquarters is in Jacksonville, where it's building a $16 million recycling facility that should be operational by March. It's been converting hundreds of routes to single-day pick-up with those 96-gallon cans.
When Port Orange sought bids earlier this year, Republic was among the six respondents. Port Orange's rate for residential pick-up was $17.26 a month. Republic's bid was $11.63, but two other bidders came lower: Waste Pro, at $10.90, and Choice, at $9.70. (Waste Management came in at $12.50). Republic included several bidding results in its presentation to make its point that bids alone will ensure the lowest rates—regardless of whether a city wants to stick with a known entity or not.
As it turned out, Port Orange did exactly that. None of the lowest bidders won the contract. The Port Orange City Council three weeks ago, and following several bid protests, voted 3-2 to stick with its existing hauler, Veolia.