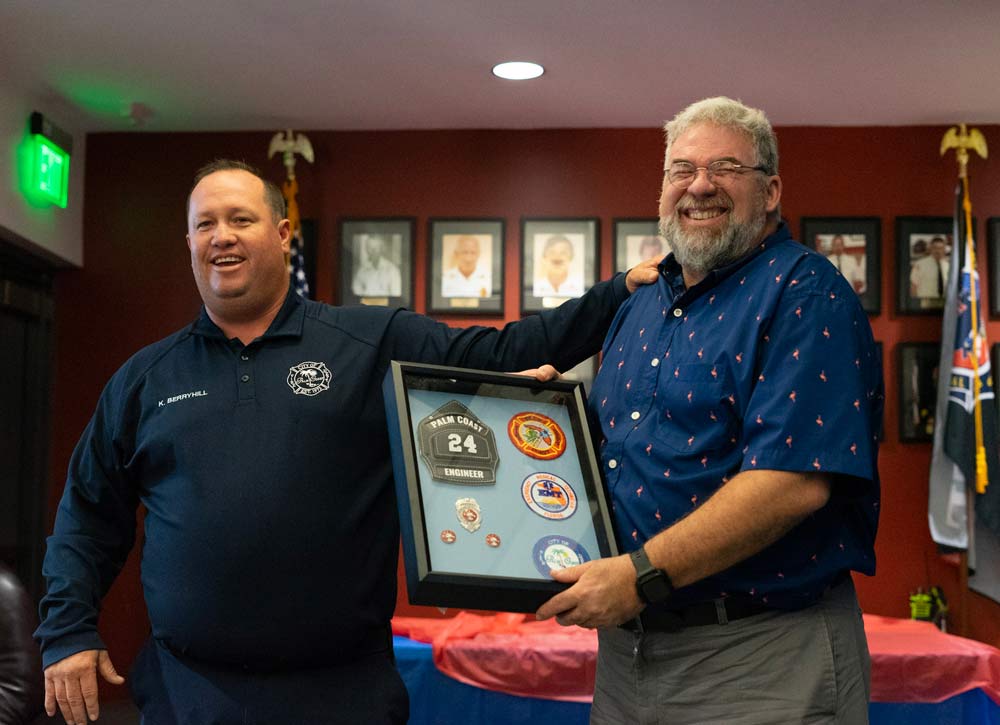 The Palm Coast Fire Department bids a fond farewell to Driver Engineer Leonardo "Leo" Chumaceiro as he embarks on a well-deserved retirement after a proud career spanning 37 years, dedicated to serving the City of Palm Coast.
Born and raised in Caracas, Venezuela, Leo became part of the Palm Coast community in 1983 when his family purchased a summer home. Captivated by the area's beauty and a desire to learn the English language, he chose to make Palm Coast his home and enrolled as a student. In February 1986, he joined the Palm Coast Fire Department, as an opportunity to forge meaningful connections, serve his community, and gain invaluable experience. That decision would shape his life's calling.
Leo began his first shift as a career firefighter on July 3, 1995. Three years later he would be among the first to respond to the 1998 Wildfires that devastated Palm Coast. Throughout the course of his remarkable career, he has answered the call to over 15,000 emergency incidents, from delivering new life into the world to confronting the most arduous and demanding situations.
Among Leo's numerous professional accomplishments, his contributions have been instrumental in shaping various facets of the department, including the development of cutting-edge Information Technology, innovative fire apparatus designs, comprehensive training programs, and the groundbreaking Driver Engineer mentoring initiative, which has empowered countless colleagues to reach new heights in their careers.
Beyond his remarkable achievements as a seasoned firefighter, Leo cherishes his role as a devoted husband to Bette, a loving father to United States Air Force Captain Matthew Chumaceiro, and United States Air Force Retired Senior Airman Kayla Chumaceiro. In 2021, he was blessed with the "grandpa" title, a role he cherishes dearly.
Reflecting on Leo's career, Fire Chief Kyle Berryhill remarked, "Driver Engineer Chumaciero's career includes not only an impeccable record as a responder but also a significant role in the design of modern-day PCFD. He led positive changes time and time again and we are incredibly grateful for his impact as an innovator and mentor."
Driver Engineer Chumaceiro' s graduated from Saint Joseph's Academy in Saint Augustine in 1984 and later obtained his Firefighter and EMT Certifications, as well as an Associate's Degree from Daytona State College. He became an American citizen in July 2000 in which a special ceremony was held at Fire Station 21. Additionally, he held many fire service certifications including pump operator, fire inspector, and fire officer.
The Palm Coast Fire Department expresses its deepest gratitude to Driver Engineer Leonardo Chumaceiro for his selfless service, unwavering commitment, and profound impact on the community. As he completed his final shift on July 20, 2023, and celebrated his remarkable legacy and wished him a fulfilling and well-deserved retirement.