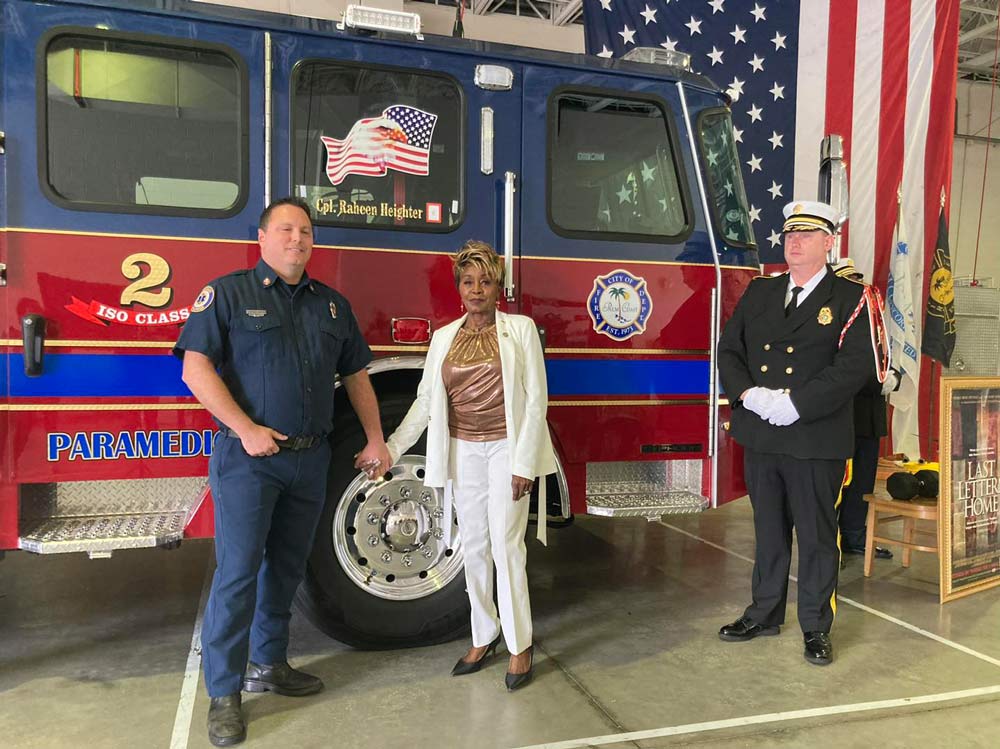 The Palm Coast Fire Department hosted a Gold Star Dedication ceremony in which they dedicated a Fire Engine 24 in memory of Army Corporal Raheen Tyson Heighter this past weekend. The ceremony took place at Fire Station 25 with the family and friends of Corporal Heighter, Gold Star Families, and Fire Department personnel.
The Fire Department took delivery of a 2023 E-One Typhoon earlier this year. The Fire Engine was placed into front-line service at Fire Station 24, affectionately known as The Harbor House, located at 1500 Palm Harbor Parkway.
Corporal Heighter was born in Bayshore, New York, and graduated from Brentwood High School. Heighter is described as having a servant's heart with a desire to serve his country. He attempted to enlist at age 17, but without parental permission. He then enlisted several months before the September 11, 2001 attacks at the age of 20. After basic training, he served a year in South Korea before he was assigned to the Second Battalion, 320th Field Artillery from Fort Campbell, Kentucky.
He deployed to Iraq as part of Operation Iraqi Freedom in 2003. He was killed north of Al Hawd, Iraq on July 24, 2003, at the age of 22 when his military convoy was ambushed. He was laid to rest with full military honors at Long Island National Cemetery. Since relocating to Palm Coast, CPL Heighter's mother, Hon. Cathy Heighter made a conscious decision to take all the pain and suffering and turn it into something powerful. Fulfilling his mission to serve his country, Council Member Cathy Heighter has carried the torch forward for almost two decades by being a leader within the Gold Star Community and establishing Remembering Heroes. Remembering Heroes is a 501(c)(3) charitable organization committed to supporting Veterans, Retired and Active-Duty Armed Forces Members, Gold Star Military Families, First Responders, local Hometown Heroes, and The Invisible Wounds Memorial.
The idea for dedicating a fire truck to the memory of a Fallen Solider was proposed by Firefighter-Paramedic Christopher Strozier, who is a Navy Veteran. Firefighter Strozier stated, "We often forget why we have the rights and freedoms we do. Dedicating the fire engine to the memory of Gold Star Families is a small way to show our appreciation for what they have sacrificed."
The Fire Department plans each Memorial Day to dedicate a fire apparatus to a Gold Star Recipient whose name is inscribed in the Veterans Memorial at Heroes Memorial Park. In 2021, Ladder 25 was dedicated to the memory of Marine Sergeant Zachary J Walters; and in 2022, Engine 21 was dedicated to the memory of Marine Lance Corporal John T. Schmidt III.
"We are so proud that Corporal Heighter will now ride with Palm Coast Fire Engine 24 as they work deliver their best to the community every time, as they protect the life and property of our residents, as they seek to bring us back to stability when confronted with chaos," said Fire Chief Kyle Berryhill.