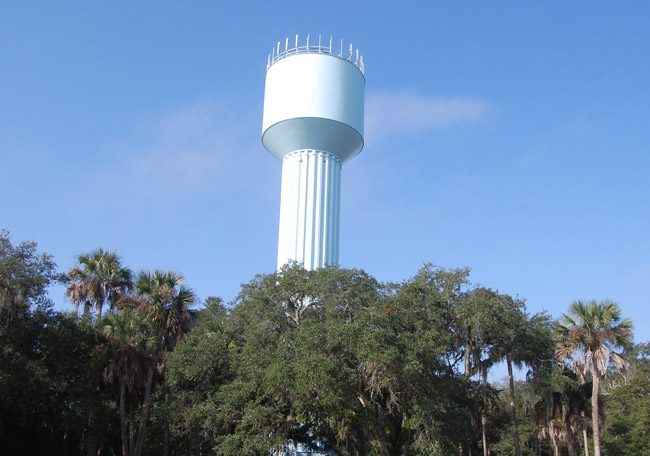 Update: The Palm Coast City Council voted 3-2 the evening of May 2 to award the contract to Diamond. Mayor Milissa Holland and council members Steve Nobile and Bob Cuff voted for, Nick Klufas and Heidi Shipley voted against.

The Palm Coast City Council this evening may approve a five-year contract with a New Jersey based wireless communications consultant that would take over management of the city's four cell towers, build new towers, have the exclusive right to negotiate agreements with carriers—including on the city's towers—and take in much of the revenue drawn from towers.
The city is portraying the contract as an attempt to improve cell coverage in the city, at little cost to the city: if new carriers are added to the inventory, then the city would be making less money than it otherwise would have made, but it might not have been as able as Diamond to attract the new carriers, and cell coverage in the city would improve. At least that's the city's argument.
But the timing and breadth of the contract led to many questions at the last city council workshop a week ago, most of them still unanswered, among them one overriding question: why would the city council approve a relatively long-term contract with a cell-tower management company just days after the Florida Legislature overwhelmingly passed a bill that, once signed into law and in effect this July, will radically change the cell-communications landscape?
Last week City Manager Jim Landon did not see the new legislation as reason to delay approval of the contract with Diamond. But the legislation and the contract may intersect in key ways, significantly reducing the leverage of a consultant like Diamond while shifting the advantage to major carriers, who have just won bargain-price access to all local governments' rights-of-way, city or county, with very little regulation on what they may or may not do there. Florida cities and counties had opposed the legislation, whose senate version was sponsored by Flagler County's own Travis Hutson.
The new law (Senate Bill 596) treats all cell carriers such as Verizon, AT&T and Sprint as utilities. They will now have the right to place utility poles that may be slightly higher than light or phone poles in cities' and counties' rights of way, and absent certain exceptions—such as interference with existing equipment of sight line issues—local governments have no say about either the poles' aesthetics or their frequency.
Whether the new law is good or bad is irrelevant in the sense that it will be implemented (the governor's signature is expected). The more immediate effect of the law is the implication of carriers putting it to use: it is intended to open the way to 5G, or fifth-generation, wireless transmissions, significantly upgrading the load of data that can carry over networks. A hold up until now has been the limited number of big towers. Palm Coast is a prime example. What the new law does is to allow carriers to use what would basically be called repeaters. (The technical and pointlessly complicated term is Distributed Antenna System, or DAS.) Many Palm Coast residents are familiar with those already. They are those cell boosters, devices no bigger than the average hardback, that residents have been forced to request (and often pay for) from their carrier to boost the cell service in their home.
DAS devices do the very same thing, but at greater magnitude and range, though all told, the range is not that big compared to taller towers: for the system to work effectively, a carrier would have to have DAS repeaters installed at 100-meter, or 300-foot, intervals. That's a DAS device for the length of a football field. They may be installed atop existing structures (nothing stops Verizon, for example, from negotiating a deal with FPL to install them on its utility poles, or with existing property owners to use their structures). If the devices are installed in a local government's right of way, all the carrier has to do is pay that government $150 a year. That's it.
While it's unclear to what extent the system would take off in reality (it has had limited applicability in other states), what is more certain is that with the rights-of-way now the sandboxes of cell carriers, the landscape of wireless communications has been remade in the wireless company's favor.
---
Into this new world comes what appears to be an old-world contract Palm Coast has written with Diamond.
---
Into this new world comes what appears to be an old-world contract Palm Coast has written with Diamond, a process that began long before the new law was making its way through the Legislature, and that was inspired more by the legitimate desperation of city residents for better cell service than by awareness cutting-edge developments.
That's partly why last week one council member, Nick Klufas, pressed the council to delay moving forward with the Diamond contract, though he was unclear about an alternative for a council less interested in sitting idle again (even though at the moment idleness and reconsideration may actually be the more forward-looking posture, given the new law). He let the discussion meander too far in the direction of criticism of Diamond—a relatively small and young company in the field—rather than more clearly explaining the context ahead. When Council member Steven Nobile again and again challenged Klufas, asking him why wait when the city has essentially nothing to lose by going with Diamond, Klufas had no ready answer.
"I'm not seeing an issue here with that," Nobile said. "If they can't get people on, we're not paying on it. I know it's very simple, but it's a wash to me, we're not going to do something they can't do." In other words, why not let Diamond do what Palm Coast has apparently been incapable of doing—convince additional carriers to come to town and spread their signal. On the other hand, Diamond in its proposal said little that sounded very convincing in that regard, either.
Here's how the contract would play out.
Diamond would analyze the Palm Coast cell communication landscape. Based on its inventory and analysis of existing towers, the company would then propose new sites that it would build, with the city's approval. Obviously, as a company under contract, not only would it have the city's favor, but would have the right of first refusal to build and own any other tower company on city-owned land.
The company would market the existing towers through press releases to trade publications, have face-to-face meetings with representatives of wireless carriers, and see where that leads. The company would also "serve as a liaison between the city, other governmental agencies" and other interested parties (a red flag that has the county slightly worried, as this may have implications for the emergency communications backbone system the county runs: inexplicably, the city never talked to the county about the Diamond contract or its meaning for the emergency communications system which both governments depend on and share. "If relevant for the city," the proposed contract reads, "Diamond would design wireless telecom installations to meet the needs of first responders, emergency networks and other municipal needs."
The company would also potentially build new towers at its expense. The towers would have reserved space for use by the city or "related authorities." It's not clear whether that also means county communications. But all Diamond Towers or co-location sites run by Diamond would essentially be Diamond's for potentially 50 years: the agreement stipulates that the city would have a lease agreement for all Diamond towers or co-location facilities based on an initial five-year lease, with nine five-year extensions "at the option of Diamond," not the city, which again diminishes the city's role or say-so. Diamond Tower will have the right to build and own towers on city-owned land, with the city granting it all necessary easements and utilities. If, say, AT&T wants to "collocate" an antenna on an existing city structure, AT&T will have to negotiate with Diamond, not the city, for that arrangement.
Once Diamond builds a new tower, the city would get just $25,000 per new tower built—a one-time fee only. As to revenue generated from rental agreements with other carriers, that gets a little more complex. The city still retains 100 percent of the revenue on all existing leases, but those leases are about to expire and must be renegotiated. Diamond will renegotiate them, and from then on will get 25 percent of the revenue on all modified leases. If Diamond gets new carriers on existing city towers, it will get 35 percent of the revenue—and 60 percent of all revenue from carriers on additional towers it may build.
The contract between Palm Coast and Diamond is for five years, but the agreement calls for a much longer arrangement, regardless what Diamond does in those five years, for the revenue sharing formula—a minimum of 25 years, with up to 50 years if Diamond exercises those extension options. In its presentation to the council last week, the administration included only the 25-year mark.
The company would also have a hand in recommending rewrites of city ordinances relating to telecommunications, which means that a contractor for the city will be influencing policy it must abide by.
According to its filing with the city, the 11-year-old privately held company is based in Short Hills, N.J., employs just 40 people, but manages some 200,000 "tenanted" or "colocatable structures," which could be anything from traditional tall towers to, for example, much smaller appendages to billboards, utility poles or buildings. At least 25,000 of those locations are, in fact, billboards in urban areas and along major highways. The company in its response to the city's request for proposal claims to have worked with all major carriers in the country, including AT&T, Verizon, Sprint and T-Mobile, with tenant agreements with each. But it cites only two public-sector clients in its portfolio: the Ohio Turnpike, and First Energy.
Palm Coast government owns four communication towers outright—the A1A water tank in the Hammock, a tower at Ralph Carter Park, one on Utility Drive, and one at the Palm Coast Tennis Center, off of Belle Terre Parkway. Those towers have various carriers renting space, including Sprint, T-Mobile and Verizon, but not AT&T. The city also owns the land beneath two additional towers that are owned by T-Mobile—at the Indian Trails Sports Complex and at Frieda Zamba Pool. Diamond would take over the towers owned by the city and run and maintain them, but at the city's expense.
Despite last week's extensive and largely hazy discussion, Landon, the city manager, insisted on placing the item on tonight's agenda, compelling the council to vote for it or turn it down. The council meets at 6:30 this evening.

The Palm Coast-Diamond Contract (2017)