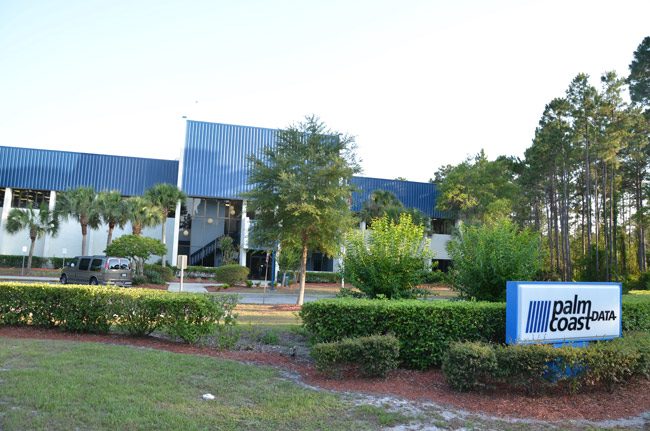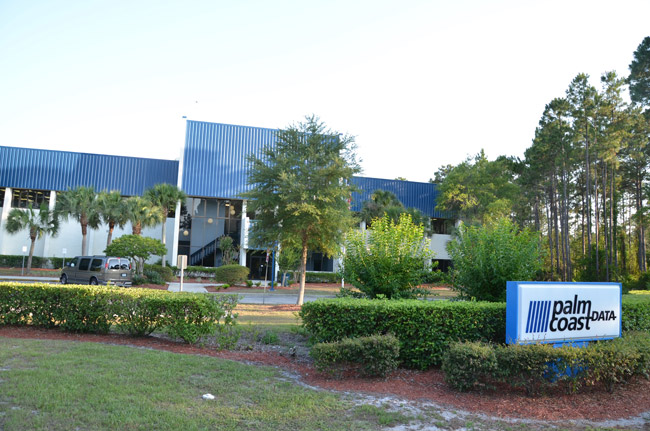 Palm Coast Data, at one time its namesake's and Flagler's biggest private employer, will pay the state of Florida $1.76 million to settle a breach-of-contract lawsuit stemming from the company not living up to its end of the deal in exchange for $3 million in economic development incentives the state awarded it in 2008.
The settlement agreement, finalized on May 4 and filed with the Securities and Exchange Commission, closes another chapter in the company's stark reversal of fortunes since its peak in 2008.
In 2008, Palm Coast Data was at the height of its success. It was consolidating its operations from several states into its Palm Coast campus on Commerce Boulevard. It was employing some 1,000 people locally. The stock of its parent company, Amrep Corp., had traded at $136 a share the year before, up from $23 in 2005. In economic development deals with Palm Coast government, county government and state government, Palm Coast Data was pledging to add 700 more jobs over the next few years and enlarage its campus.
The company got $400,000 in tax breaks from the city and $100,000 in direct subsidies from the county. It leased a 70,000 square foot building from Palm Coast for $240,000 a year. The building had been Palm Coast's City Hall. City government ended up moving to a rental in the process, and the company then exercised an option to buy the building for a mere $3 million. All on the expectation that it would grow.
Based on that same expectation, the company got $3 million in 2009 from Florida government–specifically, with the Office of Tourism Trade and Economic Development, which was subsequently replaced by the Department of Economic Opportunity.
"The Award Agreement includes certain performance requirements in terms of job retention, job creation and capital investment which, if not met by Palm Coast, entitle the State of Florida to obtain the return of a portion, or all, of the $3,000,000," a filing with the Securities and Exchange Commission by Palm Coast Data's parent states. The statement goes on: "Palm Coast [Data] has not met certain of the performance requirements in the Award Agreement."
Soon after 2008, business prospects for Palm Coast Data darkened, and year after year the company lost revenue, shrank its payroll, saw its parent company's balance sheet record loss after loss and its share price tumble below $4 a share in 2016. It is now trading at just under $7. Palm Coast Data exited several of the buildings on Commerce Boulevard, including a 42,000 square foot building in 2015.
And it never repaid the state the $3 million. State government officials had been secretive about the deal and its outcome in subsequent years, refusing to turn over information when a Tampa Tribune reporter requested it, but the company's reports and the settlement documents shed light on the agreement's history.
Palm Coast Data "is expecting to have to repay up to $2,527,000 of the award to the State of Florida," the company's 2016 SEC filing stated.
The company and state government negotiated a repayment. It did not go well. Last December 30, Florida sued Palm Coast Data in circuit court in Leon County.
The May 4 agreement requires Palm Coast Data to make a $163,000 within 30 days of the agreement's finalization, then pay the state $40,000 every quarter from Oct., 2017 through July 1, 2027, unless the company decides to accelerate the payments. The agreement was signed by Palm Coast Data Vice President Christopher Vitale.
Meanwhile, Palm Coast Data's parent company, which effectively is now made up mostly of Palm Coast Data, has continued to struggle, according to its 2016 annual report. For 2016, the company's continuing operations recorded a net loss of $10.2 4 million compared to a net loss of $3.6 million in 2015. Excluding impairment charges in both years, the net loss for 2016 was $3.6 million, and $2 million in 2015.
Revenues at Palm Coast Data decreased from $43.7 million in 2015 to $34.8 million in 2016. "Magazine publishers are one of the principal customers of the Company's Fulfillment Services operations, and these customers have continued to be negatively impacted by increased competition from new media sources, alternative technologies for the distribution, storage and consumption of media content, weakness in advertising revenues, and increases in paper costs, printing costs and postal rates," the report states, lines it has been reprinting from year to year. "The result has been reduced subscription sales, which has caused publishers to close some magazine titles, change subscription fulfillment providers and seek more favorable terms from Palm Coast and its competitors when contracts are up for bid or renewal. This, in turn, resulted in lower than expected 2016 revenues and operating results for the Fulfillment Services business."
Palm Coast Data does not reveal its employment numbers, but the report points to continuing decreases in payroll: Operating expenses in Palm Coast were $31.8 million last year, compared to $37.3 million the year before. The reason for the sharp decline? "[P]rimarily due to decreased payroll and benefits and supplies expense, both reflecting the lower business volumes, together with reduced facilities costs," the annual report states. Administrative and general expenses also decreased year over year by 27 percent for the same reason.