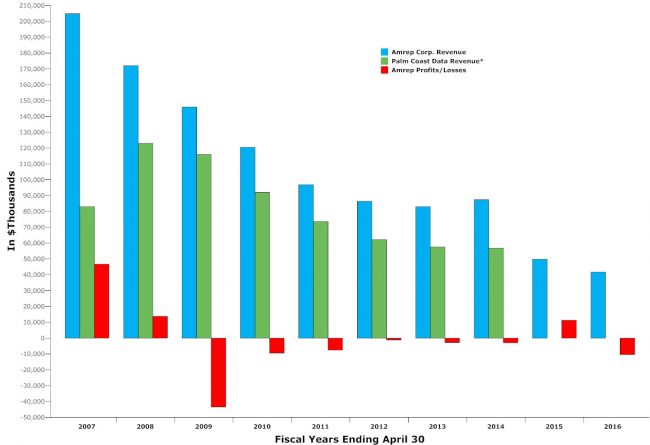 Amrep Corp., Palm Coast Data's parent, has seen losses seven of the last eight years. Four weeks ago the Princeton-based company posted its biggest loss in eight years, $10.4 million for fiscal year 2016, as revenues continued to decline.
That bodes poorly for Palm Coast Data, which at one point a decade ago was the city's largest private employer. It has been much diminished since, but has insisted on an optimistic outlook by diversifying some of its services, adding a few accounts (while losing others) and experimenting in new business sectors.
Amrep was once a much larger company of which Palm Coast Data was a substantial component, but not its largest. Just 10 years ago, Amrep had revenue of $205 million overall, with its operations spread between Palm Coast Data's subscription fulfillment services (accounting for 40 percent of company revenue), newsstand distribution and product services, land sales in New Mexico through the Amrep Southwest subsidiary, and membership fulfillment services.
Today, the company consists of just two business segments–Palm Coast Data, and the scaled back real estate operation in New Mexico. The majority of the company's revenue is through Palm Coast Data: two years ago the company's financial reports stopped breaking down Palm Coast Data's numbers on their own, folding them into Amrep's, making Amrep and Palm Coast Data almost synonymous.
Amrep revenue in 2016 was just $41.7 million, down from just under $50 million the previous year and less than half its revenue in 2014. In 2016, Amrep's revenue was one-fifth of its revenue at its peak in 2007. At the time, Palm Coast Data was consolidating all of Amrep's fulfillment operations from three states into the Palm Coast plant and promising a big expansion locally that would add 700 jobs. That never happened. The company has steadily shrunk since, losing accounts and employees and selling one of its buildings at its campus on Commerce Boulevard.
Revenue had stabilized for a few quarters in 2013 and into 2014, raising homes that the company had turned a corner. The company posted a profit of $11.3 million in 2015, largely from what it called "discontinued operations." But steep revenue drops resumed and have continued into 2016, with a two-year revenue change of minus 33 percent.
"When a company sees revenue shrink in consecutive years, shows negative two-year revenue growth and it's trending consecutively lower, the importance of the negative trend is substantially higher," Capital Market Labs, a news service focused on markets, reported Wednesday. "This is one to take note of for AMREP Corporation, right now. If revenue stays trending lower, AMREP Corporation could find all of the other earnings metrics hit weakness rapidly in the near future."
The net loss the company reported on July 29 was equivalent to $1.27 per share, for its 2016 fiscal year. "The net loss from continuing operations for 2016 included pre-tax, non-cash impairment charges of $10,406,000 ($6,556,000 after tax, or $0.81 per share) while the results from continuing operations for 2015 included pre-tax, non-cash impairment charges of $2,580,000 ($1,625,000 after tax, or $0.21 per share)," the company reported in a release. "The 2016 impairment charges included a $7,900,000 write-down of certain long-lived assets of the Fulfillment Services business. The remaining 2016 impairment charges of $2,506,000, as well as the 2015 impairment charges, primarily reflected the write-down of certain real estate inventory in New Mexico and discontinuance of the development of certain software in the Fulfillment Services business. Excluding the impairment charges in both years, results of continuing operations for 2016 were a net loss of $3,668,000, or $0.46 per share, compared to a net loss of $1,959,000, or $0.25 per share, for 2015."
"With the booking of the non-cash impairment charges of $10,406,000, the Company has completed a restructuring of its business and balance sheet that began in fiscal year 2014," Company Chairman Edward Cloues II said in the release. "We have exited three businesses (magazine distribution, product packaging and fulfillment, and staffing), eliminated a very significant negative working capital position, reduced debt and balance sheet risk, and simplified our organization. This was a major task, and it was accomplished despite headwinds from our real estate business that was suffering through a severe industry downturn that began several years ago and is only now beginning to recede. Going forward, our focus will be on running our two remaining operations – real estate and fulfillment and contact center services – and seeking out opportunities for growth."
Meanwhile, the company keeps rearranging the deck chairs: last week the company announced that Robert Wisniewski would be Amrep's executive vice president and CFO, effective Nov. 1. He will replace Clifford Martin, vice president and CFO, who will return to his former roles as treasurer of the company and CFO of Palm Coast Data.

Note: Palm Coast Data employees are invited to contact the editor here to let us know of any internal developments relevant to the company's future, as it is of central importance to the city's economy. Contacts will be kept confidential. Don't use your work computers.