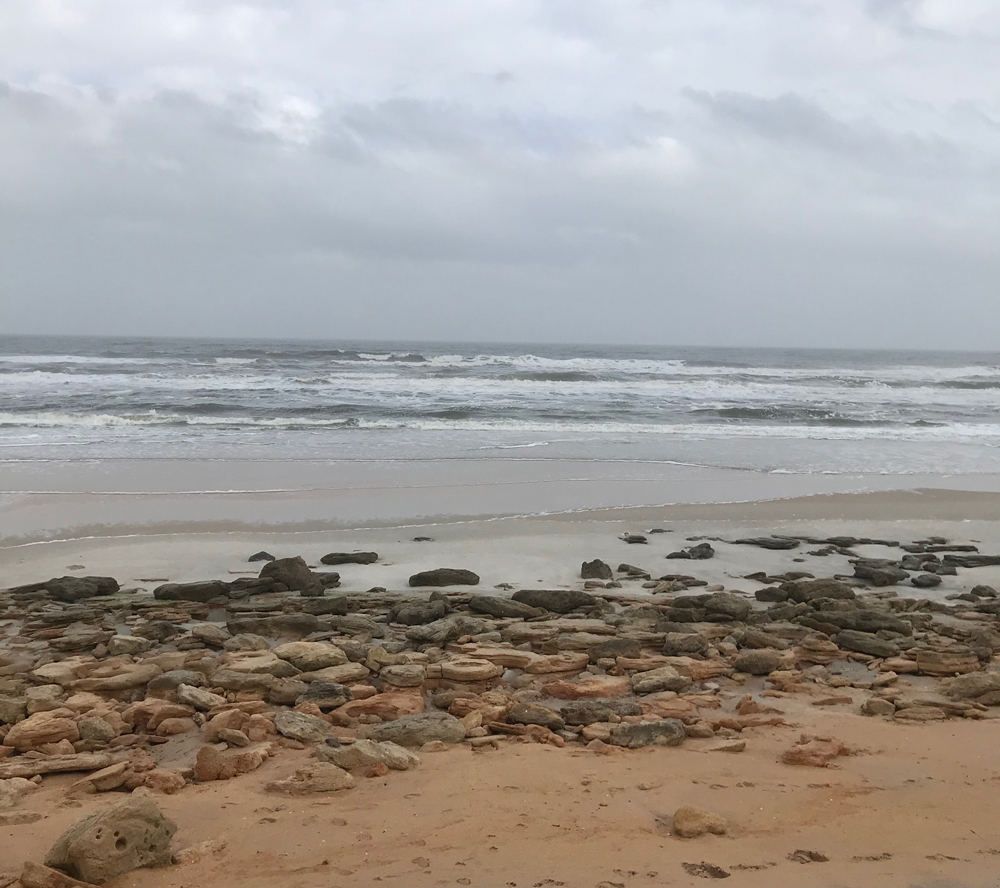 In a startling proposal that may revive city-Hammock conflicts dormant since the mid 2000s, Palm Coast City Council member Theresa Pontieri on Tuesday said the city should consider annexing the county's Malacompra Park so Palm Coast can have its own beach.
Pontieri framed the proposal as part of an attempt to relieve Flagler Beach of the crush of visitors to its beaches. But she did so with insistent language about




"My idea is simply to provide Palm Coast its beach," Pontieri said. "We have nearly 97 residents out of 130 Flagler County residents and we don't have a beach for our constituents. Malacompra is very close to the city."
Pontieri illustrated her proposal with a map showing the outline of the suggested annexation. Intentionally or not, the red shape had the distinct, almost exact outline of an anvil hammering out from Palm Coast across the Intracoastal and onto the county's beach, spreading north and south.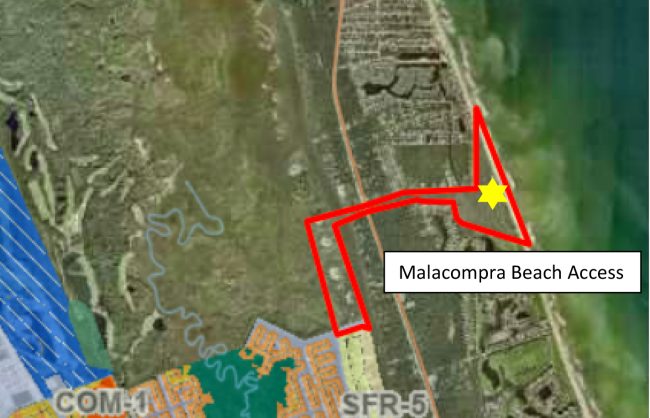 "The outline in red portion here is how we could annex it in," Pontoeri said. "So the little L shape that is on the land side, not the water side of U.S. 1 here, this is connected to the C Section." It connects through a parcel that cannot be developed, and that links to county land, across an invisible bridge over the Intracoastal: residents would still have to use the Hammock Dunes Bridge to get there. The annexed land would include the length of Malacompra Road, its sheriff's substation, its Hammock Community Center, its half dozen or more private properties.
Annexation would give Palm Coast authority over land use, enabling it to change current, passive usages. Pontieri says the city can do a better job than the county there. "Right now we rely on the county to maintain Malacompra and they're not doing it, to be quite frank," she said (a contention Council member Nick Klufas disputed. The county has been investing a lot of money in the area on pickleball courts and the community center. Klufas is running for a County Commission seat, and likely cannot win without the Hammock vote. The area is proportionately wealthier and turns out to vote more than in most precincts.
None of the other council members embraced the proposal. Three of them responded with a mixture of resistance, surprise and cautions that spoke to various difficulties or contradictions in the proposal.
"I'm not so sure the residents there would like an additional tax bill," Council member Ed Danko said. "I'm not so sure that the folks in the Hammock would like the idea of taking anything away from them. They're very protective over there. And there really is nothing preventing users, people in Palm Coast, from using that beach."
Danko is also running for a County Commission seat. He added: "I'd need every resident on that road to say yes, I want to be part of Palm Coast, because that's what will happen," Danko said.
That provoked what many a Hammock resident–if not county residents–will take as a shockingly high-handed response from Pontieri: "Well my my issue with that is, we don't represent them," the council member said. "We represent the city of Palm Coast. So I want to consider them and I don't want to disregard anybody in this process. But I represent 97,000 residents in Palm Coast, and this is good for them. So I understand that there's a very small community of the Hammock who may be vocal, and there's five, six people on this road that might be affected, and I don't want to exclude them. I want to consider them but I don't represent them."




"Small community" is a significant understatement, by historical standards. In January 2007, the so-called water wars were raging between Palm Coast and the Hammock. Palm Coast was insisting that the Hammock annex into the city if it were to receive water and sewer services. The hammock refused, and the matter was eventually resolved in the Hammock's favor: Palm Coast would extend utility lines but not annex.
The Hammock's antipathy for what it saw as Palm Coast's imperiousness was expressed in a non-binding referendum in January 2007, when Hammock residents were asked if they favored annexation. The vote was 1,855 against, five for. The numbers of votes cast represented 60 percent of Hammock residents, according to Dennis Clark, a Hammock community resident and member of the Hammock Community Association, among other local groups.
There are also numerous other historical associations with Malacompra Road and the areas surrounding it, with links going back to the earlier part of the 19th century. In 2010, the Society for Historical Archeology awarded the county an Award of Merit for its "commitment to the preservation" of the Malacompra Plantation archeological site. The Florida Trust for Historical Preservation also awarded the county for the same accomplishment that year.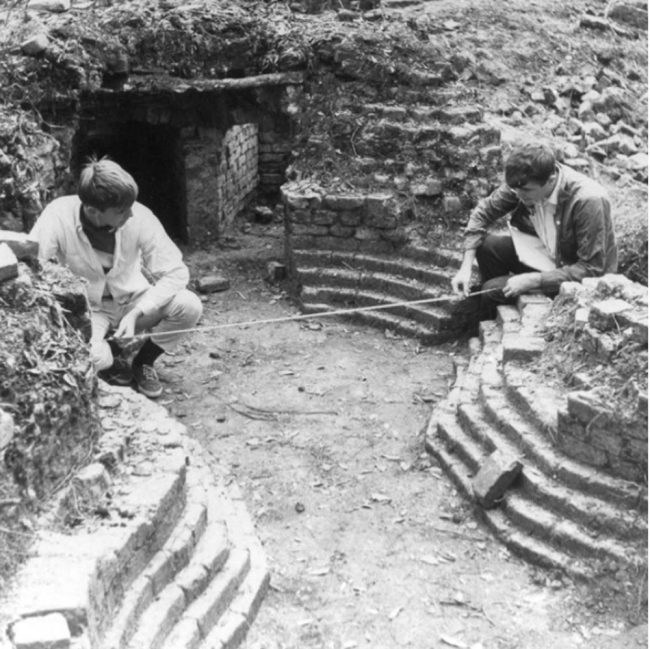 The proposal triggered frenzied meetings within county government, where officials were trying to get the measure of Pontieri's proposal, which took them by surprise. "We know they've always lusted after the beach. They always have," one official said, requesting not to be named.
Pontieri is well aware that her idea will not be readily welcomed: "I can almost guarantee they're not on board yet at the county level," she said.




Richard Hamilton, a local resident, reminded the council of that not-too-distant era. "Remember, you have agreements with the county," Hamilton said. "They go back to the water wars, the utility wars of the early 2000s. I was here for that. There are agreements between you and the county not to use annexation as a vehicle on utility agreements. This map would create an enclave, and you're going to discuss it tomorrow. You will get a lot of opposition if you continue to proceed."
County and city representatives are meeting this evening for their second joint government meeting that Flagler Beach initiated, originally to discuss overcrowding in Flagler Beach. Pontieri sits on that committee, and said she had "reached out" to Hammock community members to discuss her proposal. She did not name any, other than Danielle Anderson, a director and program administrator of the Scenic A1A Pride committee. Anderson did not respond to an email this morning before this article initially appeared.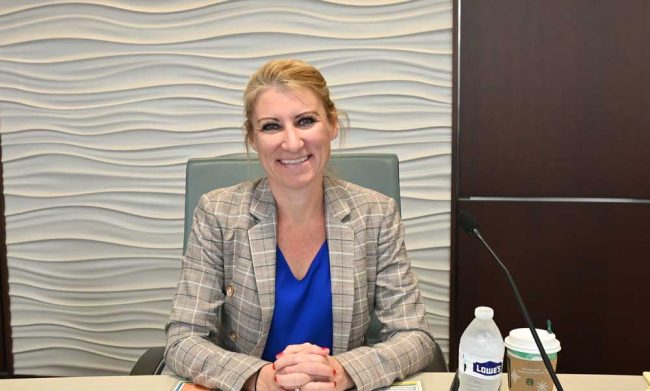 Palm Coast Mayor David Alfin favored waiting on that discussion before giving Pontieri's proposal more room to create controversy.
"Let me put this lightly," Reaching out to the other organizations is certainly your prerogative. What I do not want to do is, I do not want to project that the city of Palm Coast as a city council, until we should agree, is looking to annex property from another municipality or certainly from the county. Interlocal agreement sounds much more palatable to me. But I just don't want to give the impression because the press will have a field day with that and I don't want to project that. That that's not a negative about the concept. I just don't want to send a wrong message."




Pontieri said she would also consider a joint agreement with the county (or an "interlocal agreement") on Malacompra, but is less enthused about that. It would entail spending money, while improving the park would still be on county land. "If we're going to improve a park and make it something that our Palm Coast residents can call its own beach," Pontiery said, "there's some pride that goes into that just like a lot of our other parks, that it is something that should be ours."
Pontieri continued, her language getting stronger–more possessive–as she went on: "The annexation costs us nothing. But that's the first step," she said. "If we as a city want to have our own beach, and I think our citizens are entitled to their own beach–and I say that, I know entitled is a strong word, but we give the county so much money. And I think that this accomplishes a lot of things that can help draw traffic away from Flagler Beach and in Malacompra, which is not frequented very often."
Klufas noted what all people familiar with the Malacompra beach know: "The beaches isn't of great quality," he said. "There's a ton of rocks out there. You can't go swimming, you can't take kids there, you can't just dive into the ocean or you'll get crushed."
Pontieri said she's reached out to the Environmental Protection Agency: "We can actually relocate rocks and we can move rocks up to the dunes," she said, an assertion a local ordinance that criminalizes the removal of coquina rocks contradicts.




Danko reiterated that the beach is accessible to Palm Coast residents now. He didn't see a return on investment if the city were to annex. Pontieri said the same can be said of any of the city's parks, while Malacompra would be a different experience from freshwater parks. And even as she said that she did not represent the property owners of Malacompra Road, she went on to speak on behalf of Flagler Beach residents: "What amenity that we don't have in the city could we provide to our residents that would a) help the the situation that we're currently battling at Flagler Beach," she said, "and b) provide a really cool amenity to my residents here."
"We're not currently battling anything at Flagler Beach," Danko said. "That's Flagler Beach dealing with their beach."
While acknowledging some resistance, Pontieri did not appear to see her proposal as that unusual. "It's not an outlandish idea, and it's certainly not out of left field. It is different," Pontieri said. "This is just say, Hey, can we entertain this? This is not a 'we want to propose an annexation right now.'"