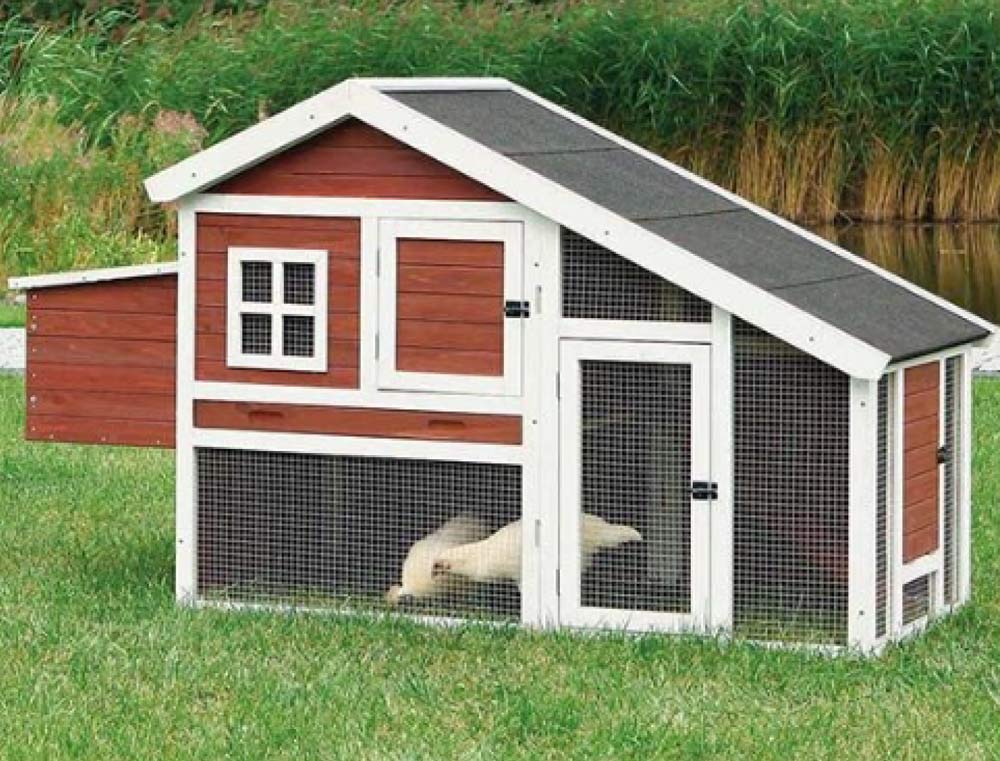 The Palm Coast City Council today shot down a two-year pilot program that would have permitted up to 25 properties to have backyard chickens in answer to a growing movement across the country toward more self-sufficiency and more natural foods. The most the city will do for now is possibly survey residents on their opinions about backyard chickens.
Surprisingly, the two youngest members of the council–Nick Klufas and Theresa Pontieri–were at opposite poles, Pontieri championing the proposal, Klufas opposing it with unusual vehemence and not a small degree of maneuvering. It was a revealing exchange between the two:




"I can already tell you the headline is going to be that the city of Palm Coast allows chickens. Even though it's only five permits," Klufas said, "that's the fact, is that the city of Palm Coast now allows chicken."
"I don't mean that this is not to be facetious, but why do you care?" Pontieri asked him.
"Because you can send emails the same type of way that have been sent in the past, where all of a sudden Nick Klufas supports chickens in Palm Coast," he said. Were it to go to a referendum, the proposal would sing with 85 percent opposition, he predicted.
"So is your concern that prior inflammatory and false statements that have come from this dais are going to come from here again, and that's why you're voting no?" she asked him.




"What I'm saying is that the public's opinion is 15 percent of people may be okay with chickens, 85 percent of people wouldn't," Klufas said. "And the headline, which is not false, that Palm Coast would allow chickens, is something that I can't have my name attached to. I bluntly told them this because I can't have my name attached to 'chickens are allowed in Palm Coast.'"
Them are a very small group of Palm Coast residents, among them Eric Olsen and Josh Fabean, who have met with council members and established a political action committee in hopes of bringing the backyard-chicken proposal to a referendum on the 2024 ballot. That's what Council members Cathy Heighter and Ed Danko favor. The council in June had already seemed very cool to the idea when it first discussed it in earnest, but was willing to hear further analysis and explore the possibility of a pilot program.
Code Enforcement Manager Barbara Grossman presented that analysis today in what happened to be one of the longest workshops in the council's history. She did so past the middle of the afternoon. The council had been meeting since 9 a.m. Grossman's plan would have been a two-year pilot program, permitting 25 backyard chicken coops on a first-come, first-served basis, with a $50 permit fee. There would be a limit of four hens per property. No roosters. Neighbors would have to be informed by letter. The applicants would have to submit a plan outlining coop setbacks of at least 10 feet from the neighboring property, and have a form of manure management. The coops could only be in backyards.
Grossman said her code enforcement officers know of backyard chickens being kept in violation of code. Those property owners would have been allowed to apply for permits, without further penalty, if permits were available.




Obviously, no slaughtering would be allowed (it's not clear how the city would have enforced that provision), no use of the animals for fighting, no selling of chicken eggs or of their manure. Even if the pilot were to end, residents with backyard chickens who'd have remained in good standing would have been allowed to keep their coops until "attrition" (that is, until the natural death, disappearance, or, presumably, digestion of the chickens). But the permits would be non-transferrable.
To advocates of backyard chickens, the set up would allow for the production of quality eggs, the chickens would have been their own form of pest control, and it would have been a cost-efficient way to enable low-impact husbandry.
But Palm Coast can be set in its ways. Danko said he's spoken to numerous people, none favoring the initiative. Pontieri said she's spoken with numerous people, some favoring it. And Heighter, in an unusually detailed discourse, started off speaking of her appreciation for a pilot program as long as it was "managed very well and very closely" (nothing in Palm Coast Code Enforcement isn't managed very closely), but she wanted neighbors not merely to be notified. She wanted them to have the power of consent before a permit was issued. She was also concerned that "if we give an inch, they take a mile, so if we give 25 people the permit to have chickens in their backyards, you're going to end up with 100 people that want chickens in their backyards" (though if that were the case, it would suggest much broader support for the program than Heighter and Danko say there is).
Heighter spoke at length in support of the pilot program–only to end on a different note: send it to the ballot.
Pontieri was willing to lower the number of permits issued, and though she thought giving neighbors the power of consent "is a little ridiculous," she was willing to give on that score, too. "I would be fine with adding that in but I'm very hopeful that our council recognize that we have property rights in this country, and that these property rights are one of the most important things we have," she said. But she was angling for any type of consensus, as was Mayor David Alfin. She said with some education, residents would be less resistant.




But there was no consensus, and there is to be no ordinance. The closest to some form of agreement on a next step was to solicit public feedback, either through a survey or through town hall meetings hosted by the council members.
"We certainly do not have a consensus to move forward with the pilot program as presented today," Alfin said, asking instead that the issue become a discussion item i council members' interactions in the community. "But I'll be honest," Klufas said, echoing Danko and Heighter, "outside of the group of advocates for chickens, I haven't met anyone who wanted chickens in their backyard."
Heighter proposed what had been proposed a few weeks ago when the council first discussed it: a "community pilot program." But advocates have not embraced that idea.
"I was told that maybe we could petition the government to give us land that we could start some kind of communist chicken coop," Fabean had said wryly a few weeks ago. "And then we can throw all the chickens off in the gulags at the end of town. It just doesn't make sense."
The council agreed to consider surveying residents, but not before analyzing costs and manner.

backyard-chickens-palm-coast