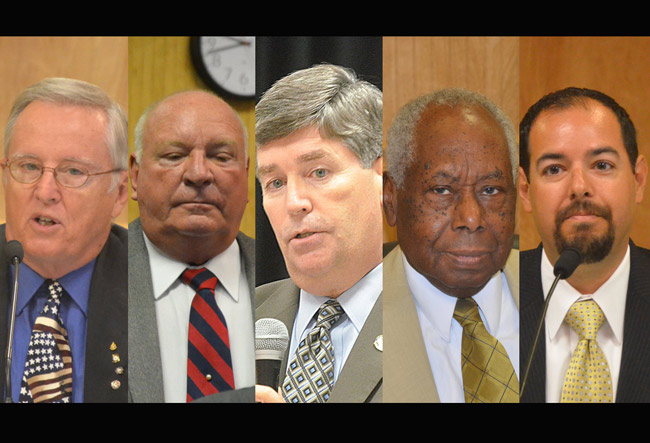 The Palm Coast City Council could use an attitude adjustment.
On Tuesday the council appointed David Ferguson to fill out the term of Frank Meeker, who won election to the county commission. It's a two-year term. Yet the council made one of its most important decisions in a matter of minutes, without deliberations, and without explaining why Ferguson was the best of 16 candidates, at least not in public. Council members went through the candidates on paper and in person, but all in secret.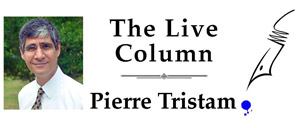 First, the council broke the sunshine law when the four council members ranked 16 applicants outside of a public meeting. The short list of four candidates was also prepared outside of a meeting. The council never once discussed those applications. Then, each council member held closed-door interviews with the four remaining candidates, which may or may not be a violation of sunshine, but is most certainly a violation of the public interest and an indication of scorn for public participation.
After the News-Journal noted the sunshine violation, Mayor Jon Netts asked city attorney Bill Reischmann to explain. Reischmann saw no violation, though paradoxically he suggested that to avoid any possibility of muck-up, the council could ratify its decision in open meeting, as if the ratification itself was the issue. Of course it wasn't. It's the getting there that was. Naturally, no one on the council objected. It was a well-rehearsed moment, as are most public episodes of Mastermind Theater, the irreality show we take to be the Palm Coast City Council.
It was never known until Jim Landon, the city manager and stage director, announced the rankings of the 16 candidates in a meeting two weeks ago that the rankings had even taken place, or that the finalists would be limited to four. Who had decided that limit? By what criteria? When? Why? Not for us to know, quick, vague council pronouncements at the end of meetings notwithstanding. The top four finalists' interviews had already been scheduled. So one of two things happened, both equally disturbing and revealing of the council's maneuvering. Either council members deliberated behind the scenes about the selection process and keeping discussions of the candidates to a minimum, a clear violation of law. Or Landon puppeteered the show, as he routinely does with council business, giving himself more sway than he should have while shielding the council from accountability. Either way, the law, as much as the public, was flouted.
By the time the city attorney blessed the orchestration, you could sense Landon channeling J.P. Morgan, who once sneered: "I don't know as I want a lawyer to tell me what I cannot do. I hire him to tell me how to do what I want to do."
So we have a council willing to spend hours talking about a sidewalk or an electric hook-up but not willing to spend any time publicly discussing the merits of candidates who'll control one-fifth of the city's destiny for the next two years. Landon and his council compounded their arrogance by saying simply: That's the way we've done it in the past.
Of course it is. It doesn't make it justifiable. It underscores the council's clubbish ways. And it misses the point. This isn't just a matter of sticking to the spirit of the sunshine law. It's about vetting candidates openly and reaching a decision by consensus of the council, publicly and defensibly. What we have instead is nothing better than smoke signals from Palm Coast's college of four cardinals and their pontiff.
The Palm Coast Observer's Brian McMillan made a good point on WNZF Friday: that there seems to be a trend disfavoring the public will of late in local government, with the Flagler County Commission's unilateral vote in October to extend a sales tax it didn't float to voters, fearing the results. But a least there was little secrecy to the decision, and the way the commission conducts its business generally feels more like an open bazaar in Casablanca than the city council's Find-Your-Kremlin nostalgia.
Let's not forget Frank Meeker's decision to stay on the council until November, six months past his decision to resign. Had Meeker resigned when he made his announcement in May, the council could have held a special election concurrently with the primary and general elections held this year, without spending a dime. We would have had an elected council member, as we should. But Meeker, being twice the politician that he is, could not bear to step down from his perch for the democratic good of the city, nor did he see a reason not to play politics with council seats. That, too, is a council tradition. Council member Bill Lewis was appointed in the same undemocratic way, when Alan Peterson resigned his seat to run for the county commission in 2008. Worse: a coin toss eventually sealed his appointment (as it did a previous appointment following Jim Holland's death). Lewis was unopposed in 2010, so he's never won a competitive election. (He did run one in 2005, when he lost narrowly to Alan Peterson.)
And very quietly last year, Palm Coast changed its voting schedule to coincide with national elections, which is fine, except that the change gave Mayor Netts and Jason DeLorenzo an extra, unelected year on the council. Take that, suckers.
The Palm Coast City Council this week once again showed its contempt for the public and for the democratic process. Those problems could easily be fixed through the charter, a terribly evasive and clunky document that gives the council too much lawyerly room to game the system. But it really isn't a charter problem. It's an attitude problem—the council members' attitude, and that of a manager with a Donald Trump complex. Those problems don't get fixed. They get fired.

Pierre Tristam is FlaglerLive's editor. Reach him by email here or follow him on Twitter.