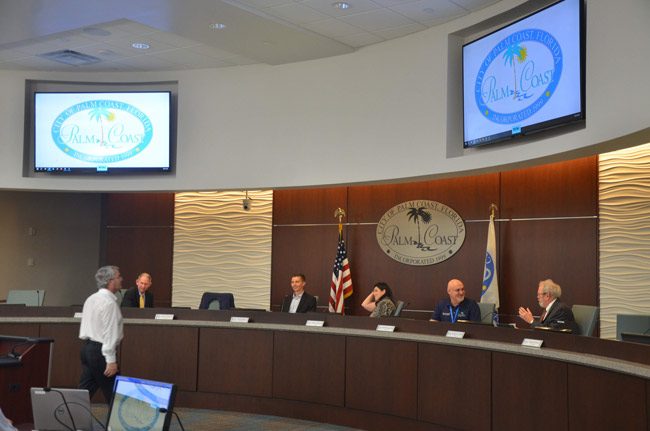 The Palm Coast City Council this morning approved a contract that would pay Matthew Morton, its incoming manager, $145,000 a year. But the council, on Mayor Milissa Holland's insistence, deleted a clause that would have granted Morton automatic, annual non-merit raises calibrated to the percentage awarded city employees.
Holland called herself "perplexed" by the proposal to award Morton's raises without council intervention.
"Although we approve the budget for pay increases for the staff that's employed by the city of Palm Coast, we don't determine what those rate increases will be," Holland said. The city manager does. She did not say so, but she was alluding to the fact that by tying Morton's raises to employee raises, the manager in effect would be deciding his own raises. "We can deny it when it comes to the budget and not approve that expenditure, and that would certainly give us the ability to do that, but I do think it puts us at a little bit of a disadvantage."
Holland wants more attention paid to evaluations of the city manager "and what we feel is working and what we feel maybe is not working," she said, describing herself as uncomfortable "giving that type of leeway of determining pay increases" to the manager.
The contract was drafted by Council member Bob Cuff, City Clerk Virginia Smith and City Attorney Bill Reischmann, in negotiations with Morton.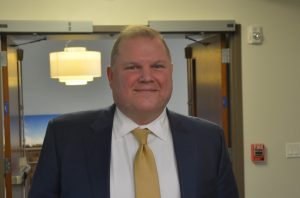 The clause had not been added at Morton's request, nor had it been part of former City Manager Jim Landon's contract. It was devised by the trio of city officials. It reflects a more recent trend in such contracts, also seen in county government, that allows top executives' raises to bypass the publicly accountable process of having their raises discussed in the open on an annual basis, while also relieving them of the burden of themselves having to bring forward requests for raises, if they're not granted in the annual evaluation process. Referring to Landon's contract, Cuff said that contract had called for annual reviews, though there were no annual reviews, leading Landon to ask for raises directly. Cuff at one point referred to the "disadvantage" of having to conduct contract negotiations at a public meeting, "so that's what we're doing now."
Reischmann said the contract "does provide for an annual evaluation" on the anniversary date" of the manager's hire, though he acknowledged that Morton's contract did not tie raises to evaluations, as it had in Landon's case.
"That's for us to discuss as a council when we do make that evaluation, which I do not think a progress report is an evaluation, I need to state that publicly," Holland said. She was alluding to one of Landon's bold if disingenuous habit, enabled by past councils year after year, to use his own glossy, PR-leaden (and costly) annual reports of city government as his performance reviews, even though it was entirely the product of his own hand and those of his PR staff. Two years ago Holland put an end to that. "I think we need to go through a process of a full evaluation of our city manager moving forward, on an annual basis, and I'm comfortable saying that that evaluation at that time, we can discuss an increase of compensation," Holland said.
"We evaluate our city manager," Holland said. To stress the point, she said the contract must be explicit about that annual evaluation.
Holland drew no disagreement from her colleagues on the council, not even from Cuff. The contract proposal was changed to reflect the deletion of automatic raises and to mandate annual evaluations. The council approved the proposal 5-0. It remains a proposal because Morton has to agree to the changes. Since he had not requested the change Holland made, he is not expected to object. (The Observer reported that he did not.) He also got an added provision that was not in the contract submitted to the council for review: the addition of a car as part of the moving expenses that will be paid by the city.
Morton, 44, lives in Washington State. The city is assuming all costs of his move, plus $6,000 on top of that. Further details about his contract are here.

Matthew Morton Proposed Contract (Without Today's Amendments):