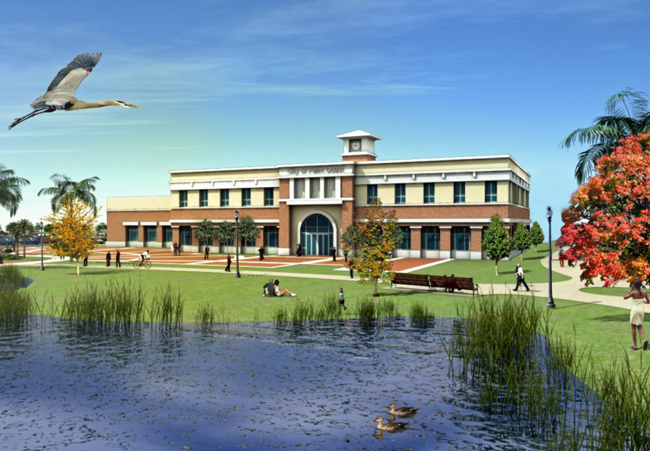 Political and accounting shenanigans aside, there is little question that the Palm Coast City Hall projected to rise at the edge of Town Center's Central Park by next year will, judging from its early design, transform that barren zone into a handsome, modestly stately public and office space. It may even spur further development nearby while finally giving Palm Coast a stronger sense of permanence and identity than its government's squatting  history has made possible so far.
On Tuesday, the Palm Coast City Council got its first detailed look at the design of its new digs. The plan drew pointed questions about security measures and cost controls, but was otherwise a straightforward outline of what's ahead, physically and financially. The council will be in ratification mode most of that time: the planning, as with most steps in this process going back to its inception, has been done for it.
City Hall will be built in several phases. The city has the dollars only for the first phase. That'll be the main building, a 32,000 square foot structure and parking lot anchoring what may become a City Hall complex over the years. That segment will cost $6.9 million. City staff aside, it'll be of little interest to residents except when paying bills or dealing with municipal matters.
"We wanted it to look like a city hall, institutional, therefore, you know, things like the clock tower," City Manager Jim Landon said, "but we didn't want it to be large and massive. That's been our instructions all along. We still want it to be kind of what they'd call a human scale."
Phase two is an 8,000 square-foot addition for community meeting space, including the council's meeting chamber. That 8,000 square foot extension will cost several million additional dollars. The catch: Money for that is not available. The city projects it to become available as property tax revenue from Town Center property owners generate it. But it may not stop at that.
The city administration has pledged that it would not increase taxes on residents to build the structure. But it is using $5.8 million general fund tax dollars to do so: The city is dubbing that $5.8 million as a loan repayment from the Town Center Community Redevelopment Agency (CRA). But that loan was made out of the city's general fund, with dollars drawn mostly from property taxes. So while the city promises not to raise existing tax rates to pay for city hall, the building is very much being paid for with property taxes: whether or not subsequent taxes are raised is irrelevant: the revenue has already been generated through property taxes.
The city can also argue in the future that should it have to raise taxes for, say, general government purposes, it would not be doing so because of the cost of city hall. But that's an accounting sleight of hand: had the nearly $6 million paid back by the CRA remained in the general fund instead of being spent on a city hall, such a subsequent tax increase would not have been necessary, since money would have been in the pot to avoid it.
For that subsequent, 8,000 square-foot expansion of city hall (and others after it), the administration pledges again not to raise taxes. But it will again be using property tax revenue to do so, except that those property taxes will be generated from property owners exclusively in the Town Center CRA. Town Center is very much part of the city. But it is a separate enterprise tax zone
City hall financing pledges continue to be fraught with such accounting sophistry. Tuesday's presentation witnessed its share, especially when council member Bill McGuire, who had originally opposed a new city hall but came around to approving it, was concerned about the project remaining on budget.
McGuire got some assurances, but no guarantees.
"If you don't live in Flagler County or close to Flagler County, you have no idea how volatile this project is," he told Jim Hughes of C T Hsu and Associates, the design firm in charge of the project. "These numbers, as far as I'm concerned, speaking only for myself, they're carved in stone."
"It may not be stone, it may be stucco," Mayor Jon Netts said.
---
The bulk of City Hall's financing is made up of property tax dollars owed the general fund.
---
Landon strained to explain the deal: "We've made an assurance, a guarantee, that we're not going to take dollars out of people's tax dollars of today, and the way we do that is number one, that office space has a fixed amount," he said, carefully noting that he was referring to existing taxpayers, not future taxpayers. "And we've made that very, very clear. The CRA portion of it is not as—we haven't, um, those dollars come in every year, and we haven't been as adamant that absolutely what exactly that price is going to be, because those aren't coming out of the rest of the taxpayers. So, one pot of money, period. The other pot, we have a budget, we're going to try and stay with it, but we're not going to go to the general fund where our residents area having to pay for city hall. That's been our guarantee and we're going to stick to that."
"I just want to re-emphasize that we bought that presentation, some of us at great pain, and I want to make sure that that's what we live with," McGuire stressed, referring to the presentation last year that convinced the council of the financing in place.
"This isn't a budget, this is a fixed amount of dollars, and that's how it has to stay," Landon said, only to immediately qualify the statement: If there are change orders—meaning cost overruns—Landon said money from the local sales tax supplement will be used to pay them. Local taxpayers, of course, pay that sales tax.
Phase three is a prettified plaza at the south end of the building. Phase four would be a promenade and public plaza at the northeast end of the building. Subsequent phases would entail the addition of more office space. Keep in mind: CRA dollars cannot be used for office space. So those dollars will have to come out again out of the general fund, from property tax revenue. "This is not in the five-year capital plan whatsoever," Landon said. In other words, if it's built, it'll be in another decade.
The interiors speak of a different human scale.
The city manager's office would take one corner of the second floor, but at 224 square feet, it is no larger than other directors' offices (at least not on the second floor: first-floor directors' offices are smaller), and it would have none of the expanse and ostentation of the executive offices designed for the school board and county government building. (In fairness, the superintendent and county administrator who designed those colossal offices for themselves are long gone.) The second floor plan includes an office for a deputy city manager, a position that does not currently exist.
That said, the design is still preliminary, and is likely to change. Landon repeatedly cautioned city council members to be prepared for interior alterations, but not exterior ones. For example, the first floor design includes a rather large, 475 square foot wellness room, plus showers. Landon considers the room too large, but necessary. "I just did not want that to be a surprise," he said, "but that's something that's pretty common in today's world, particularly to try to encourage people to be healthy."
Landon referred to his small office when he explained the importance of conference rooms.
"Conference rooms are a big deal. As you know I spend most of my time in conference rooms, not in my office," he said.
"So you can get by with a smaller office," the mayor said.
"Yes," the manager said, to laughter. "Wait until you see my little office."
The administration is not envisioning an armed guard at the entrance. That prompted questions from McGuire and Netts.
"If we can put armed guards in our elementary schools, shouldn't we do something to protect our city employees?" asked McGuire. There are, in fact, no armed guards in Flagler's elementary schools: voters turned down a tax increase last June that would have paid for those armed guards.
"The county's armed guard doesn't really do anything," council member Bill Lewis said.
"Whether or not we have an armed guard, I am going to ask questions at some point about security," Netts said. "How you can access various points, where there are doors that people come in unannounced. I mean, we're showing—the problem we have in this existing facility is, you get to the third floor, there's nobody knows that you're there. So our control is, you've got to have somebody take you upstairs in the elevator. Well, you won't have that here. You can come into any one of these exterior entrances and you can wander."
"I'm a strong believer that bullet-proof glass and that behind-the-glass type stuff is detrimental," Landon said. "I've seen it. Doesn't work well. But there is things to do to help minimize those kinds of risks that we live with today." Landon is also placing great emphasis on wanting a "smiling face, greeting you" any time a person walks into a department.
Construction documents and specifications will be developed in June. By then, no changes will be accepted without additional costs. The project, for now, is on budget and on schedule, its designers say.

Click Here to Download Palm Coast City Hall Preliminary Design