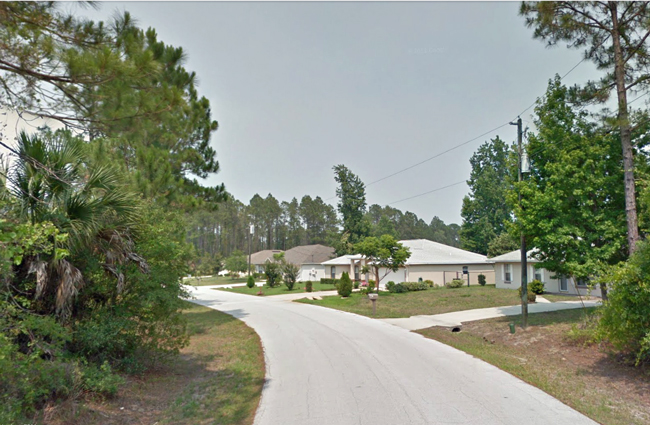 According to the Flagler County Sheriff's Office, a pizza delivery woman who got lost in Palm Coast's P-Section was shot at as she was trying to escape two men after asking them for directions.
Tatiana Catalina Padilla, a 26-year-old employee of Domino's Pizza at St. Joe's Plaza, had just made a pizza delivery Sunday at 3 p.m. As she was trying to find her way back to Belle Terre Parkway, she saw two men on Powder Hill Drive and stopped to ask them for directions.
An incident report filed by a Flagler County Sheriff's deputy reads: "Ms. Padilla stated that she explained to Suspect 1 that she was working as a delivery driver, was lost and needed directions back to Belle Terre Parkway. Ms. Padilla stated that Suspect 1 then lifted his tee-shirt, produced a black revolver from his waist band, and pointed it at her stating 'Give me all of it.' Ms. Padilla stated that Suspect 2 began to run into a wooded area behind 10 Powder Horn Drive. Ms. Padilla stated that she threw the car in reverse and hit the gas pedal hoping to escape her assailant. Ms. Padilla stated that when she put the vehicle in reverse Suspect 1 fired one shot striking the LCD display of the center dash radio. Ms. Padilla stated that she then continued on to Grace's Deli located 4.1 miles north of the incident location."
Padilla was at the wheel of a rental car because, she told police, her car had been totaled in a recent accident.
Padilla was able to flee the area without turning over any money. She contacted the Sheriff's Office from the Grace's Deli parking lot. She was not injured during the incident.
Patrol deputies assisted by a K-9 unit searched the area for the suspects. The search was fruitless. The suspects were described as 18 to 20 years old. The man with the handgun was described as a Hispanic male, approximately 5'6" tall, with light facial hair, wearing a baggy white shirt and blue jeans and a black knit hat. The second suspect was described as a light-skinned male, possibly Hispanic, wearing blue jeans and a black hooded sweatshirt.
The incident report notes that one resident in the area of the alleged shooting "stated that at approximately 1530 hours, she heard a loud sound similar to that of a firearm discharge as though it had gone off just outside her residence." The witness did not see any potential suspects or hear anything else relating to the incident.
The incident report is heavily redacted.
In early November, Ming Gong, the owner of King's Palace, a Chinese food restaurant, was carjacked and violently thrown from a car after making a delivery on Bayside Drive. Giuseppe Verdone Jr. was arrested in connection with that incident.
The investigation is ongoing. Anyone with information is asked to call either the Flagler County Sheriff's Office at 386/313-4911 or Crime Stoppers, toll-free, at 1-888-277-TIPS. Tipsters who provide information to Crime Stoppers will remain anonymous and may be eligible for a reward of up to $1,000.