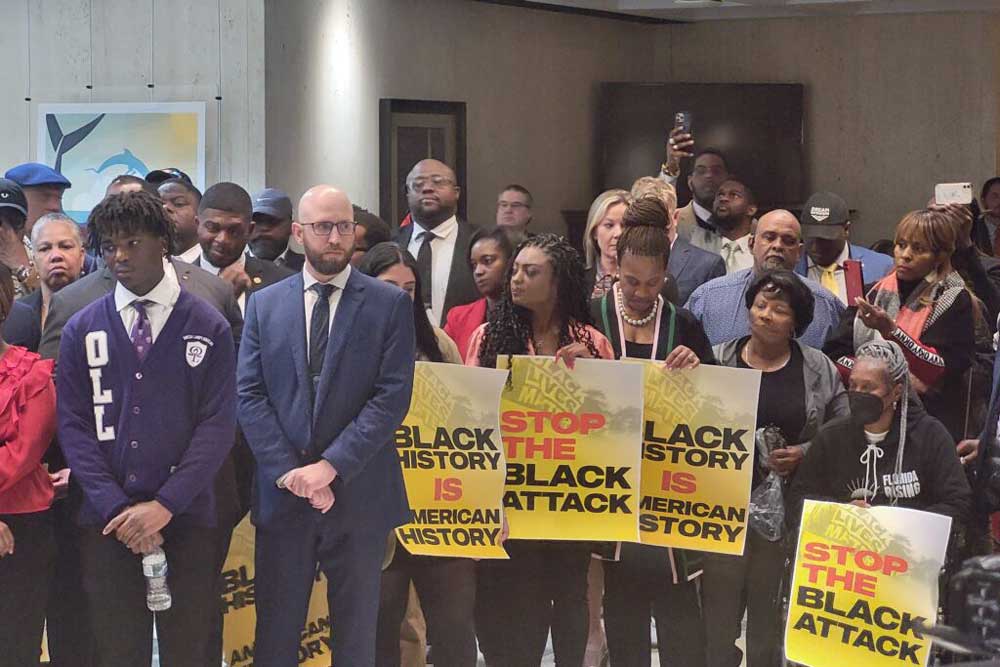 Gov. Ron DeSantis' rejection of an Advanced Placement pilot course on African American studies elicited a resounding response from a crowd of at least a hundred people gathered in the state Capitol Wednesday, praying and loudly chanting about the importance of protecting Black history taught in Florida's public schools.
Some held signs that read "Black history is American History" and "Stop the Black Attack," sending a message to the DeSantis administration to implement the course.
Advocates from across the nation on Wednesday joined the Florida Legislative Black Caucus and civil rights attorney Ben Crump, who is poised to take legal action if the course is not implemented.
Crump, who is known for representing the families of George Floyd, Breonna Taylor, Ahmaud Arbery and others, said three young students in high school in Florida will be named as the lead plaintiffs, should a lawsuit be filed by his law firm. Those three students joined Crump at the press conference Wednesday.
"We have to remember that it's so important, this cause, this fight. So much is at stake," Crump said.
"We're here to give notice to Governor DeSantis that if he does not negotiate with the College Board to allow AP African American studies to be taught in the classrooms across the state of Florida, that these three young people will be the lead plaintiffs in a historic lawsuit."




"And you all need to remember their names because it's their courageous tenacity and their intellect, that reminds me many of the examples that were shown to the world by a young John Lewis."
Crump added: "What this is really about is saying you cannot exterminate us. You cannot exterminate our culture. … Gov. DeSantis are you really trying to lead us to an era akin to communism?"

On Jan. 12, the state Board of Education sent a letter to the nonprofit College Board to notify the organization that the state would not implement a pilot program for AP African American studies for high school students to earn college credit. "As presented, the content of this course is inexplicably contrary to Florida law and significantly lacks educational value," the Jan. 12 letter said,  as previously reported by the Florida Phoenix.
The history of African Americans is considered required instruction under Florida law. And AP classes, from the College Board, allow high school students to earn credits for college classes.
The decision by the state drew criticism from the Black Caucus and other Democrats.
House Democratic Leader Fentrice Driskell of Hillsborough County said at Wednesday's press conference that DeSantis is "undermining the rights of parents and students to make their own decisions."
"Black history is American history," Driskell said. "Are we really okay with Ron DeSantis deciding what's acceptable for students across the country. How is it politics to talk about the struggles we endured. The truth is the truth."
"But we know to truly love our country is to bravely face our history," she said, as the crowd chanted because "united we stand!"
State Sen. Geraldine Thompson of Orange County said during the press event: "What time is it? "It's time out for hypocrisy!"
"We are told by Ron DeSantis that this time of history has no educational value. ..If it's not taught then someone needs to be held accountable."




Jerome White, of the College Board Communications, didn't answer a question about details surrounding DeSantis' rejection of the course.
But White said Wednesday in an email: "On Wednesday, February 1, the first day of Black History Month, the Advanced Placement Program will release the official framework for the AP African American Studies course. This framework, under development since March 2022, replaces the preliminary pilot course framework under discussion to date.
"Before a new AP course is made broadly available, it is piloted in a small number of high schools to gather feedback from high schools and colleges. The official course framework incorporates this feedback and defines what students will encounter on the AP Exam for college credit and placement.
"We are grateful for the contributions of experts, teachers, and students and look forward to sharing the framework broadly."
Meanwhile, Alex Lanfranconi, director of communications for the Florida Department of Education, responded to a statement Wednesday released from the College Board.  It's not clear if the Jerome White statement from the College Board is connected to the statement that Lanfranconi provided to the Phoenix.
Nevertheless, here is the DOE statement:
"We are glad the College Board has recognized that the originally submitted course curriculum is problematic, and we are encouraged to see the College Board express a willingness to amend. AP courses are standardized nationwide, and as a result of Florida's strong stance against identity politics and indoctrination, students across the country will consequentially have access to an historically accurate, unbiased course.
"As Governor DeSantis said, African American History is American History, and we will not allow any organization to use an academic course as a gateway for indoctrination and a political agenda. We look forward to reviewing the College Board's changes and expect the removal of content on Critical Race Theory, Black Queer Studies, Intersectionality and other topics that violate our laws."
–Issac Morgan, with Danielle J. Brown, Florida Phoenix
Reader Interactions