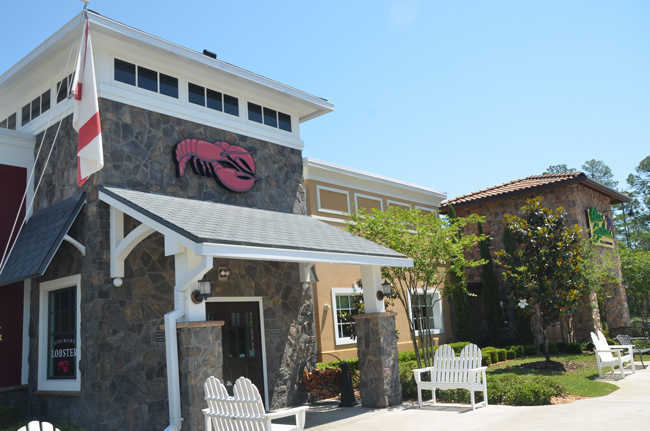 Three years ago Darden Restaurants opened a Red Lobster and an Olive Garden in Palm Coast's Target shopping center. The restaurants had separate dining rooms but a joint kitchen, and were designed to give Darden a competitive advantage by more efficiently providing different brands under the same roof.
That joint operation is ending.
The Orlando Sentinel on Tuesday reported that Orlando-Based Darden, whose shareholders have been chafing with management, has already closed two similar joint operations over the weekend (in Georgia and South Carolina) and will convert the Palm Coast restaurant and three others like it into stand-alone Olive Gardens in the near future. The time of the change-over is not precisely known, but it will not affect the Olive Garden side of the operation. Darden plans to sell or spin off its Red Lobsters.
"That was like a prototype of a combined store format, which I thought made sense, because you only have one set of rest rooms, you only have one bar and one kitchen," said Toby Tobin, the Realtor and publisher GoToby.com, the real estate website covering Palm Coast and Flagler County. "I wouldn't read that the format was unsuccessful as much as I would read that for whatever reason, Red Lobsters are not as successful as they once were."
For the Target shopping center, Red Lobster's closure is the second blow in six weeks: in late March, Books-A-Million announced that it was closing its store there, eliminating Palm Coast's only general interest bookstore. But the elimination of Red Lobster is not equivalent to a restaurant closing outright so much as the loss of some choice for restaurant-goers. The restaurant space itself will simply convert to Olive Garden's uses, preserving some—but by no means all—of the jobs that would have otherwise been lost had the restaurant closed outright.
Aside from Red Lobster and Olive Garden, Darden owns Longhorn Steakhouse, Bahama Breeze, the Capital Grill, Eddie V's, the Yard House chain and Seasons 52. Combined, the company runs more than 2,000 restaurants, including—as of the end of 2013– 822 Olive Gardens and 678 Red Lobsters. Three weeks ago, when the company decided to spin off or sell the Red Lobster operations, a group of shareholders sued, claiming the company had no right to change its bylaws to prevent shareholders from having a say in the fate of Red Lobster.
The company as a whole has been struggling. Sales at established restaurants fell 8.8 percent at Red Lobster and 5.4 percent at Olive Garden in the third quarter ended Feb. 23. Losses at Red Lobster have been especially steep, with percentage declines in customer visits for nine straight months.
Restaurants open and close almost weekly in Palm Coast and Flagler County, Tobin said, few of them garnering much attention. The change with live Garden and Red Lobster "is newsworthy because it's a national chain," he said.
Beau Falgout, Palm Coast's senior planner, could not be reached Tuesday.