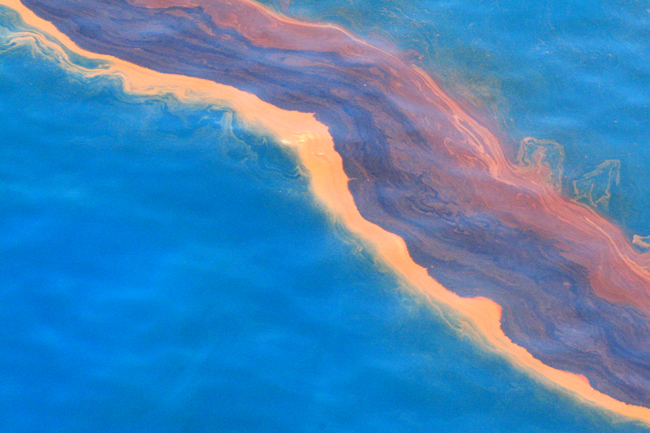 FlaglerLive Editor Pierre Tristam discussed the issues presented here on CNN's Newsroom June 12. A behind-the-scenes account of that interview, with clip, is available here.
If you live in Florida, it's time to start worrying about the effects of the Deepwater Horizon oil spill on your future. It doesn't matter if you go to the beach or not. It doesn't matter if you live on Florida's east coast or west coast, or even in its inland counties. It doesn't matter if you're young or old. Your life is about to change, and not for the better, with every gallon of oil that spills into the Gulf. This is Florida's 9/11, stretched out and out of control. People won't die. A way of life will.
The reason: A confluence of events is leading to an economic crisis potentially worse than what the state experienced in the past two years—unless the Legislature realizes the state faces an economic as well as an ecological catastrophe and acts accordingly. That means deciding whether and how to keep paying for essential services like education, health and safety, or further sacrificing those services, as legislators have for the past two years, to the altars of inaction, low taxes and short-term pandering.
The crisis presents an excellent opportunity for a special session of the Legislature to rework the state's revenue in line with new realities. This is the time to rethink tax cuts and tax exemptions in anticipation of colossal deficits ahead. But it's election season. The last thing legislators want is to rattle their electoral chances by acting like leaders. That, too, is part of the catastrophe unfolding before our eyes: politicians are slicker than crude.
The environmental catastrophe on beaches and bayous is the visible part of the problem. The invisible part, like those oil plumes remaking and demolishing the ecosystem beneath the waves, is about to remake the state budget. Put simply, Florida's revenue shortfall, recurring at about $3 billion a year for the past two years, may balloon to $6 billion or more next year, depending on the effects of the oil spill, according to Bob Cerra, a lobbyist for the North East Florida Educational Consortium, of which the Flagler school district is a member.
Coming as it does in the third year of austerity, the state will be out of tricks to fill the hole. It's raided trust funds, reduced Medicaid services and stalled education funding to barely match inflation. There's not much left to cut. Education is Florida's most essential responsibility.
Here's the kind of hole ahead for the state in general and public education in particular:
Overall state budget deficit: The Legislature started this year with a $3.2 billion deficit. By the time it passed a $70.4 billion budget on April 30, it had plugged it, as it's required by law, without increasing direct taxes except on Seminole gambling. But fees are rising rapidly, as college and university students are discovering. (Tuition and fees are rising 15 percent; Bright Future scholarships were cut $1 for every credit hour.) And it did so with $2.6 billion in federal stimulus dollars, almost $1 billion of which went to public schools. That money won't be there next year. It also did so by raiding trust funds—the transportation trust fund that builds roads, the housing trust fund that subsidizes housing for the poor. Half a billion dollars was taken out of trust funds. A $270 million increase in federal Medicaid spending also helped, as did an agreement with Seminole Indians, whose gambling network will yield the state  $435 million this year. But the state will get a guarantee of only about $500 million spread out over the subsequent four years. So in every category other than Medicaid, the money the state used to plug its deficit was a one-time shot. Florida's total reserves are down to $1.4 billion.
Stimulus dollars running out. In 2009, Florida lucked out. Money from the economic stimulus package saved 25,000 teaching jobs. That money is running out this year. The state has no plan to retain those 25,000 positions, leaving it to individual school districts to improvise. In Flagler County, there's enough reserves to pay for those teachers for one more year, through 2011-12. Beyond that, and short of a rapid economic recovery, there's no money.
Class-size amendment: In 2002, Florida voters amended the state constitution to require that by this fall, no classroom in core subjects such as English, math, science and social studies exceed a certain number of students (18 in pre-K through grade 3, 22 in grades 4-8, and 25 in grades 9-12). The amendment has cost $16 billion since 2003.  It will cost $3.2 billion this coming year, according to the Florida Department of Education. Several counties are nowhere near compliance.  Flagler County will only be in compliance by literally inventing alternatives. (Read about those alternatives here.) Districts out of compliance in October, when the state takes its official counts, will be fined. Lack of money and space is preventing districts from complying. They fail to match the numbers. They must pay even more of the money the don't have. That's absurd. It's also Florida.
Property values plummeting. Property taxes generate a lot of the revenue that funds education. Sales taxes generate the rest, especially where the state must equalize funding among rich and poor districts. The median sale price for a home in Florida as a whole peaked at $257,800 in August 2006. It's now half that, and still falling. This month the Flagler County property appraiser announced that taxable property value across the county fell a record 20 percent last year, on top of the previous year's record 16 percent drop. So far, local governments have not raised taxes to compensate for lost values equally. They've reduced budgets. School districts are slightly more insulated from lost values, because by law a portion of the local property tax rate is adjusted in line with local district and state needs. But again, the state relies on sales tax revenue to compensate for what it doesn't generate through the property tax.
Oil spill effect on property values. The CoStar Group, a commercial real estate information company, is estimating that Gulf Coast-area properties, including in Florida, will lose 10 percent in value over the next three years on top of what those property have lost so far. Should oil begin to wash ashore on the east coast of the state, property values will be further affected here as well. In Flagler County, the beach-side commands by far the highest property values.
Oil spill effect on the sales tax. Next to the crash in property values, that's going to be the largest impact on the state budget. This year, the impact in revenue may be more severe than the drop that took place immediately after 9/11. The reason: Florida draws 80 million visitors a year. The overwhelming portion of that number heads here for the beaches, not the theme parks. The 80 million visitors contribute $60 billion to Florida's economy, making tourism the Number 1 industry. Florida has no income tax, making the sales tax the largest revenue source for the state's operating revenue. In 2009, the state collected $19.2 billion in sales tax revenue, $2.29 billion less than the previous year. Tourism accounts for about $5 billion of that revenue. The state can't afford further declines in tourism activity. It may get hit with a crash.
Sean Snaith, an economist with the University of Central Florida in Orlando, estimated in an analysis this week that the spill may cost Floridians 195,000 jobs—on top of the 1.1 million unemployed now. That would be a staggering increase. The cost to the economy: $10.9 billion. A mere 10 percent drop in tourism along Gulf coast counties would lead to a $2.2 billion tourism-spending reduction and 39,000 fewer jobs, according to Snaith. The losses would spread not quite in proportion to the oil slick spreading: perception is everything, so even if tourists in the rest of the country, in Canada or in the rest of the world get the impression that some Florida beaches are fouled, they'll likely think that all Florida beaches are fouled and won't take a chance risking their multi-thousand dollar vacations on tarred beaches. It's already happening in the Panhandle. The "phones have stopped ringing," Chris Thompson, head of the state's tourism office in Tallahassee, told Business Week.
The east coast of Florida up to Flagler and St. Johns may experience a spike in tourism. But don't be fooled. The spike is due most likely to tourists who had already planned to travel to Florida, were turned off by Gulf Coast oil, and veered toward the east coast to salvage their vacation. The key is future bookings: would those making plans now or in the weeks ahead think of Florida as they might have a year ago? Not likely.
BP's $50 million infusion of advertising money for Florida tourism sounds like a lot. But it doesn't go far in a world of tourism overwhelmed by perceptions—and the now-routine, permanent emplacement on round-the-clock newscasts of the live image from the Deepwater oil blowout showing oil gushing out at up to 30,000 barrels of oil per day—the equivalent of an Exxon Valdez spill every 10 days. Already, the initial ad campaign branded "The Coast Is Clear" had to be pulled because the Florida coast is no longer spared.
A spill of that size and that duration, with no end in sight, suggests that it's not a matter of whether, but of when, oil will extensively foul Florida beaches and kill animals. The question is whether the spill's crude will circle around to the east coast as well. That likelihood, while still low, keeps rising with every barrel.
What Can Be Done?
The ecological and environmental costs are going to be disastrous. But that's a separate story. The costs to Florida's way of life in very pragmatic ways are also going to be staggering. The Legislature cannot afford to wait until January to decide how to react, especially if, at mid-year, as has happened in 2008 and 2009, school districts are ordered to cut their budgets because revenue is not in line with projections. The Legislature can anticipate those problems and act now.
Absent further federal bail-outs, Floridians, who talk a big game of conservative self-reliance but lunge for hand-outs the second they're available—from the federal government, from Indians, from back-door taxes—have to be responsible for Florida. It isn't true that Florida has no option but to cut services and cut the budget, although it has been doing plenty of that.
Here are a few things the state could do now:
Raising the sales tax. The Florida Center for Fiscal and Economic Policy estimates that raising Florida's 6 percent sales tax to 6.75 percent, temporarily, would yield $2.2 billion in 12 months.
Eliminate sales tax exemptions. Lawmakers have been circling that target for years without making any progress. Meanwhile, hundreds of goods and services other than food and medicine remain exempt from the sales tax, including bottled water, spectator sports, charter fishing, legal services, boats and planes that eventually leave the state, religious items, non-prescription drugs, any medicines for your cats and dogs and other pets, and the list goes on. That's 250 exemptions totaling $12 billion.
The Estate tax: In 2002, it generated $558 million. In 2008, it generated $0, because unlike 17 other states, Florida went along with President Bush's phasing out of the tax until 2011. Restoring it to opre-Bush levels would add more than $500 billion to state revenue.
Fuel taxes: Florida has a 21.66-cent-per-gallon tax on gas and diesel, bringing at least $2 billion a year to maintain roads and bridges. Raising that just 5 cents would bring in an additional $500 million.
Soda tax: 10 cents on the average soft drink can would bring in $500 million.
Florida isn't without options. So far, it's only lacking a sense of urgency that goes beyond the immediate ecological impacts of the oil spill, and a will to do something about it. That way of life in Florida isn't changing. But it's changing ours.