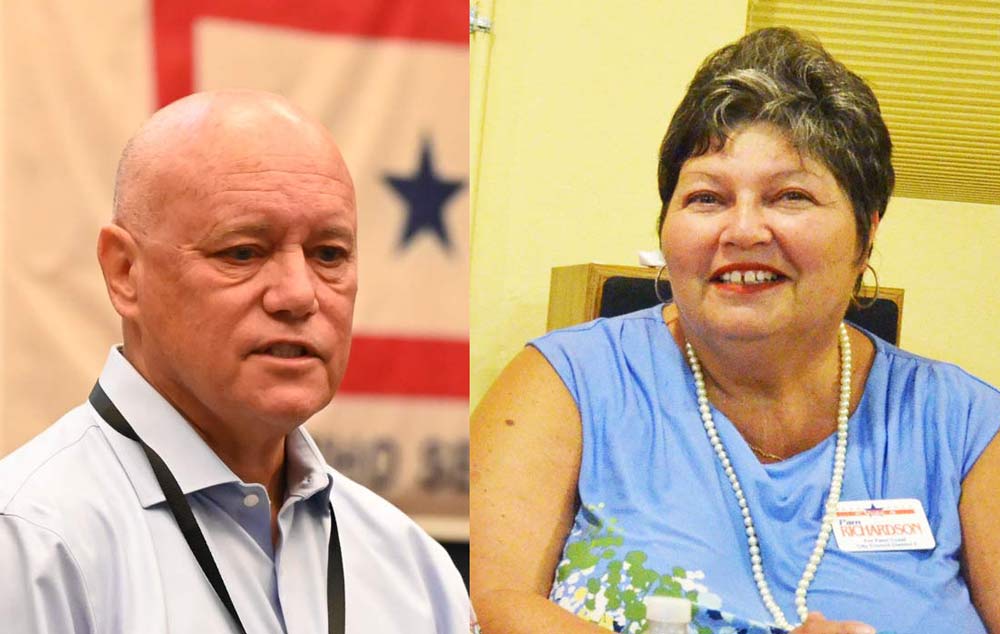 Darryl Boyer, one of three Republican candidates in the primary for the state House seat that Paul Renner is relinquishing in 2024, said today that Donald O'Brien, one of the other two competitors for that seat, told him he was likely dropping out of the race.
At the same time, George Hanns, the former county commissioner who said he'd be running in 2024 to recapture the seat he lost to O'Brien in 2016, said today he will no longer do so, now that Pam Richardson, the Realtor-broker, has joined the race. Hanns is supporting Richardson in a Republican contest that so far also includes Ed Danko, the current Palm Coast City Council member, and Victor Barbosa, the former Palm Coast City Council member.




Boyer, like Palm Coast Mayor David Alfin, like County Commissioner Dave Sullivan, like Republican Executive Committee Chairman Perry Mitrano, had heard the rumor that O'Brien was dropping out. Boyer called him.
"Apparently he may be dropping out the house race," Boyer said today. "It's just not the right time, he wants to focus on his family and start supporting the next generation of conservatives. He did say that he looks at me as the next generation, so that's good." O'Brien did not respond to an email sent to his business (he works at Hayward Brown-Flagler, the insurance company) or his Gmail account.
O'Brien is in the seventh year on the Flagler County Commission. He declared his run for the House last February. He was buoyed that month by an early burst in local thousand-dollar contributions, especially from those associated with the business and development community (see the full list here). Then the contributions just as suddenly stopped, aside from one in March, one in April, one in May. They total $27,250 in the kind of race not easily won with less than $200,000, though it's still early.
O'Brien does not appear to have launched a campaign website, a Facebook page or the other usual social media noise-makers of contemporary political campaigns. His X (formerly Twitter) page was last updated with a reminder that June 1 was the beginning of hurricane season. It has 105 followers. He was more ubiquitous at public, civic or government events when he was just a commissioner in his first term.




Boyer has raised $22,000, but from a far longer, more varied list that continues to accrue contributions (see the list here). Neither Boyer nor O'Brien comes close to the treasure chest of James St. George, the physician and businessman from St. Johns County who's amassed nearly $200,000. Even accounting for the $100,000 of his own that he put in, his contributors have given more than three to four times as much as to either Boyer or O'Brien, though not a single one of those contributions is from Flagler County. (See the list here.) St. George has not yet been too visible in Flagler, where the majority of votes are in the district. He ran an unsuccessful campaign for Congress in 2020.
Though he had ruled it out after considering it earlier this year, Alfin said today that he again is not ruling out a run for the state House, though that possibility is slim and garbled in caveats.
"I committed to stay in my current seat as long as I would be favored by the public and elected. I have no plan to change that, but again it'll be up to the voters in a year's time," Alfin said. "I'm sticking to my guns with that." But moments later he said he would also consider running for the House seat "if I was certain that we were going to lose our voce in Tallahassee from Flagler." So he would give that "due consideration," but only to then say that "it would be hard for me to convince me that I couldn't offer more here locally."
Adam Morley, a Democrat from St. Johns County, is again running for the House seat.




Richardson filed to run for the District 5 County Commission seat last week. By this weekend at Princess Place Preserve, where Hanns was relentlessly giving tours of the lodge to visitors at the Creekside Music and Arts Festival, Hanns was telling people he would not run for that seat.
"I have nothing to prove, my name is on every building in this county, I have accomplished a tremendous amount of work and I continue to give tours at Princess Place," he said. "I do believe that Pam Richardson would be a good commissioner, and she's kind of a non-sense person." Hanns says he "doesn't want certain people in there," and he thinks Richardson would ensure that. He's leaving a door of his own slightly ajar for a possible run for a Palm Coast seat.
Richardson has run two campaigns. She ran for a Palm Coast City Council seat in 2016, actually polling the highest in the primary in a three-way race, ahead of Nick Klufas, 42 to 38.5, with Anita Moder getting 19.4 percent. Klufas and Richardson faced off in the run-off. Klufas won, 53-47, on the strength of Moeder's Democratic vote (Klufas then as now was a Republican). Richardson also ran for Supervisor of Elections in 2012. She won 34 percent of the vote in a four-way Republican primary, less than a point short of Trey Corbett, who went on to lose to Kimberle Weeks, who won her second term before going on to an indictment and convictions on felony charges.




Richardson is a local resident of nearly 20 years. "People have wants and needs and desires, and they're strong about their feelings, and I want to bring a positive tone to the dais with compromise and the voice of reason," Richardson said. "I have a lot of leadership experience, and I think I can bring that to the table as well, respectfully."
Danko texted his reaction to Richardson's run with characteristic Dankoness: "Any RINO can say they will be a voice of reason and positive tone, but will she never vote to raise taxes? Will she fight against liberal WOKENESS? Does she stand with law-enforcement? Will she support our second amendment rights? Will she defend parents rights? Does she support President Trump? I am an America first Republican, is she?"
Taxes and the sheriff's budget aside, the other issues Danko refers to have a lot of currency on national, ideological television and radio shows, but not much relevance to the day-to-day governance of Flagler County, and the president, at the moment and at least through next year's election, is not Trump.