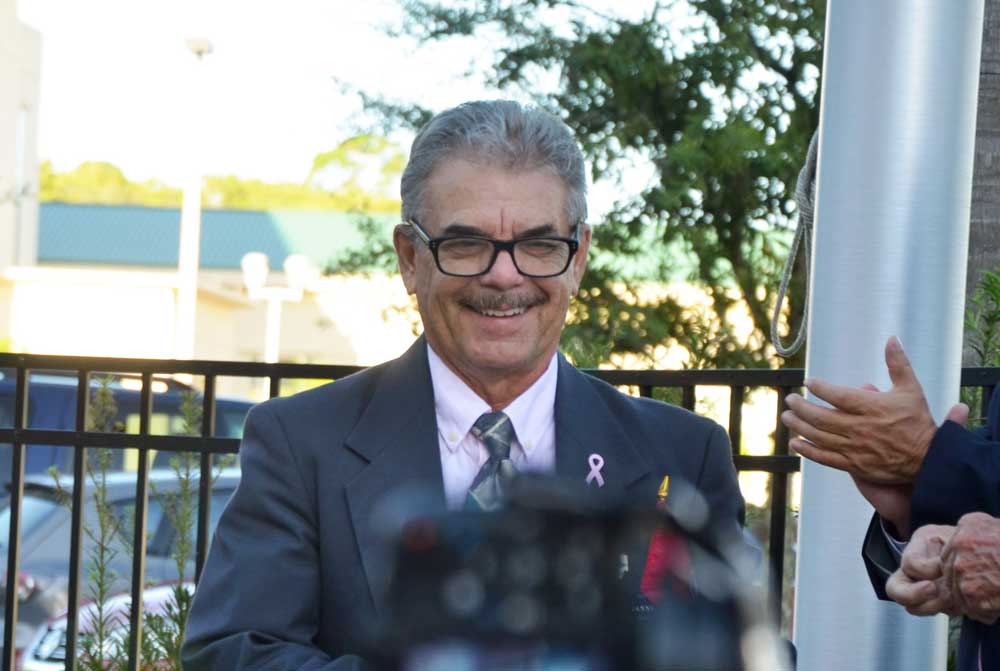 George Hanns has never been really gone since he lost his bid for a seventh straight four-year County Commission term in 2016.
If you don't see him at ribbon-cutting around town, at social events, at European Village, at Princess Place Preserve, always with his trusty tripod and a lanyarded ID suggesting a nebulous association with local media, or at least social media, you see his name on the covered bridge at Princess Place or on plaques on numerous buildings that bore the imprint of commission funding during his quarter-century tenure. Even fish and wildlife see him. An artificial reef offshore is named after him, as is a covered bridge at Princess Place.




"It's not like I retired and went away, went in a shell, I'm still very active and promoting what's going on in Flagler," he says.
Now Hanns wants to run again for the County Commission, this time as a Republican, in 2024. He was a Democrat the entire time he'd served, and for most of his life going back to his Chicago days, where he was a self-employed carpentry contractor. "There are so many times a subdivision I supported and worked hard to bring in and then it was predominantly Republicans moving in," Hanns says. "I was fortunate over those years they still supported me. Unfortunately, it was a no-win situation in 2016."
That was the year the commission lost its last two Democrats (Barbara Revels was the other) in a Republican surge that hasn't really stopped since. Hanns was defeated by Donald O'Brien, the Republican now running for Paul Renner's term-limited House seat at the Legislature. So Hanns switched about a year or two ago, and now wants to get back in the fray.
"I think about it and I don't really miss it, the long meetings, sometimes the way people vote irritates the hell out of me, it's hard to keep your mouth shut. But I believe I will do that," Hanns said today of running again. "I still have energy. When I think about it, I think: my God, my name is on every building in the county, and there are so many projects I was involved with in the county." He adds:




Hanns was 46 when he was first elected to the commission in 1992. He is 76 now, the same age as Commission Chairman Greg Hansen, a few years younger than Commissioner Dave Sullivan, who's 81 and will not run again in less than two years. O'Brien is 63.
Hanns thought of running for mayor of Palm Coast, but was dissuaded after David Alfin, who won that race, told him he was running to honor his son. Alfin's son, an FBI agent, was shot and killed in the line of duty not long before Alfin's decision to run. Hanns said he would not run against him in those circumstances, and now has turned his eyes back onto the commission, where he clearly enjoyed himself for over two decades, if before the era of scorched-earth politics.
"Nothing derogatory about the existing commission at all, but I definitely will run. Well, I shouldn't say definitely. I do intend to run, and I don't change my mind very often," Hanns said. He gave credit to current commissioners Andy Dance and Hansen for being visible in the community, but said he doesn't see the others as much.
He has one regret for his time as a commissioner: voting for the acquisition of the old Memorial Hospital in 2013, an acquisition that turned into a nightmare after the building was reconstructed, at immense expense–the county is still paying for it–before it was turned over to the sheriff as an operations center.




A few years later, in 2018, two years after Hanns had left the commission, the agency had to leave the building because too many employees complained of sick-building syndrome-like symptoms. Water had intruded in the building and built up mold in various places. "That was the only part I could say I wasn't pleased, my efforts to do that," Hanns said. "In all sincerity, we were trying to do good for the sheriff, and that facility was available. We spent a lot of money in there." It was only last December that the Sheriff's Office once again could call an operations center its own.
Hanns doesn't know how a significantly more Republican county will take to a prodigal former commissioner. He says his friendships run the gamut, though he has no connections inside the party: he never ran in Democratic Party circles then, he doesn't run in Republican Party circles now. With two open seats, the election is expected to draw a large number of candidates, with two already lining up for the O'Brien seat: Hanns, and Ed Danko, the first-term Palm Coast City Council member.
Nick Klufas, who will be term limited at the end of two terms on the city council, intends to run for Sullivan's seat.
"I believe I've made a difference and I have a lot more to offer. I'll get more done in a bad day than most will get done in a good week, and my history shows that," Hanns says. "I have a lot of energy, I do a lot of things in the community, and I want to make it better." When asked what's driving him to run in particular, he returns again and again to Princess Place, where he regularly gives tours, and where he still has some influence with the county, if something there needs attention–with the exception of a long-disused swimming pool he wants restored.
In terms of policy and politics, Hanns was more circumspect–a vulnerability that would make his run difficult: running on history in a county where a large part of the electorate is post-Hanns retirees will not help him–other than to say that he was glad Joe Mullins, whom he called a "disgrace," was no longer on the commission. As for O'Brien, who had trounced him by 20 points in 2016, he said he wished him well.
Danko is part of that new wave of retirees Hanns will have to contend with, not just as a political opponent. When asked his thoughts about running against Hanns, Danko texted: "Who is George Hanns?"



After learning of Hanns, Danko added: "The fact this guy just switched from Democrat to Republican tells me all I need to know – RINO! Republican in name only."
Longevity aside, Hanns was known for his one-liner humor on a commission that has been especially dour and pious since he left. Example, from 2010: "If you live in Flagler you become bi-lingual, if you will. I speak Bunnell." Or, at a commission meeting on the tax rate in September 2013: "I've looked at the clock and Swamp People isn't on until 10 o'clock, so we have time."
He often riffed on his beloved companion Sophie Zabas, who died in 2016, a loss that demolished him weeks before he lost his election. She, too, had his sense of humor, he said. "I didn't get to talk much this weekend at home so I'm trying to make up for it," he said at a May 2014 meeting of the commission, when he was chairman.
He hasn't lost it. When asked his age during today's interview, he said with the kind of table-turning wit of Reagan's joke about Walter Mondale in 1984: "I will be 77 in October, and I can't wait. I hate sixes."