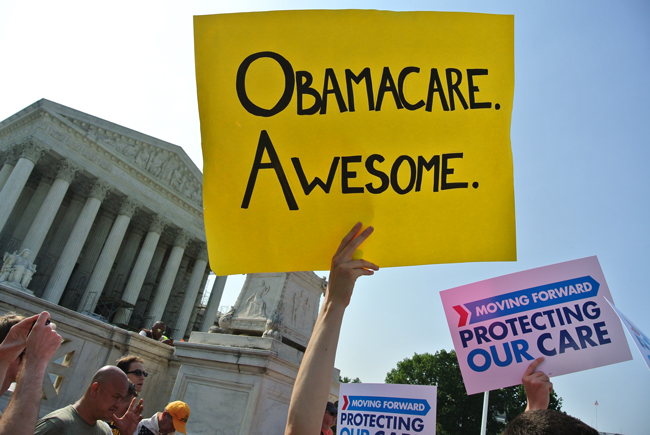 Members of the Flagler County Democratic Club will gather at noon Tuesday in front of the Flagler County Health Department on Dr. Carter Boulevard in Bunnell to celebrate the first day of the enactment of the Affordable Care Act—and to protest Florida's many obstructions against the health law known as Obamacare.
The health department at 301 Dr. Carter Boulevard is not a visible place: it's at the end of a little-trafficked side street, and the noon demonstration is scheduled for only an hour. But Democrats chose the health department because state Department of Health ordered all its county affiliates to prohibit use of the facility by federally supported "navigators" helping Floridians enroll in health insurance plans under the new law. Florida refused to set up health insurance exchanges in line with the law, leaving it to the federal government to do so.
"Why are all these people saying it's a disaster, it's terrible, we should stop it, we shouldn't have it, it's going to hurt jobs and everything else?" Merrill Shapiro, who heads the local Democratic Club, said. "They don't know but their voices are being heard and the people who are happy with it, their voices are not, so that's our goal, to have those voices heard."
Though it passed and was upheld by the Supreme Court, the debate over the health law has been dominated by naysayers, Shapiro said, creating a false impression about the support that it does have. The demonstration is "to have voices heard to say, despite all the scare tactics, there are people who are excited about having affordable health care," he said, "that there are people who are excited about people who have been previously not able to get health insurance, will have an opportunity to insure themselves and have access to quality health care like so many Americans who are able."
It's an unusual move by the local Democrats, who—other than a small show of  force before the general election on Belle Terre Parkway, in front of Kohl's—have not organized demonstrations or protests as has, say, the local tea party group. "There is an interest in the Democratic club of being more aggressive, to take to the streets, hold up signs and protest various things that oppose our agenda, so this is a trial balloon," Shapiro said.  "I don't know how many people will show up. The response is very positive."
Patrick Johnson, director of the Flagler County Health Department, had not been aware of the planned protest until a reporter informed him of it late last week. "It's pretty darn unusual," Johnson said. "I've really never come across a protest at our facility, it's actually not our facility, it's the county's facility, so the rules about that are the county rules."
There are just 56 parking spots at the facility, and about 150 customers use the department each day. Johnson was concerned about those customers' privacy. "If it has no issues about our patients and doesn't affect them coming in and leaving it's a non-issue for us," Johnson said, though he was not enthusiastic about it. He's also defended the state's order to deny navigator access to his facility.
"I'm a  military guy, so I don't quite understand it," Johnson said. "I've never been someone to protest, I've never understood that whole concept."
The health department building belongs to county government, so it's regulated by county rules when it comes to such things as protests. Joe Mayer, the county's facilities director, summed up expectations for Tuesday this way: "We would ask that anyone who would be attending the event park at the old hospital/future Sheriff's operations office, so as not to inhibit the health departments clientele from accessing that service. Also, we would ask that the demonstrations be curtailed to the grassy area to the west of the health department. With this concerted cooperation from the Democratic club, both the health departments operations and the attendees for this event will be a success."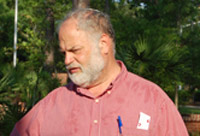 Shapiro said he would be emailing Johnson and the sheriff's office to let everyone know "that we intend to stay to the sidewalks, not block entrances or exits to the building and allow anyone to pass who wants to and not to disturb the peace in any way." He said the protesters don't even intend to address customers at the department.
Dave Sullivan, who heads the Flagler County Republican Executive Committee, said there are no plans from his side to protest—let alone support—the new law. "There are many, many questions about Obamacare as to whether it will really help or hurt in the long run," Sullivan said, "and the view of Republicans is: we should have come up with a better bill that would in the long run helped everyone if we had been willing to do a little back and forth when it was passed originally." But, Sullivan said, he was supportive of the actions Florida has taken against the law to date.
Republicans have opposed the new law but have not come up with alternatives different from the status quo that existed before it passed in 2010. They have nevertheless kept up a drumbeat of criticism, made Obamacare the centerpiece of their attempt to defeat Barack Obama in the 2012 election, and have continued to attempt to derail his presidency since. Congressional Republicans voted to defund Obamacare and alternatively, have refused to approve a new budget with Obamacare included. That has led to a stand-off with the Senate—and the very strong likelihood of a government shut-down starting at a minute after midnight on Tuesday, the same day of the planned protest in front of the health department.
Various aspects of the health law have already kicked in, such as expanded coverage for preventive care, the end of lifetime caps on insurance coverage, and an allowance for adult children, up to age 26, to remain on their parents' insurance. But beginning Tuesday, most of the 45 million Americans without health insurance will be required to buy insurance, and those who can't afford it will be eligible for federal subsidies to enable them to have insurance. Also, insurance companies will no longer be allowed to end an insurance policy if someone becomes sick, and insurers will be prohibited from turning anyone down for having a pre-existing condition, as insurers routinely did until now.
Political and logistical opposition aside, the health law has been subjected to a ceaseless barrage of misinformation and false claims, such as the notorious, and notoriously false, invention of "death panels" that Sarah Palin popularized, or that it is a government take-over of health care. The health law's central premise is built on the private insurance market, which stands to make the greatest lucrative gains from Obamacare's enactment. The Tampa Bay Times' Politifacts last week released the 16 greatest myths about the new health law.
"We just find that the mythology of Obamacare has taken on a life of its own," Shapiro said. "There are still people who think there are going to be death panels. It stuns us."