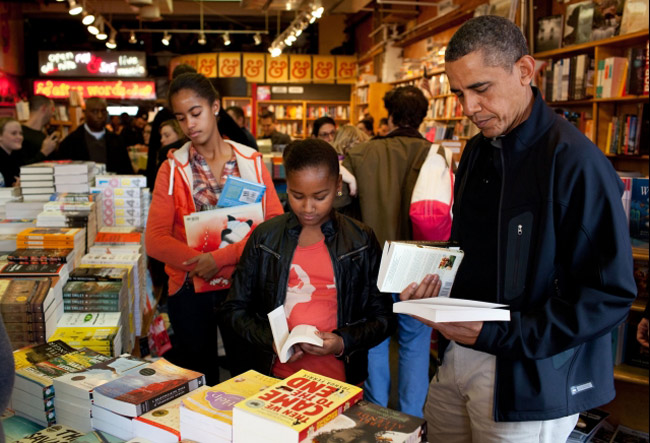 President Barack Obama addressed the killing of Treyvon Martin for the first time this morning, and in personal terms, calling for "soul-searching" not only about the specifics of the case, but regarding the Stand Your Ground law and the "context for what happened."
"I can only imagine what these parents are going through," Obama said. "And when I think about this boy, I think about my own kids." He added later, in a 90-second statement: My main message is to the parents of Trayvon Martin. You know, if I had a son he'd look like Trayvon. And you know, I think they are right to expect that all of us as Americans are going to take this with the seriousness that it deserves and that we're going to get to the bottom of this."
---
The Flagler District's Message About FPC's Student Protests[media id=275 width=250 height=250]
Students have been walking out of classes across Florida in protest over the killing all morning, including at Flagler Palm Coast High School, where a peaceful protest by "a few hundred students" followed by the signing of banners and student-led prayer in the Bulldog Cafe, the school cafeteria. Most students returned to class and were excused for their absence. Some did not, and had in-excused absences recorded.
Meanwhile, Gov. Rick Scott appointed an outside prosecutor Thursday night to investigate the shooting death of Trayvon Martin and formed a task force that will review the state's controversial "stand your ground" law.
Scott made the announcement amid a national furor about the Feb. 26 shooting death of the unarmed black teenager by Sanford neighborhood-watch volunteer George Zimmerman. Black lawmakers earlier this week called on Scott to appoint a special prosecutor to handle the case.
In an executive order, Scott said Jacksonville-area State Attorney Angela Corey has accepted an assignment to handle the case. Norman Wolfinger, the state attorney in Seminole County, which includes Sanford, sent a letter to Scott requesting that another prosecutor be assigned.
"I am fully confident in the ability of my office to conduct a fair and impartial investigation, and I have already committed experienced career prosecutors and investigators to this task who have been working diligently in conjunction with FDLE (the Florida Department of Law Enforcement)," Wolfinger wrote. "This request is being made in light of the public good with the intent of toning down the rhetoric and preserving the integrity of this investigation."
Scott also announced the creation of a Task Force on Citizen Safety and Protection, which will be led by Lt. Gov. Jennifer Carroll. The Rev. R.B. Holmes Jr., a prominent African-American Tallahassee minister, will be vice-chairman of the task force, and Scott said legislative leaders and Attorney General Pam Bondi will recommend other members.
In a news release, Scott said the panel will "thoroughly review Florida's 'stand your ground' law and any other laws, rules, regulations or programs that relate to public safety and citizen protection." The task force will start meeting after Corey's investigation into Martin's death, hold hearings and ultimately make recommendations to Scott and the Legislature.
"As we exercise our right to be free and secure both in public and in the privacy of our own homes, it is important that we have an open and honest discussion on these issues so that we might help avoid such tragedies in the future," Scott said.
The stand-your-ground law has drawn heavy criticism since Martin, 17, was killed as he walked to the home of his father's girlfriend home in a gated community. Lawmakers passed the self-defense law in 2005, allowing people to stand their ground and shoot — instead of retreat — if they think they are in danger.
Zimmerman, 28, argued that he shot Martin in self-defense and has not been charged. The case has spurred criticism across the country and led to an investigation by the U.S. Department of Justice.
State Sen. Gary Siplin, an Orlando Democrat who had called Wednesday for a special prosecutor, issued a statement Thursday night praising Scott's decision to appoint Corey and the task force.
"I am pleased Gov. Scott had the wisdom and foresight to listen to the pleas of the thousands of citizens in the city of Sanford who are yearning for justice in the killing of Trayvon Martin," Siplin said.
Corey, whose office handles prosecutions in Duval, Clay and Nassau counties, was elected state attorney in 2008. A Republican, she was a long-time prosecutor before getting elected state attorney.
–FlaglerLive and the News Service of Florida

Obama's full statement:

"I'm the head of the executive branch, and the attorney general reports to me so I've got to be careful about my statements to make sure that we're not impairing any investigation that's taking place right now. But obviously, this is a tragedy. I can only imagine what these parents are going through." He paused. "And when I think about this boy, I think about my own kids, and I think every parent in America should be able to understand why it is absolutely imperative that we investigate every aspect of this, and that everybody pulls together, federal, state and local, to figure out exactly how this tragedy happened. So I'm glad that not only is the Justice Department looking into it, I understand now that the governor of the state of Florida has formed a task force to investigate what's taken place. I think all of us have to do some soul searching to figure out how does something like this happen. And that means that we examine the laws, and the context for what happened as well as the specifics of the incident. My main message is to the parents of Trayvon Martin. You know, if I had a son he'd look like Trayvon. And you know, I think they are right to expect that all of us as Americans are going to take this with the seriousness that it deserves and that we're going to get to the bottom of this."