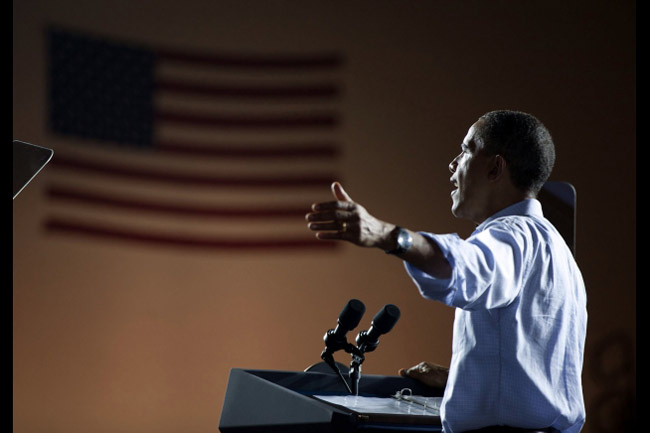 President Barack Obama plans an appearance Thursday in Jacksonville to talk about economic issues, and the Republican Party of Florida has already launched a counter-attack.
Obama is scheduled to deliver remarks at the Jacksonville Port Authority that "lay out his vision for rebuilding an economy that puts the middle class and those fighting to join it front and center," according to the White House on Monday.
The speech is part of a series Obama will deliver on the economy in coming days as he seeks to take back the initiative on the issue.
"I just finished reading the draft of a speech the President plans to deliver on Wednesday, and I want to explain why it's one worth checking out," Dan Pfeiffer, senior adviser to the president, wrote on the White House blog Monday. "Eight years ago, not long after he was elected to the United States Senate, President Obama went to Knox College in his home state of Illinois where he laid out his economic vision for the country. [See clips below.] It's a vision that says America is strongest when everybody's got a shot at opportunity – not when our economy is winner-take-all, but when we're all in this together.
"Revisiting that speech, it's clear that it sowed the seeds of a consistent vision for the middle class he's followed ever since. It's a vision he carried through his first campaign in 2008, it's a vision he carried through speeches like the one he gave at Georgetown University shortly after taking office that imagined a new foundation for our economy and one in Osawatomie, Kansas on economic inequality in 2011 — and it's a vision he carried through his last campaign in 2012. All of these speeches – Knox College, Georgetown, Osawatomie – make clear that since day one, the President has had one clear economic philosophy: The American economy works best when it grows from the middle-out, not the top down."
The state Republican Party sent out an email the same day declaring it would compare the economic records of Obama and Republican Gov. Rick Scott.
"Yesterday, Dan Pfeiffer sent out a blast email attempting to explain why the president is embarking on yet another pivot-back-to-the-economy tour. Quite unbelievably, he actually stated 'the president thinks Washington has largely taken its eye off the ball on the most important issue facing the country,' " wrote RPOF Press Secretary Susan Hepworth in the email. "Thanks for stating the obvious — we, too, have noticed the president's lack of leadership on the economy."–FlaglerLive and the News Service of Florida