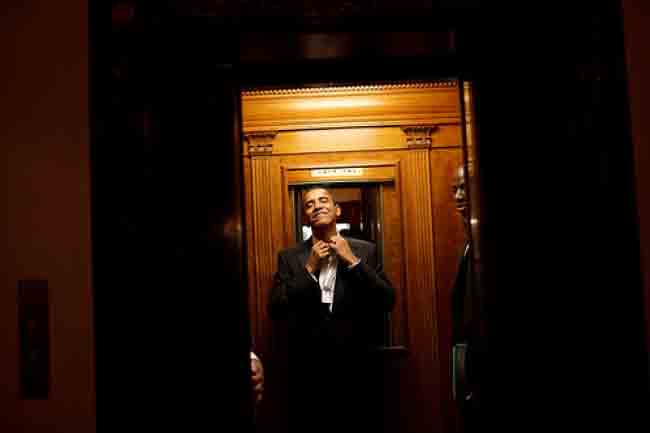 President Obama has opened his biggest lead yet in Florida over Mitt Romney and is either holding or solidifying his leads in Ohio and Pennsylvania, according to a Quinnipiac University/ CBS News/New York Times Swing State Poll released today. The polls are based on likely voters, not merely registered voters. In all three states, Obama is well over the magic 50 percent mark–53 percent in Florida and Ohio, 54 percent in Pennsylvania. Romney is at 44 percent in Florida, 43 percent in Ohio and 42 percent in Pennsylvania.
Romney's challenge is no longer to win just undecided voters–a very thin sliver–but to win back voters who have decided to give Obama a second term.
As the breakdown of the electoral map stands today, Romney cannot win the election if he does not carry both Florida and Ohio. Even then–and even if he manages to win Iowa and Wisconsin, his running mate Paul Ryan's home state, which has been trending Obama by growing numbers–Romney would still have to take back one of the states currently in the Obama column to pull off a victory (Colorado, New Mexico or Virginia).
More likely, if the election were held today, Obama would win with a sizable electoral vote majority of 332 to 206.
Wednesday's poll numbers add to a series of national and swing-state polls that are universally showing Romney's campaign losing ground as the effects of his offending remark about 47 percent of Americans being "dependents" on government and the continuing absence of specifics in his economic plan take their toll. The latest Bloomberg National Poll has Obama up by six points. He's up by seven in the National Journal poll, by one in the conservative Rasmussen poll, by three in Gallup's and Politico's, and by five in the NBC/Wall Street Journal poll.
That last set of polls show Obama breaking into or above the 50 percent mark in Colorado, Iowa and Wisconsin. The Journal poll also has Obama well ahead in Virginia, Ohio and Florida. On Wednesday, Intrade, the market predictor, increased Obama's chance of winning the election to 74.4 percent, its highest probability yet.
The Quinnipiac poll further darkened Romney's chances on several counts. Voters in Florida, Ohio and Pennsylvania see Obama as better than Gov. Romney to handle the economy, health care, Medicare, national security, an international crisis and immigration. Romney ties or inches ahead of the president on handling the budget deficit, which has never been a deciding factor in voters' choices, particularly when voters themselves carry negative balance sheets in their personal finances.
"Gov. Mitt Romney had a bad week in the media and it shows in these key swing states," said Peter Brown, assistant director of the Quinnipiac University Polling Institute. "The furor over his 47 percent remark almost certainly is a major factor in the roughly double-digit leads President Barack Obama has in Florida, Ohio and Pennsylvania. The debates may be Romney's best chance to reverse the trend in his favor."
The first 90-minute presidential debate is scheduled for Oct. 3 at 9 p.m. at the University of Denver. It'll focus on domestic policy and be moderated by PBS's Jim Lehrer. The second debate, in town-hall format, is on Oct. 16 at Hofstra University in New York. It'll be moderated by CNN's Candy Crowley. The third debate, on foreign policy, will be on Oct. 22 at Lynn University in Boca Raton, with Bob Schieffer moderating.
"The wide difference between the two candidates is not just a result of Romney's bad week," Brown said. "In Ohio and Florida votes are basically split down the middle on whether the country and they and their families are worse or better off than they were four years ago. If voters don't think they are worse off, it is difficult to see them throwing out an incumbent whose personal ratings with voters remains quite high."
"The president's strength results from the fact that for the first time in the entire campaign, he is seen as better able to fix the economy than is Romney, the issue that has been the Republican's calling card since the general election campaign began. And the economy remains the overwhelming choice as the most important issue to voters' presidential choice."
Here are the Quinnipiac poll's details on the Florida numbers:
Women likely voters back Obama 58 – 39 percent while men are divided with 50 percent for Romney and 47 percent for Obama. Hispanic voters go Democratic 55 – 41 percent while independent voters are split with 49 percent for Romney and 46 percent for Obama.
The economy is the most important issue for 47 percent of Florida voters, while 20 percent list health care; 10 percent list the budget deficit and 8 percent list national security.
The president would do a better job on health care, voters say 54 – 41 percent and do a better job on Medicare, voters say 55 – 40 percent. Voters over 55 say Obama would do a better job on Medicare 52 – 42 percent and back the president 53 – 45 percent.
Voters tip to Romney 48 – 46 percent on who would do a better job on the budget deficit.
A total of 53 percent of Florida voters are "very confident" or "somewhat confident" in Obama's ability to make the right decisions about events in the Middle East, compared to 46 percent for Romney.
Obama cares about their needs and problems, voters say 57 – 40 percent, while Romney doesn't care, voters say 55 – 41 percent.
In Florida's U.S. Senate race, Democratic incumbent Sen. Bill Nelson leads U.S. Rep. Connie Mack, the Republican challenger, 53 – 39 percent.
U.S. Sen. Marco Rubio gets a 47 – 27 percent favorability while former Gov. Charlie Crist gets a split 40 – 40 percent favorability.
Florida voters disapprove 48 – 38 percent of the job Gov. Rick Scott is doing.
"If Gov. Charlie Crist is contemplating a political comeback, he is neither in great or terrible shape. Overall voters are split on whether they view him favorably or unfavorably," Brown said.
"If Crist is planning a run as a Democrat, he would enter a primary with almost four times as many party members seeing him favorably as unfavorably," said Brown.