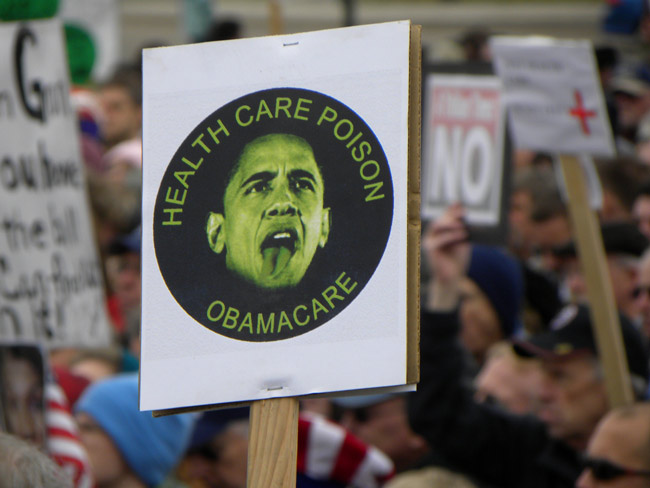 By Mark O'Brien
Driving across Alabama the other day, I heard a political candidate on the car radio proudly declaring that, if elected, he will oppose Obamacare.
Really, Alabama?
You're a state that's above average in only two ways – college football and payments from Uncle Sam.
Alabama is No. 11 when it comes to total federal spending on the 50 states — salaries, contracts, Social Security, Medicare and numerous other direct payments to individuals and institutions, according to a 2012 report by al.com, the state's largest news site.
Alabama averaged $11,819 per capita, well above the national average of $10,459. "The federal government sent almost $56.5 billion to the state, which was about evenly divided among four broad categories: defense, healthcare, Social Security and all other agencies combined," al.com said.
Alabama is consistent in one way — getting money from the federal government that so many of its citizens denounce.
"Ten years ago, the spending in Alabama was about $29.2 billion, or about $6,570 per person. Back then the national average was $5,739 per capita," al. com reported.
Of course, this isn't just an Alabama thang.
Much of the nation is caught up in convulsions about the Affordable Health Care Act and other programs that offer help to anyone deemed undesirable, morally bankrupt or not part of the chosen groups that get their subsidies the old-fashioned way — through exemptions, loopholes and lobbying in Washington.
We see it in Florida where Gov. Rick Scott and others spurn Medicaid millions that would not only help sick people but also support jobs to people who work in health care.
We used to be a nation that bragged about our plans to put a man on the moon, and we did it! We tamed diseases, improved the quality of life significantly and made numerous great strides forward.

But now the country is caught up in its petty little warfare on matters big and small.
Fast-food operators say they will close their restaurants in military bases if President Obama goes ahead with his call for a minimum wage of $10.10 per hour for people doing business on government property. I suspect the generals and the military contractors and just about everyone else working on a military base already is making much more than $10.10 an hour, so it wouldn't pain them too much to pay an extra nickel for their Whopper and fries.
We always seem to be finding a way to say something can't be done – health care, education, environment, gay people in the military. Some sociologists say that our spirit of togetherness waned after World War II, suburbanization, the decline of churches and other social changes in the past 50 years.
Now it's every, man, woman and child for himself, and instead of America pulling together, it's American pulling apart.

Mark O'Brien is a writer in Pensacola.