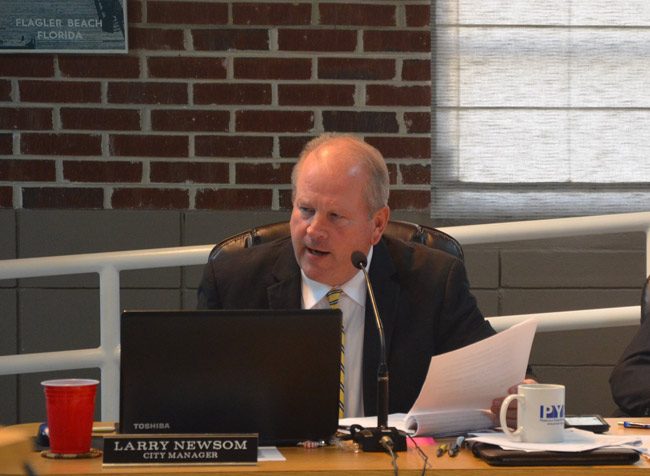 Flagler Beach City Manager Larry Newsom is one of five candidates short-listed for the county administrator's job in Jackson County in the Panhandle, not far from Escambia County, where Newsom spent much of his public career. Newsom applied for the job in summer, when he was about six months into his tenure in Flagler Beach. He said today he is not interested in the Jackson County job and that he's happy in Flagler Beach, where he'll remain.
It's one of two jobs he'd applied for: he also applied for the top city job in Port St. Luci, too.
Newsom said he applied for the job in Jackson County in early summer. He's not sure when he applied for the Port St. Lucie job, which was done through a head-hunting firm. "Only reason I applied was in case our budget cycle didn't go we'll, because I'd never been through a budget cycle with the commission" in Flagler Beach, he said. How that process goes is "a tell-tale sign" of that would be ahead, he said. But after he was impressed with the local commission, he lost interest in what he termed a "back-up plan."
"I was absolutely ecstatic that we did see eye to eye on the budget cycle," he said.
The Jackson County Commission shortlisted Newsom earlier this week and called him today to inform him. "I got a phone call today when I was sitting in front of Rick Belhumeur, I said Rick you've got to hear this voice mail," Newsom said in a brief interview after the end of this evening's long city commission meeting. He did not bring up the matter at the meeting, but spoke to city commissioners individually about it, assuring them he was no longer looking around.
Newsom said he did not have other applications floating out there. He said he'd called Jackson County twice in August or later to have himself removed from the applicants' pool, but that somehow he was not removed. It's not clear how far he made it in Port St. Lucie, which hired a new city manager, Russ Blackburn, in mid-November. Newsom had not made the shortlist there. (That city's manager had announced his resignation in mid-June, but effective only at the end of 2016. He was then forced out of the job in mid-September.)
The timing of Newsom's short-listing in Jackson is ironic: Newsom this week had been at the center of a fuss after revelations that he'd been looking to land a temporary job with Bunnell city government—and after Nate McLaughlin, the chairman of the county commission, alerted a Flagler Beach city commissioner of the matter.
Newsom explained that he'd tried to get the job for a day in order to make a change to his Florida Retirement System plan, which can only be done if he was employed by an FRS-participating city. Flagler Beach is not. Bunnell is. The "job" would have lasted a day or less, and he would have paid back Bunnell for whatever expenses it would have gone through to process what would have ended up being a bureaucratic accommodation. Newsom did not go through with it when a Bunnell city commissioner raised an objection. But Flagler Beach city commissioners found McLaughlin's interference inappropriate, and the county commissioner this evening apologized publicly to them and to Newsom.
That was before Newsom spoke to a reporter about his other job hunts. The city manager stressed that the hunts had nothing to do with the FRS issue, but that he would continue to seek an arrangement with another FRS-qualified government to carry out his pension switch (but not to relocate).
"I'm proud to be marketable, which mans I can always take care of my wife, make a decent living and take care of my wife," Newsom said. "I have no interest of going anywhere but staying in Flagler Beach."