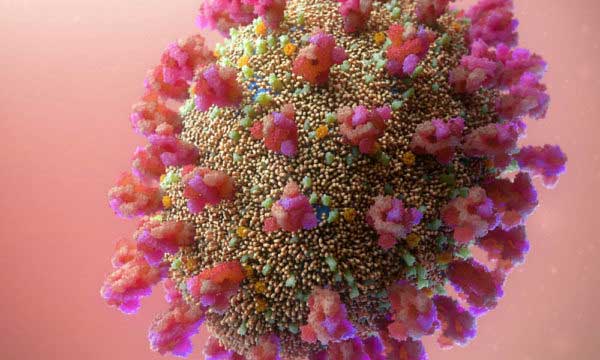 AdventHealth has opened a multidisciplinary clinic to diagnose, treat and research Long-haul COVID, a critical next step in the health care system's pandemic response that will help physicians better understand the puzzling syndrome caused by COVID-19. Early national research estimates that around 6% of people who had COVID will develop Long-haul COVID.
Led by internal medicine physician Dr. Dwayne Gordon, the clinic at AdventHealth Orlando is the first-of-its-kind within the health care system. It includes a multidisciplinary team of primary care, behavioral health and physical therapy and can connect patients to cardiologists, pulmonologists, neurologists, mental health professionals and clinicians specializing in sleep and substance use.
"For many of these patients, this might be the first time their post-COVID health issues are being taken seriously. They've been bounced around from doctor to doctor; their symptoms have been shrugged off; it might be months since they technically recovered from COVID-19 and they don't understand why they're not feeling better," Gordon said. "But here, at this clinic, we can forge a path toward a full recovery and get them feeling like themselves again."
The clinic is for patients with a confirmed diagnosis of COVID-19 and symptoms lasting at least 12 weeks. Since the clinic's soft opening in March, it's seen about 90 patients from all over Central Florida. After the initial appointment, patients return for check-ups six weeks, three months and six months out.




Data collected at the clinic will help physicians and AdventHealth's Research Institute better understand Long-haul COVID and how to treat it.
Because symptoms vary among patients, Long-haul COVID can be difficult to diagnose. The AdventHealth post-COVID clinic established a thorough screening process, including an intake phone call with a registered nurse and a 90-minute evaluation with Gordon, as well as a behavioral health specialist and neuro-physical therapist. The most common symptoms at the clinic are fatigue, shortness of breath, brain fog, anxiety, depression, insomnia and lung damage.
"They didn't leave any stone unturned," said Kathy Fennimore, a patient at the clinic and nurse manager at AdventHealth. Fennimore, 62, is the first patient to "graduate" from the clinic.
After she was diagnosed with COVID, Fennimore became dependent on supplemental oxygen 24/7. The virus had exacerbated the pulmonary fibrosis, hypertension and autoimmune disease she'd been dealing with most of her life. When she started at the clinic, she couldn't finish a six-minute walking test. After meeting with Dr. Gordon and subsequent months of physical therapy, she completed the test "with flying colors" and is back to walking two to three miles a day.
A large portion of the patients seen at the clinic present with behavioral health and neurocognitive problems, such as anxiety, depression and brain fog. Even young adults are exhibiting signs of severe forgetfulness and brain fog mimicking early-onset dementia.
"Definitively, people are more isolated because of COVID. And then they become further isolated when they have Long-haul COVID symptoms that keep them from seeing friends, working out, just normal daily activities. Some people have lost loved ones, their jobs, even their homes because of COVID and the economic aftermath," Gordon said. "And what we're seeing is a convergence between Long-haul COVID symptoms such as anxiety, depression, even PTSD, as well as the pandemic at large."
That was the case for Tanya Balyeat, a 54-year-old hair stylist from Mount Dora who was hospitalized with COVID-19 for four days early last year. Every day she felt exhausted and got winded even doing simple things. Countless times she'd lose her train of thought mid-sentence. Some days she couldn't work.
After being seen at the post-COVID clinic, she started doing physical therapy twice a week and was referred to a sleep specialist and pulmonologist, who discovered extensive damage to her lungs. She also underwent cognitive-linguistic therapy to improve her short-term memory.
"I felt dismissed by doctors who didn't know what to do with me. Until I met Dr. Gordon, I was starting to get very depressed because I just felt like there was no one out there to help me and I thought this was going to be the best of my life," Balyeat said. "The minute I met Dr. Gordon, I knew there was hope. They came up with a plan for me and just having that, knowing there's a light at the end of this tunnel, that was huge for me."
Reader Interactions