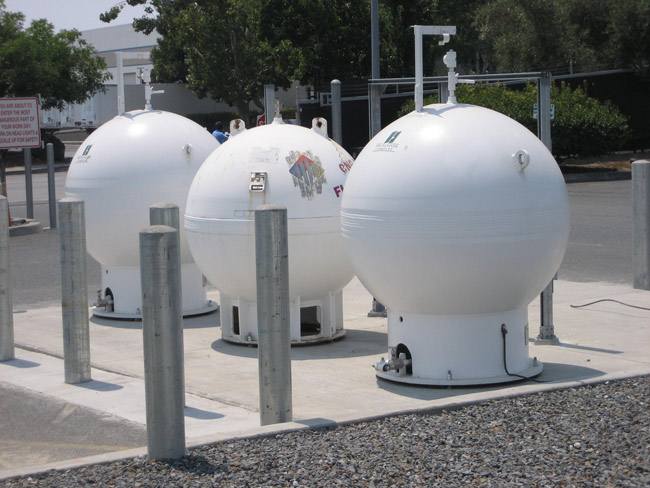 The last couple of years, Palm Coast has been thinking of converting its fleet of vehicles to alternative fuels, among them compressed natural gas. Don't expect the conversion to begin just yet. The Palm Coast City Council heard a proposal to begin adapting some of the city's 258 vehicles to compressed gas, heard the costs and the obstacles, and opted to pass, for now, despite the high cost of gasoline and the low cost of natural gas.
But the city administration had a surprise for the council: if and when the city begins making the conversion, it should think of building its own refueling station, not rely on Waste Pro's, the garbage hauler, as council members thought they would when they signed on to a five-year extension with Waste Pro a few months ago.
Natural gas conversion's potential gained momentum in the last few months for two reasons. As part of its contract renewal with Waste Pro, the city is requiring the garbage hauler to build a new gas fueling facility in Bunnell by June 1 next year. Waste Pro itself plans to convert its fleet to so-called CNG trucks, which burn fuel more cleanly (leaving about half the carbon footprint of gas trucks). Steeply rising gas prices and plummeting natural gas prices have also encouraged companies and governments to make the switch.
The city's F-250 and F-350 Super-Duty pick-ups could theoretically be converted to natural gas. Another fuel tank (equivalent in size to an 18.4-gallon tank) would have to be installed, generally in a trunk, or the rear or bed of a pick-up truck. A different gauge and an injection rack would also have to be installed, along with a few other adjustments. The base price for such conversions is projected at $10,000 to $20,000. Tony Capela, a public works supervisor who made the natural gas presentation to the council this morning, was not ready, when asked, to estimate how long it would take the city to recoup its investment. Nor was he able to get the cost of a gas-gallon equivalent for natural gas beyond a range of $2 to $3 per gallon.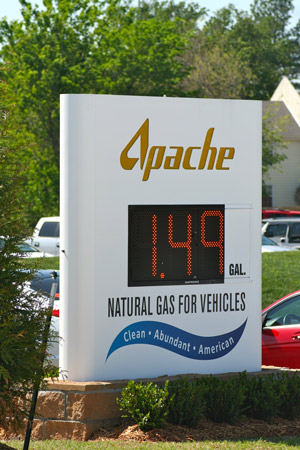 Another problem: immediately fueling the trucks would not be possible except in Jacksonville or Orlando. And Capela's verdict on conversions was mixed. The city of Apopka has its own fueling station, and has been converting trucks and police cruisers, with good success with cruisers, less success with trucks. "Don't go cheap, it's worth to spend the money," is the word Capela gets from Apopka officials. On the other hand, he said, Fort Lauderdale "has not had good luck" with its CNG vehicles. Yet he was suggesting that the city should think of investing in its own natural gas fueling facility.
"From what I've been told, I'm not sure how much availability we'll have for a fleet in Bunnell, for our fueling needs," Capela said.
That was a new one on the council or the public, because the Waste Pro contract renewal was sold to both on the strength of a few factors, among them Waste Pro's promise of a fueling facility that would not only accommodate Palm Coast's fleet, but potentially that of other local governments as well. "It's important that we look at all of the aspects, whether it's worth us investing having our own fueling station whether at public works or Utility Drive," Capela continued. "We could definitely utilize the Waste Pro fueling station, and I think that's what the plan is. We just don't know how it's going to work and how convenient it's going to be, either for them or for us."
City Manager Jim Landon clarified: the city is very interested in looking for alternative fuels and burning fuel more cleanly, but with limits. "Right now is not the time. So we're not proposing to build a filling station," Landon said.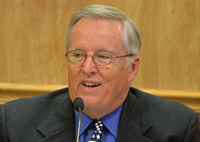 "We as a council voted to go with Waste Pro because we felt that that would be an important thing, that we could get the CNG," council member Bill McGuire said, "and I didn't hear any down side that, well, we might be able to have it but we couldn't really utilize it to the best of our ability. My question is more—this is not new technology. Compressed natural gas or propane even powered vehicles have been around for 30, 40 years. What bothers me is that even if we wanted to send a truck and get it converted over, that we have to send it to Louisville, Kentucky. I don't think I could support an idea like that. I would think that there's got to be some way that we can buy the technology we need if we chose to do so, and have it put on here under Tony's supervision."
Yes, Waste Pro will build a facility, Landon said, but he called it a chicken-and-egg issue: how to convert a vehicle for a type of fuel that's not yet available? "What we're saying right now is we need to keep looking at our options, but that this year the timing isn't right," he said. Still, he downplayed the feasibility of a city fleet refueling at a Waste Pro facility, again appearing to lay the groundwork for a facility of Palm Coast's own–should the city finally embrace natural gas conversion in the future. Council member Jason DeLorenzo suggested the city and the school board could be partners in such a venture. "Verbal estimates" of the cost of a facility range between $300,000 and $600,000, according to the city.
"Bottom line is," Mayor Jon Netts said, "the CNG issue was raised by Waste Pro, was part of their proposal, they offered us access to their fueling station as if and when, city council said to staff look into this, see if it's an option. I think from what I'm hearing, at least for this year, it's not an option, let's wait until the fueling station is in, see how it works for them. Then we can always, as Bill said, either do our own retrofits, or as we purchase new vehicles, purchase them with the conversion already in place. Right now, for this year, status quo."
So the council went back to looking at fleet replacement as it has every year, the conventional way. The city was on a five-year replacement schedule. It  has altered that to a seven-year, $100,000-mile "vehicle check" schedule. If the vehicle is still in decent shape, it's kept yet another year. The deciding is not cosmetic but mechanical, Capela said.
The council agreed to spend $189,204 to replace eight trucks and an Explorer SUV, all but one with mileage over 100,000. Six of the vehicles are for the utilities department, one is for parks, one for public works, and one for administrative uses. The money accumulates year after year in a special account to enable just such annual replacements. See the list of vehicles being replaced here.