By Nancy Smith
Probably we're not going to stop singing the National Anthem every time somebody gathers a crowd and produces a bouncing ball. But I can dream.
For decades I've questioned the wisdom of performing "The Star-Spangled Banner" before every football, baseball, basketball, soccer and hockey game — yes, professional, college, high school and youth league. Even NASCAR drivers won't start their engines until the National Anthem plays.
It's not the law of the land. Nobody has mandated the performance of the anthem on playing fields. But it has become culturally ingrained in our sports psyche, like team colors.
If we wanted, we could get past this, elevate a song that represents the country we hold dear to a far more sacred standard.
Thanks to President Trump's pronouncement that owners should "fire" all players who don't stand during the anthem — never mind that it's an absurdly disappointing thing to say coming from the leader of the freest country on the planet — we have the perfect occasion to consider adiosing this abused tradition.
Let's look at how sporting events got to be appropriate venues for "O say can you see …"
It's no coincidence the anthem's first surge in popularity came during wartime. Nationalism stoked by World War I meant people were more affected by the song, and the fact that Major League baseball players were being actively drafted meant those who weren't drafted benefited from showing their patriotism. Over time, other sports began adopting the practice.
Historian Marc Ferris wrote a history of the national anthem. He points out that, at first, the anthem was a costly extra. "The thing is, you had to hire a band," he told NPR in 2016. "That was expensive, so it was only for special occasions," like opening day.
Ferris says after World War II, parks could cut out the expense of hiring bands. Sound systems allowed teams and parks to play the anthem easily. That's when the practice became particularly widespread, because the new tech coincided with a huge swell in patriotism.
I like to think the anthem serves its highest purpose when it brings us, members of the nation, together as one and stirs up national pride. By definition, an anthem is "a rousing or uplifting song identified with a particular group, body, or cause."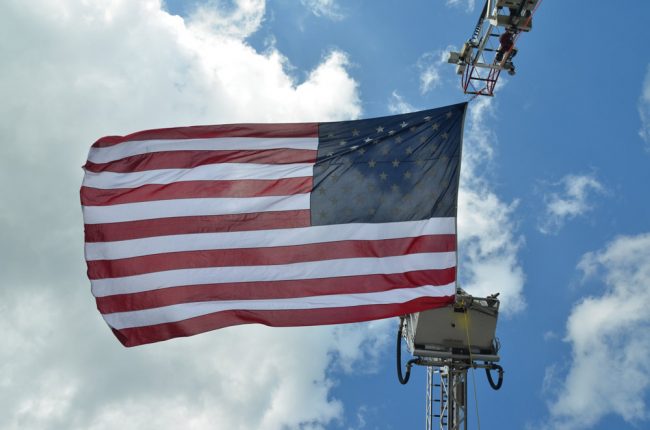 I like to think every time it's played, we shouldn't be — as, sadly, sports fans always are — cheering impatiently toward the end to get the song over with and the game under way. It should be reminding Americans just how great our nation is and how lucky we are to live here. From first note to last, it should make us aware of the sacrifices it took to make it that way.
Just lately, we cheapen our national song by politicizing it — athletes by using it to protest racial and social injustice, the president by using it to score points with his right-wing base and violate the spirit and intent of a First Amendment that guarantees the rights of all Americans to protest peacefully.
Bottom line, we're using it to make statements that reflect anger and divisiveness instead of pride.
The only sports arena deserving of our anthem is an international field of competition — the World Cup, the Olympics, any event in which the United States competes as a nation against another nation.
I first began to question the singing of "The Star Spangled Banner" at sporting events in 1990. That's when Roseanne Barr famously butchered the song before a San Diego Padres-Cincinnati Reds game in San Diego. Barr capped off the abhorrent display by grabbing her crotch and spitting into the turf. I was there, I saw it, I never forgot it and it is captured forever on YouTube.
Our national anthem deserves better than that. After President Trump's profane rant over the weekend, I fear the song that should stir patriotism and pride in all Americans will become a battleground from which it may never recover. Players are more united with protesters today than they were before the president tried to bully them and their owners.
All we need to end it is one courageous league president to say, "We've had enough. Our football/baseball/basketball/soccer/hockey players will come out and get straight on with the game. No more National Anthem." It wouldn't fix everything, but it would be a start.


Nancy Smith is the editor of Sunshine State News. She started her career at the Daily Mirror and The Observer in London before spending 28 years at The Stuart News/Port St. Lucie News as managing editor and associate editor. She was president of the Florida Society of Newspaper Editors in the mid-1990s. Reach her by email here, or follow her on twitter at @NancyLBSmith.