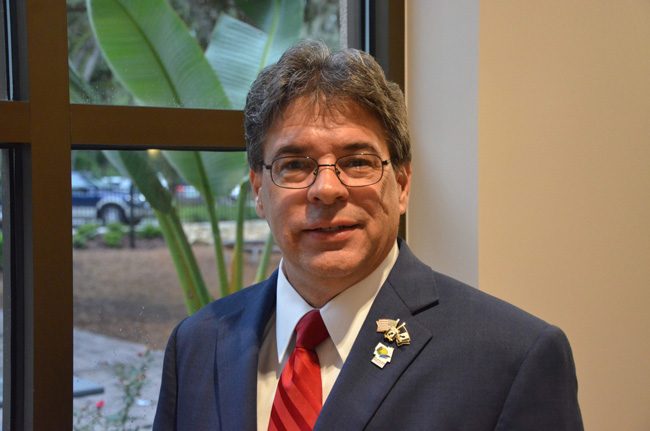 Nate McLaughlin is the Republican candidate for Flagler County Commission, District 4.
Two seats are up on the commission in this election cycle: District 2, held by Republican Greg Hansen, and District 4, held by McLaughlin. Both Republicans have drawn opposition in the primary. No Democrat has filed to run, so there is no Democratic primary in either race. Only registered Republicans may cast a ballot in the Au. 28 primary races for the County Commission seats.
Two independents have filed: Dennis McDonald in District 2, Jane Gentile-Youd in District 4. Independents have no primary. The two independents will face the winners of the Republican primary in the November 6 general election.
Flagler County Commission members serve four years. They're paid $53,951 a year.
FlaglerLive submitted identical questions to all candidates, with the understanding that additional questions might be tailored to candidates individually and some follow-up questions may be asked, with all exchanges on the record. The Live Interview's aim is to elicit as much candor and transparency as possible. We have asked candidates to refrain from making campaign speeches or make lists of accomplishments. We have also asked candidates to reasonably document any claim or accusation. Answers are lightly edited for clarity, relevance and, where possible, accuracy. If a candidate does not answer a question or appears to be evading a question, that's noted.
But it's ultimately up to the reader to judge the quality and sincerity of a candidate's answers.
See McLaughlin's 2014 Live Interview here.

The Questions in Summary: Quick Links

Place and Date of Birth: Augusta, Maine. February 24,
Current job: County Commissioner/ Real Estate Broker
Party Affiliation: Republican
Net Worth:$19,904
Resume.
Website and Social Media: natemclaughlincommissioner.com/Re-Elect Nate McLaughlin
1. Tell us who you are as a person—what human qualities and shortcomings you'll bring to the board, and what makes you qualified to serve—or to unseat an incumbent, as the case may be. Please give us real-life examples to illustrate your answer.
I have lived in Flagler County for over two decades and have been married to my wife Kelly for over 39 years, 3 children, 8 grand children and a great grandchild on the way. I have been in the Real Estate business here since 2001 and have witnessed positive growth and progress in amenities and services in Flagler County.
I have served in elected and non-elected positions as well as various committees and boards.
I have always been well respected by those with whom I serve and have a reputation as a decisive leader with the skills to make well-informed, sensible decisions. I have felt compelled to serve the citizens of Flagler County during my years as a resident here. The wealth of knowledge and years of experience have helped to shape me into an effective servant of the residents of Flagler County.
In me, Flagler County has an ethical, experienced commissioner who puts the public first and acts with integrity to get the job done.
My work for our community has positioned us to be a viable, critical asset in the northeast Florida region for Flagler County to benefit in regional economic growth.
Ensuring proper funding and support for public safety and community infrastructure has enhanced our communities' quality of life in making us safer and more comfortable in our daily lives.
From a water well in Daytona North to a water plant for Plantation Bay. From an upgraded criminal detention center to an upgraded and improved park system I have been working for Flagler. My support for local small business owners to the development of the Airport industrial park I have been there to do my part for the benefit of every household in Flagler County.
Unemployment numbers are falling, new businesses continue to open and tourism continues it's year over year growth.
I am proud to be part of a community that cares so much about each and every one of it's residents.
What about your shortcomings? What mistakes that you've learned from have you committed as a commissioner?
I would have to say my biggest shortcoming would have to be emotionalism. If I have trouble getting my point across or understanding those around me I have a tendency to be overly disappointed or irked unnecessarily.
I think perhaps the biggest mistake is in messaging, though I meet one on one with citizens frequently, getting out the message and details to residents has had to improve over the last few years, and is receiving further improvement.

2. What are the three most critical issues facing the county, and where do you stand on each?
Public Safety: Continue to ensure that Flagler County has the people and resources needed to provide proper Fire protection, Sheriff's personnel and Storm safety staff.
Economic Development: Continue to support the community designed economic development program.
Infrastructure: Continue to move forward with well-managed responsible growth. Develop and review land development regulations to be open to new trends and affordable housing models.
The first two issues seem more in the status-quo or caretaking category–continuing what's in place–than anticipating what's ahead, and you refer to departments (the sheriff, fire, economic development) that are either independent constitutional offices or departments that run with little guidance from the commission, since they entail little by way of policy. Do you see no developing critical issues and policies as the senior member of the commission?
Actually ensuring that the Sheriff's office gets the funding it needs to provide proper protection and enforcement is a major issue that the Board directly affects every year. The care and detail to budgeting year over year has a direct effect on how the Sheriff can operate his department efficiently and cohesively. The Fire Department and The Economic Development Department are, as with all BOCC employees, directly affected by the guidance and fiscal policies of the Board.
Two of the ongoing concerns would be the obvious Dune/Beach maintenance program and the west side drainage issues. A. The plan at this point to continue maintenance and re-nourishment to the beach is to develop an offshore borrow pit and pump sand onto our beaches. B. With growing population to the west of Bunnell it brings greater rainwater displacement and new engineering is needed to further accommodate growth while maintaining proper drainage for crop and other agricultural uses.

3. To what extent has the handling of and testing for sick building syndrome at the Sheriff's Operations Center been—or not been—adequate? The sheriff's nearly 70 employees assigned there remain unconvinced about the safety of the building. What's your next move? If rebuilding the Operations Center becomes necessary, how would you finance the project?
The health of the employees being top priority, we will continue to examine all avenues to determine the source of their illnesses. Then we'll determine the appropriate disposition of the building. These individuals are our friends and neighbors and we will solve this problem wherever the solution lies. Until all the data and information is collected and examined it is premature at this point to make any determinations. I have personally asked the Centers for Disease Control to review and inspect all the data. I have also requested that they make a site visit for further review and analysis.
That's understood of course. But whoever is in your seat in the next four years may have to decide whether to rebuild the facility. Do you acknowledge that as a possibility? Should that be necessary, how would you finance the project? And since you are the only member of the commission who was in place and who voted to buy the building in 2013, do you regret that decision?
The final disposition of the facility is so far down the list of importance that speculation is futile and irresponsible at this time. There isn't any substantial evidence for the buildings demise, at this point, that would warrant such a discussion. The priority is to determine illness and cause for these valued employees. Once that is established then we begin to evaluate assets and resources.
I have no regret in the purchase or the work performed on that building. With the information available at the time it was a good decision. The purchase and repurposing for the Sheriffs operations Center was the result of much deliberation by the County Commission. I and another commissioner had originally wanted to build new on the site of the old Bunnell jail. Many other options were explored and the project that won majority support was the gutting, re-roofing and a completely new interior for the existing structure. The only parts that are original are basically the slab, exterior block walls and the roof trusses. All plumbing, wiring, interior walls, framing and air handling are new to the facility. Until we know what, if anything, is wrong with this "new" building it would be difficult to estimate further costs or what engineers or contractors will be held accountable for. At purchase, the building and about 7 acres appraised for more than the purchase price with an ideal location. By using the existing floor and walls we realized further savings on the project.
You seem opposed to so much as discussing a contingency plan at this point. Is it not basic good management to have a contingency plan already at least in the works, for the Sheriff's employees' sake, should the building prove unusable again? How does merely planning for that contingency exclude exhausting all other options meanwhile? Knowing what you know now, do you wish you'd not bought and refurbished that building?
Nate McLaughlin did not answer the question.

4. Voters are likely to approve Amendment 1, an expansion of the homestead exemption to up to $75,000 this fall. All local governments except schools will see shortfalls. First, do you support the additional exemption? Please explain your answer. Second, how will you make up the lost revenue?
The new exemption will be up to the voters to determine. I personally, with a full understanding of how the tax and revenue system works, will vote against it. It will have no effect on the costs to operate the services that the citizens require and is misleading as to who and how basic services are funded. For the unincorporated areas of Flagler County it will be in the area of a $4 million shortfall to the 2019/2020 budget year. We have worked very hard to minimize the affect of increasing costs of operations year over year and will continue to do so.
Lost revenue can be made up in one of the following ways.
Cut needed services
Shift the tax burden to other property owners
Increase the tax rate across the board
The County Commission currently examines every budget section line by line in a series of workshops and has very little if any public demand for cuts in the services provided. We currently seek and use available State and Federal grants to offset operating and capital expenditures; however many grants required expensive and cumbersome application studies and matching funds which can make them cost prohibitive.

5. Commissioners like to say they won't raise taxes or will keep taxes, or at least tax rates, flat, as some are trying to do this year. But with rare exceptions, they don't provide options of what they would eliminate from the budget to keep their promise. Are you against property tax increases? What three specific line items would you cut from this year's proposed budget to keep the property tax rate flat?
As you know a flat tax rate does not mean no tax increase. The "roll back" rate is what would keep revenues neutral. Increasing costs and mandates such as school resource officers and rising operating expenses make tax increases difficult to avoid. However the challenge for the Board over many months of budget review is to draw the line between "wants" and "needs" and determine the level to which those who are served would desire to have them provided. My promise is and always has been to work very hard to keep the impact of rising operating and capital costs to the absolute minimum without sacrificing public safety and needed services.

6. State law requires armed security in every public school. Flagler has chosen to have a School Resource Officer at its schools. The district and the county essentially split the cost. County Administrator Craig Coffey told commissioners during a workshop this summer that they don't have to assume that security cost. He's right, under the law. With Amendment 1's consequences ahead, would you reduce the county's share? Alternately, do you pledge to preserve that split for the duration of your term?
It is my view that the School board has studied this action in depth and with great care. Supporting public safety needs is within the responsibility of the County Commission and appears to me to fit within the mandate. I would continue to support this effort and funding and hope that one day we, as a society, will find a better way.
Just to be clear: you pledge to maintain the 50-50 split regardless of revenue challenges in the next four years?
Correct, Public safety has and always will be a top priority and that includes safety in our local School System.

7. It's costing the county at least $26 million to rebuild the shore's dunes, upwards of $40 million when the state's rebuilding of State Road A1A is included, and almost $60 million when the U.S. Army Corps' funding of the Flagler Beach portion of dune repairs is included. That's just for Hurricanes Matthew and Irma. It is now demonstrably certain that sea levels are rising, and Flagler's revenue sources for additional beach protection are tapped out. How do you propose to pay for the next repairs should a hurricane like Matthew or even a strong storm with damaging surges strike during your tenure? How is beach protection not a losing battle?
Maintaining the Dune and Beach structure for Flagler County is a community priority and is critical to the economic and tourism infrastructure. Without periodic beach re-nourishment, some high volume tourist spots would eventually cease to exist. Such may be the case with the 18 miles of beach and dunes in Flagler County. We as a community have placed a high value on preserving natural resources as shown in the multiple renewals of the Environmentally Sensitive land ballot initiatives. We can continue to support Dune/Beach re-nourishment efforts through proper funding of the tourism tax fund 111 and obtainable State and Federal grant programs.
Like any asset such as a home or automobile, maintenance is a must in order to ensure its use and effectiveness in the future.
The tourism tax fund is tapped out, as are county reserves: current repairs will be paid for, but if a serious storm hits this year or next, with neither resources available, what revenue source can you draw on? Unless you disagree with evidence of sea rises, do you not see an end point beyond which beach renourishment is no longer feasible?
While it is true that if another storm strikes this year it would be a financially difficult absorption for the County budget, the tourism fund is not "tapped out" but continues to receive statutory funding year over year while State and Federal grants along with other assistance programs would still be available. Budgetary considerations would have to be made as to capital projects and expansion of services to meet the growing populations needs. The Beach/Dune is a valuable asset to the citizens of Flagler County and will be maintained into the foreseeable future.
The rising ocean debate and solution, if any, is not something that will be solved within a singular county in Florida. That will be resolved in a collaborative effort with national and international science and engineering consortiums.
No question, sea level rises are a global issue. But leaving the resolution (if there is any) to other governments, the question you face as a county commissioner in one county directly affected remains: do you not see an end point when beach renourishment becomes futility?
Nate McLaughlin did not answer the question.

8. We currently have five white Republican men as county commissioners. The average age is 67 in a county where the median age is 50. Only one commissioner holds a private-sector job. The commission is by far the least diverse of all of Flagler's local governments, in a county nowhere near as homogenous as the commission would make it seem to be. Explain first the consequences on policy and responsiveness of that lack of diversity (if you think there are no consequences, explain why), and second, explain how you have reached or would reach out specifically to constituencies that don't mirror the commission's demographics.
I disagree with your interpretation of the existing board. All members have been elected at large by the voters of Flagler County and have conducted themselves in service to all residents regardless of ethnicity, creed, religion, self-identification, personal orientation or political affiliation. In all that, this is the board that unanimously voted to pass the Reconciliation Proclamation last year recognizing the need to be ALL inclusive of ALL people and the acknowledgment of past societal offenses.
Fact is not interpretation: are any of the facts listed above inaccurate? Passing a proclamation is commendable but it's also among the easiest things a government bard can do, particularly when the proclamation is a few decades overdue. Are you saying that the homogeneity of the commission has no consequence whatsoever on the commission's policy outlook? Have you no examples of how you reach out across lines that don't reflect the commission's demographics?
The "facts" may be accurate but your narrative of what they mean may not be. You say that the proclamation was overdue, perhaps so, but this is the Board that gave it.
This is an honorable group of people who have been selected by their community to serve and I feel there is nothing in the actions of this Board that would suggest that the best interest of everyone is not foremost in their minds.
You are still not answering the question.

9. Palm Coast and the county continue to have difficult relations at times. To what extent are the two government's managers responsible? How will you help foster a less medieval relationship?
The local governments in Flagler County work extremely well together. The managers, like any relationship, are going to bump heads from time to time as they work through what are sometimes conflicting goals and policies. These conflicts are so infrequent that information outlets determine them to be newsworthy when they do occur. If it happened as frequently as is sometimes portrayed it would become commonplace and not worth writing about.
The County has had many collaborative projects with the Cities throughout the years.
A few examples: The Matanzas Woods Parkway and Interchange, Old Kings Road north extension, Dune re-Nourishment project, Pier Repairs and the Bunnell Fire Department Consolidation.

10. To what extent should the county commission be responsible for a social safety net in Flagler? Is the money the commission annually awards groups such as the Free Clinic, the Family Life Center and the Early learning Coalition?

To some extent local governments have an inherent responsibility for care of the elderly and less fortunate in our society. To me it is indicative of an advancing society that we not only take an interest both financially and socially in the arts and culture but likewise, in the care and keeping of those among us who are in need of help. Whether it's chronic or temporary in nature, I believe that our residents expect a level of Governmental participation in the funding and support of programs like the Free Clinic, the Family life Center and the Early learning Coalition.

11. We have an economic development department that consumes upward of $450,000 a year though it's been responsible for literally just a few dozen new jobs since its inception in 2011, compared to the 17,200 jobs the county has added independent of the department since. But we don't have a homeless shelter. How do you justify the contrast—and the continued existence of the economic development department?
. The Economic Development Department is the product of a Community wide workshop that was organized by all elected officials, Chamber of Commerce, bankers, business leaders, retired corporate executives, media outlets and concerned citizens with the purpose of creating a consolidated effort to raise our economic profile, invite targeted industries and to enhance opportunities for existing businesses.
All participants adopted and agreed to the creation and implementation of the economic development plan. The Department has worked diligently and added over $14 million in new wages to the local economy. This does not include the expansion of existing businesses and the influx of new commercial/retail facilitated organically by a growing population.
This Department by design is focused specifically on targeted industries and is not, generally speaking, involved in the naturally occurring economic expansion. These "target" industries are in line with goals set at the State and Regional level and these partnerships have benefitted our community. For example, our relationship with JAXUSA made it possible for Flagler County to receive a Free Trade Zone designation. And we have applied to the State for the new Opportunity Zone program for the area of Bunnell and the west side.
There's a bit of a re-write of history regarding that "summit," which we covered thoroughly: there was no broad consensus as you describe (the commission was itself divided ahead of the summit and after it), and a county economic development department was never mentioned: that was the outcome of Enterprise Flagler's demise later that year, when the county decided to replace it with its own less private, more public board. That said, if adding $14 million to the county's payrolls–the equivalent of seven months' work by Palm Coast Data's scaled back workforce of 400–is the most that can be said for a department in its seventh year, it begs the question: is it worth it at that $450,000-a-year price to taxpayers?
That is what I summarized from the series of discussions. The basic concept of what needed to happen was indeed determined at the summit meetings and the action that the Board was left with was to either infuse the existing private program with revenue or create a new department, the latter was chosen.
The wage impact certainly matters to those who benefit from the positions and the local business that are impacted by the expenditure of those funds. We are operating this department in concert with regional and state level departments and I believe that we have and continue to make progress. One encouraging example is the development of two new structures on the corner of US1 and Otis Stone Hunter Road that will be available soon to small manufacturing or warehousing.
Yes, with a current total economic impact exceeding $77 million there is an enormous tangible benefit to this investment in our local economy. (total economic impact includes direct, indirect and induced effects.)

12. Evaluate the performance of County Administrator Craig Coffey, listing strengths, weaknesses and areas of concern.
I will not speak to the disposition of any employee as a political or campaign issue. The value of an individual is rated in relation to the people selected to supervise the position.
The county administrator and the county attorney are the only two people you as a commissioner are responsible for hiring and firing. You do not consider it the public's business to know where you stand on the administrator?
Nate McLaughlin did not answer the question.
[Editor's Note: in an interview on Aug. 21 for a story about the Sheriff's Operations Center, McLaughlin was asked if he had confidence in the county administrator. McLaughlin answered: "I'm going to say that the jury is out on that. Normally I'm a little more–I just don't know, because he's just not communicated the way the board has directed him to do, I don't like that, there's no need of it. When you do that kind of stuff it creates doubt in people and you can't have that kind of thing going on."]

13. Have you ever been charged with a felony or a misdemeanor anywhere in Flagler, Florida or the United States (other than a speeding ticket), or faced a civil action other than a divorce, but including bankruptcies? If so, please explain, including cases where charges did not lead to conviction.
Never have committed a felony or misdemeanor. Never have been sued in a civil or criminal action. As you know and as has been stated in previous races, I have had a bankruptcy as a result of the economic downturn 10 years ago.


2018 Election Candidates, Flagler County
Races

Candidates

County Commission District 2
Greg Hansen, Incumbent (Rep)
Abby Romaine (Rep)
Dennis McDonald (NPA)
County Commission District 4
Nate McLaughlin, Incumbent (Rep)
Joe Mullins (Rep)
Jane Gentile-Youd (NPA)
School Board District 1
Andy Dance, Incumbent
Unopposed
School Board District 2
Janet McDonald, Incumbent
John Fischer
Carl Jones
School Board District 4
Trevor Tucker, Incumbent
Paul Anderson
Palm Coast City Council Seat 2
Jack Howell
Jon Netts
Palm Coast City Council Seat 4
Jose Eduardo Branquinho
Corinne Marie Hermle
John Tipton
Florida House District 24
Paul Renner, Incumbent (Rep)
Adam Morley (Dem)
Congressional District 6, Democratic Primary
Stephen Sevigny
Nancy Soderberg
John Upchurch
Congressional District 6, GOP Primary
Fred Costello
Michael Waltz
John Ward