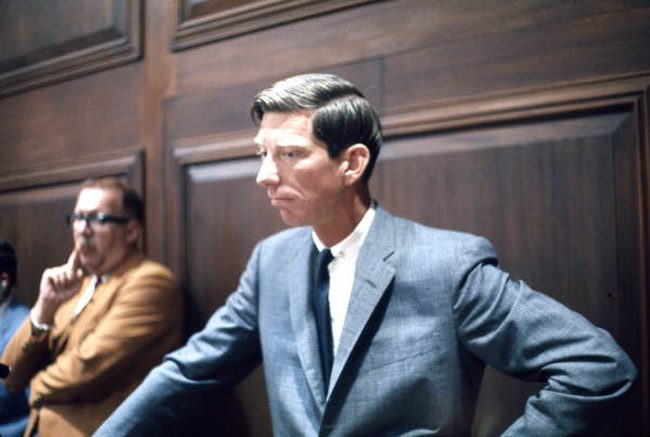 Nathaniel "Nat" Reed, an environmental advisor for six Florida governors and assistant secretary of the interior to Presidents Richard Nixon and Gerald Ford who was considered one of the founders of the modern conservation movement, died Wednesday. He was 84.
The Jupiter Island resident who started his career in the family real estate and hotel business, the Hobe Sound Company, began his state work under Republican Gov. Claude R. Kirk Jr. in 1967. He later was appointed by Democratic Gov. Bob Graham to the South Florida Water Management District, where he served for 14 years.
Reed's son, Adrian, told The Tampa Bay Times his father died a week after falling on a gravel riverbank while fishing in Canada.
The environmental icon, who left his imprint on Flagler County, received bipartisan accolades as news of his death spread Wednesday.
His stewardship led to Flagler's progressive comprehensive plan and greenway and environmental successes, said County Attorney Al Hadeed, who had served as general counsel to 1000 Friends of Florida, the environmental group Reed co-founded with Reuben Askew. "Under his leadership at 1000 Friends, Flagler County was awarded the statewide Greenways award," Hadeed said of the 1994 honor. "I think it hangs in the County Chambers and has so for many years." Palm Coast Mayor Milissa Holland served on the board of 1000 Frinds of Florida.
"While a very prominent Republican," Hadeed continued, "he worked in a bipartisan way, and collaborating with stakeholders, private and public, yielding many legislative and executive initiatives in the state. The land acquisition programs are the ones that affected Flagler the most, followed by the growth management programs addressing Florida's rapidly increasing populations and development of once rural areas without thoughtful planning."
"Floridians for generations to come are indebted to Nathaniel Reed for protecting our beautiful environment and our Florida Everglades," U.S. Rep. Charlie Crist, a Democrat who served as Florida governor as a Republican, said in a statement. "We will honor his memory by recommitting ourselves to being good stewards of our environment."
U.S. Rep. Tom Rooney, a Republican who at one time represented the Treasure Coast, tweeted that Reed was "a great man and mentor."
Senate President Joe Negron, a Stuart Republican whose district includes Jupiter Island, called Reed "a resolute force of nature who devoted his life to protecting the environment of Florida and the United States."
"I will personally never forget his unwavering support for the Senate Bill 10 EAA Southern Reservoir and his lifelong commitment to Everglades restoration," Negron said in a statement. "Mr. Reed loved Jupiter Island, Hobe Sound and Martin County. His prominent standing in the modern history of Florida is secure and irreplaceable."
And U.S. Sen. Bill Nelson, a Democrat, praised Reed on the Senate floor Wednesday, after hailing the U.S. Army Corps of Engineers' support for the $1.6 billion reservoir project.
Reed was "one of Florida's greatest environmental advocates," Nelson said, adding that the state should name the new reservoir in Reed's honor.
"It saddens me so much to announce this good news at the same time of announcing the death of one of the nation's true environmental champions," Nelson said. "Nat and I have been so focused on advancing this new reservoir project south of Lake Okeechobee … It would be a fitting tribute to name that project in Nat Reed's honor."
In 2017, the National Audubon Society awarded Reed its Dan W. Lufkin Prize for Environmental Leadership "for his lifelong commitment to conservation and role in protecting America's Everglades."
"Nat was a giant in conservation — that phrase is used a lot but in Nat's case it's true. His scientific knowledge and his passion for birds and wild places made him a hero for decades and Audubon will miss him dearly," said David Yarnold, president and CEO of the National Audubon Society,.
Audubon Florida Executive Director Julie Wraithmell called Reed "a giant of a conservationist, with his fingerprints on many of the most significant national conservation accomplishments of the last 60 years."
As assistant secretary of the U.S. Department of the Interior for Fish, Wildlife and National Parks, a post he held until 1977, Reed is credited with the crafting and passage of the Endangered Species and Clean Water acts.
In Florida, he played a pivotal role in the late 1960s in the successful fight to block construction of a new jetport in the Big Cypress Swamp, successfully convincing Nixon to withdraw funding for the project.
Author and Miami Herald columnist Carl Hiaasen tweeted that "the Everglades has lost a great friend and champion. Nat Reed was literally a force of nature."
"He was an avid fisherman and golfer with an unparalleled passion for restoring the Everglades," Everglades Foundation CEO Eric Eikenberg said in a press release Wednesday. "Personally, I've been privileged to know and work with Nathaniel over the last 16 years, and I am proud to have called him my friend. He was a master of words, bastion of principle, and a constant provider of sound counsel."
Reed also served on the boards of the Atlantic Salmon Federation, Natural Resources Defense Council, National Geographic Society and Yellowstone National Park.
The Bob Graham Center at the University of Florida noted on Twitter: "Mourning the loss of our friend, board member and inaugural Citizen of the Year Nathaniel Reed. Nat dedicated his life to public service and working to protect the environment."
"It was a privilege to have worked with Nat," Hadeed, the Flagler County attorney, said. "He was a true visionary who dedicated himself to the public interest. He is owed a lot of thanks for his service to the state and nation."
–News Service of Florida and FlaglerLive