For liberals like me, living in scarlet-littered Flagler has felt a lot like endlessly summering on a common heretic's cross on Golgotha, with no obliging Romans to un-nail me and certainly no third-day resurrection in the shape of a good fat juicy burger of a viable Democratic candidate to give me faith. Even pretend faith.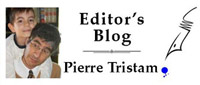 It's been a few thousand days since a Democrat last represented any part of Flagler in Congress. That was the corrupt and, in my book, criminal Corinne Brown. We've had our share of candidates since, but they've been sacrificial lambs or sophomoric dopes.
Now comes Nancy Soderberg.
On paper, she looks like an apparition and a paradox both: an overqualified foreign policy expert proposing to run for Congress in a hyper-provincial district of Northeast Florida where going to Palatka counts as traveling abroad. Compared to Ron DeSantis, the Republican currently pretending to represent the 6th Congressional District (his more calculated allegiance is as a member of Capitol Hill's premier sabotage organization euphemistically known as the "Freedom Caucus"), she certainly packs more policy experience in a week's worth of her past than DeSantis has accrued in front of Fox TV's cameras in the past four years.
But we re-learned in 2016 that in politics anymore experience means nothing. In 2016 the most politically experienced presidential candidate lost to the least qualified in American history. Soderberg's experience, in other words, won't help, particularly as it is mostly associated with the (Bill) Clinton years. Though she worked for the most politically savvy president since Lyndon Johnson, it doesn't seem to have rubbed off. When I asked her what lessons she drew from Hillary Clinton's loss, she said "I'm really not going to comment on that." Twice.
Really? If Democrats are to have any hope, locally, at the state level or nationally, they'd better have an honest analysis of why they've become so marginal, and why an outlier like Donald Trump could defeat them after Barack Obama's ostensibly successful two-term presidency. But Soderberg won't comment.
Republicans own 32 legislatures and 33 governorships across the country. They have a crushing advantage in the Florida Legislature. Bill Nelson is the last statewide Democrat still standing. In Flagler, Democrats hold just two measly elected offices, one on the school board and one in Flagler Beach. Republicans have a 7,000-vote advantage over Democrats in the county, by far the largest margin ever. It keeps growing. Trump won the county by 20 points after Obama won it by two just eight and a half years ago. But Soderberg won't comment.
She could point to at least one Hillary mistake she could learn from. But she's repeating it. She's running on her CV. She's making assumptions. She could point to another: Clinton's disconnection from the people she sought to represent, her preference for running behind white papers. But there too Soderberg for now appears to have no more connection to Flagler than DeSantis does. She recently appeared at one local Democratic group's event. That was actually the first time I'd heard of her. I had to ask her repeatedly what other events she's attended locally. She repeatedly deflected the question, then said there were a few, then said she couldn't specify and would have her campaign aide tell me which they were. The aide never did.
Soderberg taught at the University of North Florida, where some of her students are from Flagler and the rest of the congressional district. That's one way she's learned about the district, she says. But that's like saying that I know Islam because I knew a few Muslims. It might help in a game of Flagler-based Trivial Pursuit. It won't help to win respect in a congressional campaign.
Not that the CV isn't impressive. She went to graduate school at Georgetown. She was Ted Kennedy's foreign policy aide between 1984 and 1988, back when the Reagan White House was more of a junta than a presidency and could use every check in the arsenal. She was the Bill Clinton campaign's foreign policy director at a time when Clinton himself was considered a foreign policy greenhorn. She served as deputy director of his National Security Council, playing a key role in Clinton's historic brokering of the British government's peace agreement with the Irish Republican Army. That's no small achievement.
She then became a top aide to United Nations Ambassador Richard Holbrooke, handling African affairs and stepping in for him at various points in the waning days of the Clinton Administration. That earned her the title of "ambassador," which she technically did hold, but she was not the UN ambassador as we understand the position according to those who filled it during the Clinton years—Madeleine Albright, Bill Richardson, Holbrooke. She was not even "acting" ambassador, like Peter Burleigh for a while. That's not to diminish her accomplishments. But title inflation is unnecessary, considering her much deeper accomplishments elsewhere. (I have nothing against the UN: I'm a graduate of its school in New York, I'm one of roughly seven people left in Florida who consider it a necessary institution, its work often more useful than whatever Congress does most days. But a candidate flying the UN flag in a place like Flagler will only make her opponents' hearts flutter with glee.)
She also taught at UNF for a decade. She heads Soderberg Global Solutions, which her UNF bio describes as "an international consulting firm." And she is or has been a member of innumerable boards and councils, among them the Council on Foreign Relations. I mention that last one because it hardly gets more insiderish-Washington. And because it leads to that other Soderberg paradox, which is turning into a cliché of campaigners for any office: Soderberg claims to be running as an outsider, as someone who understands that Washington—the Washington that made her name—"is so dysfunctional," in her words. She points to a disconnect between Washington and constituents. The intended applause line paradoxically underscores her own disconnect from the 700,000 voters she's going to be speaking to in the months ahead in Flagler, St. Johns, Putnam and Volusia.
She speaks convincingly of working to fix the Affordable Care Act and preventing the elimination of insurance coverage for what she says would be 70,000 people in the district. She has no illusions about the failings of Obamacare. She says its market has to be stabilized, not plundered, to work better. That's all fine, and the GOP's cascades of collapsing attempts to "repeal and replace" may well give some Democrats an opening. But I doubt that'll be the case in our own 6th District, where prejudice and propaganda, not evidence, prevail when Obamacare is the subject. Specifically what Soderberg would do to fix it, beyond preservation, is what we want to hear.
I've not heard it yet, and just badgering DeSantis or the GOP on that account won't do. We know his understanding of health care stops at "tax cut." We know he's cruel, indifferent, clueless. We also know that it hasn't stopped him from winning the district by nearly 20 points last time out. He's rehearsing a run for governor in 2018, which could open the seat to yet another flood of candidates, giving Soderberg another opening she needs to make a greater mark. But at this point Republicans in this district could run the retrieved skeleton of Laika, the poor bitch the Soviets shot up in Sputnik 2 in 1957 to orbit Earth, and still win.
Given the big advantage of Republican registrations in the district, I asked Soderberg what she was going to do to reach across party lines to win crossover votes (the way Republicans have been doing so brutally well). This is what she said: "The district is a lot of people who are registered No Party Affiliation. The NPA vote, many of them have voted for Trump in the past and have voted for Ron DeSantis in the past. But when I talk to them, Independents and even some of the Republicans, they want to have a healthier conversation about the national policies that Washington is forging that's more practical, less ideological, and adjusted to the needs that they have. Obviously when I talk to the Democrats they're off the chart energized."
I don't think you can build a political campaign—any political campaign—on the promise of a "healthier conversation." When I first saw that someone of Soderberg's caliber was preparing to run locally, and got a sense of her background, I was expecting to be overrun with ideas, to say nothing of that "energy" she speaks of, to be swept off my feet politically and intellectually, to finally hear the program of a DeSantis—of a GOP—antidote. There was none of that. There was nothing I have not heard before, mostly from Republicans but also from what shredded Democrats have made a run at what, thanks to their rote assumptions, keeps being the impossible.
I'd spoken with a veteran Democrat who's known local politics for decades–and who, true to form when it comes to speaking of fellow-Democrats (Republicans are no better), did not want to be quoted by name. But there was no hesitation in the diagnosis. "She's the same old same old," the Democrat said of Soderberg. "You're not going to elect in this district a Clinton appointee Democrat, it's not gonna happen. Are we stupid? I mean, good god. I don't understand why we refuse to understand the people in this district and what they want. I don't know her from Adam, but I read her resume and I thought forget it, done." Then: "We continue as a state party and a national party to not be serious, and we don't develop people on the bench."
I thought the assessment too harsh. That was just before my interview with Soderberg. After the interview, I thought it was an understatement. But there's time, assuming Soderberg is willing to learn her district the way, say, a successful county commissioner or a state legislator inherently does–as she does not. She could start by losing the term "ambassador." The 6th Congressional District does not need one from Clintonland.