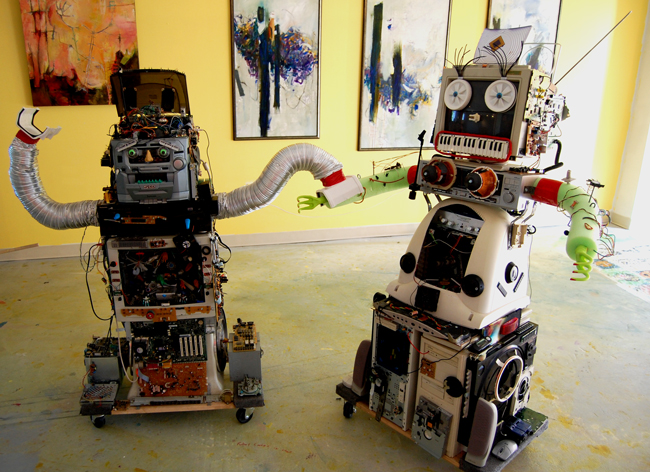 When you go to Hollingsworth Gallery at City Walk tonight or in coming days—as you ought to if you crave an instant vacation from the ordinary—you'll notice what may briefly look like two shaggy, traumatized creatures, staring at three not quite shaggy but equally traumatizing paintings.
---
Go Tonight:
"Music Is the Muse" opens tonight, Aug. 14, from 6 to 9 p.m. at Hollingsworth Gallery at City Walk, 160 Cypress Point Pkwy, Suite 210B. There'll be live music. The exhibit runs through Sept. 28.
---
---
The creatures, sons of motherboards and other scraggles of computer hardware, are "Robot Lovers in Shock." They'd have to be. They're staring at a new work by Richard Schreiner that has the head of BP executive Tony Hayward drilled into the body of a helpless Doberman, his paws drowned in crude oil. To emphasize the point (because nothing Schreiner does gives subtlety an inch), the oil literally spills out of the frame in blackness painted onto the wall holding up the canvas.
That's just one of the shocks the robots are looking at. The two others, hung on a blood-red wall that creates a spill-effect of its own, are amputees, both of them women, in something like a crimson-pink fog: Diana Gilson's "Home from Iraq: American Amazon II" and "Learning to Walk: American Amazon III." Both have a bit of turquoise blue—a more hopeful color—beginning to descend from above, but the women, what's left of them anyway, is still shrouded in red.
And that's just the beginning. No wonder the robots are in shock. If you look closely at their faces (two old computer screens) you'll see the reflection of the paintings as if imprinting themselves on the robots' brains. The two robots are the work of Sean Loyse and his nephew, Ian Chamberlain, who graduated Flagler Palm Coast High School last May. Hollingsworth Gallery owner J.J. Graham saw them at Loyse's studio and requisitioned them for his latest show, "Music Is the Muse." Graham positioned the loving (and in their own way, lovely) robots, who appear to be holding hands, not only to look at the art, but to reflect the way others might look at it as if to say: be shocked; you're in good company.
Not that the collection of works by 18 artists is defined by that introductory installation. In fact, it isn't. It gets easier, or at least less jarring but equally challenging after that.
"Music Is the Muse," the latest show at Hollingsworth Gallery, opens tonight at 6—with live music by Flagler Beach singer Carol Brown, wine and more. The artists in the show, many of them from the Flagler County Art League and the gallery's own Southeast Contemporary Artists Coalition, were encouraged to submit work—or create it, as many just did—that was inspired by a song or a particular piece of music. That's how each work appears in the show: with a brief narrative of its meaning and its connection to the music that inspired it. "I throw these themes out there and I never know what I'm going to get," Graham says. He got plenty that the artists themselves don't necessarily know how to explain.
That should put you (and anyone else who experiences the joys and jams of contemporary abstract art) at ease: Precise explanation or anything that passes as dogmatic "understanding" of an abstract work contradicts the experience that created it, or the varieties of reactions that it compels. Just listen to Joan Mangano, who's been painting since she retired in Palm Coast from Buffalo 16 years ago, describe her watercolor, "Out of the Rain," inspired by her daughter singing the song by the same name: "I would imagine that somebody is striving to get out. I don't know who she is exactly. She could be my daughter Diana, coming out of the rain. You see the rain is coming in. It almost looks like a vessel. It wasn't exactly intended to be a vessel, but for some reason it looks like a vessel to me when you stand back. It could be a bubble, it could be a raindrop, it could be whatever you want it to be actually."
Mangano's is a new work. It looks finished. It isn't necessarily so when you listen to her describe it, as shapes in the frame look like the motion still animating them in her mind—or in the mind of whoever might look at the painting. In other words, the painting is having the desired effect. With music, the effect might be even stronger.
"A lot of people's appreciation for the auditory is more advanced than their appreciation for art," Graham says. "Art can be musical too, and when associated with music, and that form of expression and freedom, I think especially with this kind of more contemporary art, you understand the relationship between the two. There's a bridge there. I think with the songs playing, people looking at the words, maybe they'll be aware of that."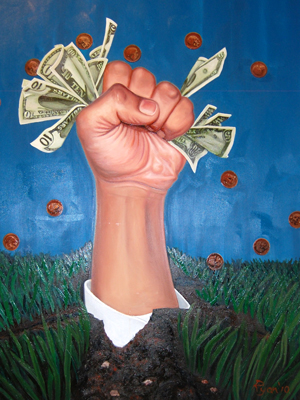 Weldon Ryan, who heads the Flagler County Art League, speaks of his work as still "boxed in" by the traditions—he calls them constraints—of representational or realistic art. His explicit "Money," set to the Pink Floyd song of the same name, has all the precision of a stock market's tickertape seen through an artist's eye: a hand sprung from an unmarked grave, clutching bills, with pennies spraying around the fist. It's not Lincoln's face on the pennies, but skulls. The idea came to Ryan during a couple of sleepless nights. The painting was the result of several sessions in his 120-degree garage this month. "It relates with what's going on today with politicians, the money, corporations, and the whole night of the living dead thing," Ryan says. "It seems like a bunch of lost souls, all they're doing is grabbing the money. They don't have a care for anybody else. It's just about the money. They have no emotions. So they are like the living dead."
Keep an eye on the floor when you're at the gallery, if the floor doesn't draw your eye almost as much as the works on display. The floor flows in trails of colors that Graham designed the way he repainted the gallery's walls ahead of the show. When Graham's 3-year-old son Gabriel comes to the gallery, he follows the floor's trails as if on an imaginary rafter. Graham hopes the same happens to visitors during the show.
When live music isn't playing, the show's soundtrack will—all the songs or pieces of music that inspired the works on display, played in a loop. "It really works with this show," Ryan says. "It's a great idea. Music is a muse. Most artists work from music. We get so inspired, we get into a flow, it creates a whole energy in itself that in turn comes into you, you actually paint and express better because it just really helps you, it motivates you."