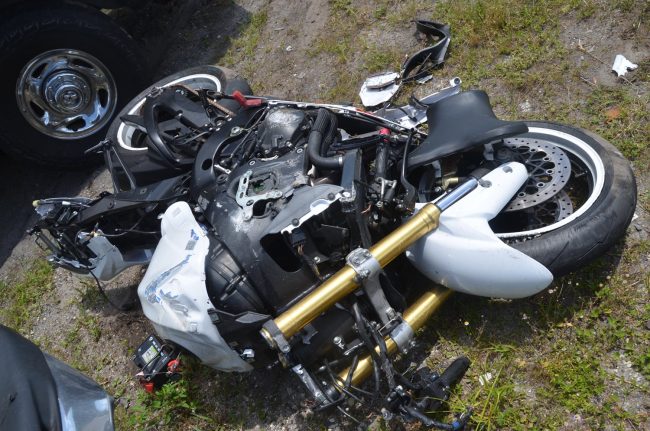 Last Updated: 11:41 a.m. Thursday
Daniel Castilloveiti, a 34-year-old resident of Palm Coast's B Section, was seriously injured when he rear-ended his motorcycle into a Volkswagen bus on I-95 early Wednesday morning.
Eight hours later on Matanzas Woods Parkway, Mark Radcliff, 56, of Palm Coast's F Section, suffered fatal injuries when a Matanzas Woods High School student in a vehicle pulled out directly in front of Radcliff's motorcycle, according to the Florida Highway Patrol.
Zachary Kelly, 17, was driving a 2005 Chevy Impala and making a left turn exiting the high school to travel west on Matanzas Woods Parkway, according to the FHP report on the crash. Radcliffe was traveling east on Matanzas Woods Parkway. Radcliffe's 2005 Honda collided with the left side of the Chevy.
Radcliff's was the third motorcycle fatality on Flagler-Palm Coast roads so far this year–the only three traffic fatalities of the year.
Radcliff was bleeding from the head and unconscious immediately after the crash, and those who first tended to him reported to the 911 dispatcher that they thought he had been killed. Radcliff was then briefly conscious but his breathing was labored. Trauma One, the emergency helicopter, was launched eight minutes after the crash was reported, and was due to pick up the patient from one of the Matanzas playing fields. But FHP says he was taken to AdventHealth in Palm Coast.
At 4:26 p.m., dispatchers were told that Radcliffe had died at the hospital. Charges are pending in the crash.
Earlier that morning in a separate incident, Castilloveiti was riding a 2015 Suzuki motorcycle, riding south just past mile marker 287 near the weigh station. Mitch Mentor, 61, of Palm Coast, was driving the 1972 Volkswagen bus south. Skid and gouge marks in the pavement indicate the impact area near the entrance to the weigh station, according to the Florida Highway Patrol, which is investigating the crash.
Castilloveiti was wearing a helmet, but the helmet cracked. He suffered head trauma. Trauma One, an emergency helicopter, was requested but not dispatched, citing weather (Flagler County's emergency helicopter was not to go on duty until 8 a.m.) Flagler County Fire Rescue ended up transporting Castilloveiti by ground to Halifax hospital in Daytona Beach.
Mentor was not injured. He wasn't sure what had hit him before realizing what had taken place.
The crash was reported to 911 dispatchers at 6:47 a.m., according to 911 notes. The motorcyclist was reported to have clipped the van and spun out of control. Initially he was not believed to have survived. One caller reported that a motorcyclist "flew past her reckless" immediately before the crash.
The Matanzas Woods crash was reported at At 2:32 p.m. right outside of Matanzas High School.
Flagler County's own Fire Flight emergency helicopter wasn't called in because it went out of medical service due to a medical emergency: a firefighter-paramedic took ill today, and rather than take his ambulance out of service, Fire Flight's flight medic was transferred to the ambulance to keep that going. "We can't have a down truck," Fire Chief Don Petito said. "It's like playing the odds, we know them ambulance is going to be getting the calls all day long," as opposed to Fire Flight, whose calls are less frequent. Fire Flight is still in service for fire and police calls.
FHP arrived at the scene at 3 p.m. Matanzas Woods Parkway was to be shut down west of Old Kings Road and and next to the high school until FHP had completed its investigation this afternoon. The scene was cleared at 5:20 p.m.
In both crashes, Flagler County Fire Rescue, the Palm Coast Fire Department and the Palm Coast Fire Police responded, as did the sheriff's office.