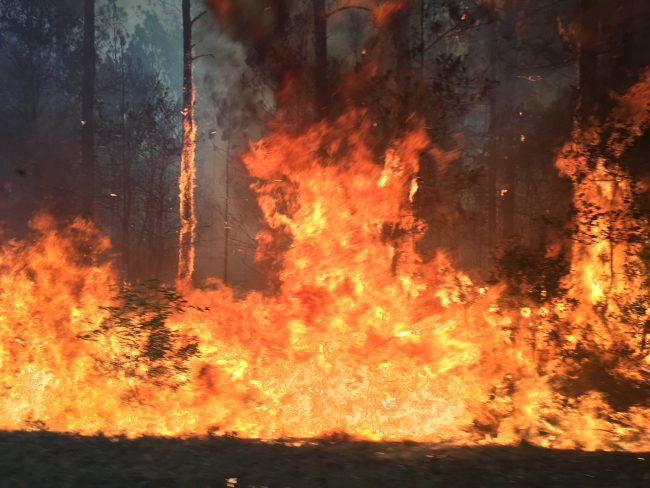 Last Updated: 8:56 p.m.
A fire that raged out of control for several hours this afternoon in the Mondex, in western Flagler County, had by nightfall been 80 percent contained. Several homes had been evacuated, but residents were allowed to return home in early evening. Flagler County Fire Rescue personnel was staying in the area to keep an eye on the fire and the Florida Forest Service, which is in control of the blaze, is resuming operations in the morning.
Joe King, Flagler County's deputy fire chief, said just before 9 p.m. that the fire had reached 35 acres and was 80 percent contained, "which is really good from what we had."
All roads have reopened.
The fire started 200 feet from an abandoned trailer on Walnut Avenue in the Mondex, also known as Daytona North, between 2 and 2:30 this afternoon. It has gone out of control, requiring the evacuation of two blocks and at least four homes, according to Flagler County Fire Chief Don Petito. That was the situation by 5 p.m.
Other than the abandoned trailer, no homes or other structures have been lost. Officials had no handle on the fire and didn't know how large it was in mid-afternoon, as it was affecting a 10-block area in mid-afternoon.
"We don't even have an acreage because the more we try to get ahead of it, it spots over," said Julie Allen of the Florida Forest Service's Bunnell District, who was at the scene around 5 p.m. Petito had roughly estimated that the fire may have been at 30 acres at 4:30 p.m. Moments later, Allen texted that it was 40 acres, and that it was 50 percent contained.
"It's just burning through with the wind and everything," Petito said. "Right now we have 10 engines out here," along with Fire Flight, the county's emergency helicopter, which has been dumping water on the fire, the Fores Service's fixed-wing aircraft providing guidance to firefighters on the ground, possibly another helicopter on the way, and a total of a half dozen agencies on the ground. Those include the Palm Coast Fire Department, the Bunnell Fire Department, a strike team from St. Johns County on the way, and, to aid the Bunnell District of the Fire Service, personnel from the Gainesville District.
Petito said the Fire Service had a dozen bulldozers developing lines around the fire, but that time after time the fire would "spot," meaning that it would jump the lines and start a new blaze.
Fire officials had set up their command post at the corner of Elder and Lemon streets. "It's happening all around us," Petito said. "It's not under control. Nowhere near it yet," he added.
Soon after that, though, the fire calmed down, after it made one last leap–going from Laurel Avenue to Coconut Avenue. That would prove to be its last hurrah.
By nightfall, the command post had been replaced with a tinder truck, with two woods trucks–actually, converted light military transport vehicles–patrolling the area all night "to help everyone feel safe," King said.