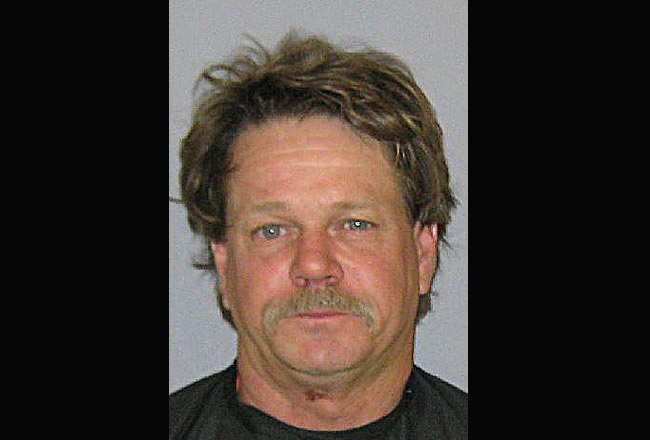 What started as a fight between Gregory Wright and his girlfriend over a cat sleeping in the bed the evening of Dec. 17 escalated into physical violence, cops showing up, Wright fleeing as a cop tried to Taser him and a fruitless K-9 and helicopter chase around and over the Mondex, finally ending with Wright's arrest on Tuesday after another brief pursuit, not far from Bunnell's Beer House.
Wright, 48, who's been jailed five times in Flagler County since 2008 on a variety of charges–including criminal violation of injunction, probation violation, disorderly conduct, trespassing, several cases of domestic violence and grand theft–now faces a half dozen new charges, including two assault charges, two resisting arrest charges, false imprisonment and probation violation. He's currently at the Flagler County jail without bond.
A Flagler County Sheriff's Office deputy was dispatched to 5607 Cypress Street in the Mondex, or Daytona North, just before 9 p.m. on Dec. 17. A 55-year-old woman who identified herself as Wright's girlfriend was at a neighbor's house, worried for her son's safety and her own. "Cant' deal with this anymore," she told the deputy as she cried, "I can't keep getting beat."
The incident with the cat was not the half of it. That had happened on Dec. 17, when the cat was lying in bed and Wright complained that he didn't want it there because of dander, but then turned his anger on his girlfriend, allegedly running after her and threatening to kill her. A day earlier, the woman told deputies, he had grabbed her by the arm and slapped her in the side of the head, according to a police report. Deputies noticed large black and blue marks on her upper right arm and black marks on the wall in the bedroom of the Cypress Avenue home. The woman said it was the result of Wright throwing her around and her feet hitting the wall. "She advised," a police report states, "Gregory grabbed her by her ankles and threw her around. She was complaining of ankle and hip pain."
On Dec. 15, the woman claimed, Wright held her in the house and wouldn't let her out, slapping her repeatedly against the head and temple. Nor would he let her use the phone, she said. A neighbor told police that the fighting in the house was frequent, describing Wright as a heavy drinker who "flips out" for no reason at times, according to the police report. The neighbor, too, told police that he "can't take this anymore."
When deputies asked Wright about the incident, he denied touching his girlfriend or threatening her. He was told he was being placed under arrest and instructed to turn around and place his hands behind his back. "He didn't comply," a deputy's report states. "I can't go back to prison. Fuck this," he yelled, then fled toward the back of the house. A deputy took out his Taser but missed, then ran after him but lost sight of Wright, who'd jumped over a fence in the back yard.
A K-9 unit and a search helicopter proved unsuccessful.
Tuesday evening around 7, tipped off by Crime Stoppers, Sgt. Michael Fink, deputy James Kaphan, one other deputy and two Bunnell police officers converged on the Beer House in Bunnell. Half the group went into the bar, the other half positioned itself outside, only to see Wright walk toward another business in the area. He was ordered to stop. He ran. And kept running until he was subdued by a K-9 in the woods near Hardy Street and Second Avenue. The police dog bit him in his lower left leg.
He was taken to jail. Last June he'd been placed on probation, with a release date of Dec. 7, 2013.