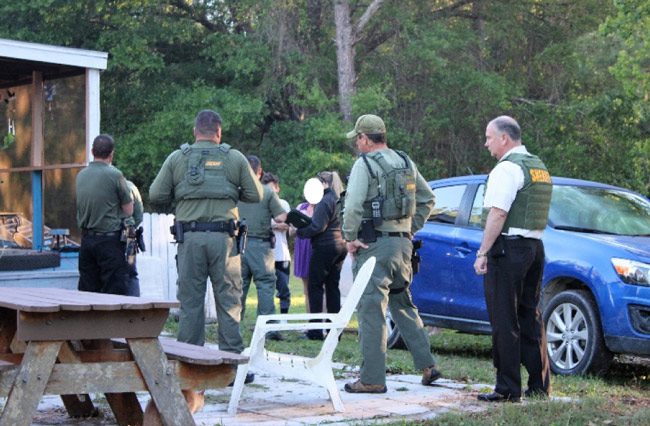 On March 23, Charles Singer's wife reported to the Flagler County Sheriff's Office that her husband hadn't been seen in months since moving out of his 1,100-square-foot mobile home at 80 Pine Tree Lane in western Flagler's St. John area, off County Road 305.
Three days ago, on April 4, the Flagler County Sheriff's Office issued a missing-man alert for Singer, 48, noting that he doesn't have a driver's license, has no vehicles registered to him, is disabled, and legally blind. "Please help us bring Charles home safely to his family," Sheriff Rick Staly was quoted as saying in the release.
Today, Staly was at the scene as sheriff's detectives and the State Attorney's Office Homicide Investigations Unit, backed up by a SWAT team, served a search warrant at 80 Pine Tree Lane at 8 a.m.. Given the size and the contingent serving the warrant, they must have had a fairly good idea of what they might find–and did, two and a half hours later, when they brought in a cadaver dog from the Brevard County Sheriff's Office.
They found a body on the property.
A Florida Department of Law Enforcement (FDLE) Crime Scene Unit was summoned from Jacksonville, and three occupants of the house on the property, one of whom is related to Singer, were taken to the operations center of the sheriff's office in Bunnell for questioning.
"They have not been taken into custody," Staly said, "they have been brought to sheriff's operations center for further interviews as we continue our investigation."
Staly said the identity of the dead person and the manner of death would not yet be released, both because the Medical Examiner has yet to determine the identity of the individual and cause of death, and because the investigation is continuing.
But, Staly said, "the circumstances surrounding our missing person case are suspicious." The details of those circumstances, including where the body was found, whether it had been subjected to trauma or not, or whether the death was self-inflicted are all still under wraps.
The sheriff was asked what had led to detectives seeking a search warrant, and what the search warrant was for, as search warrants must specify the scope of a search. "When the search warrant is filed and unsealed, then those questions will be answered," he said. But it was clear that detectives had keyed into evidence giving them probable cause for something. "We served a search warrant based on investigative leads that we had developed and we served the search warrant as part of the investigation into the missing person," Staly said.
The cadaver dog was not with the team initially, but "we had made arrangements for resources to come to assist us previously if we felt it was needed," he said, which suggests that detectives were almost certainly looking for a dead body when they got to the scene.
Asked if charges are pending in the case, the sheriff said he "can't even go that far at this point," only that individuals are being interviewed.
The sheriff's major case investigators Jodi Glasgow and Annie Conrad were the lead detectives on the case, "but there were many others that were involved," the sheriff said.