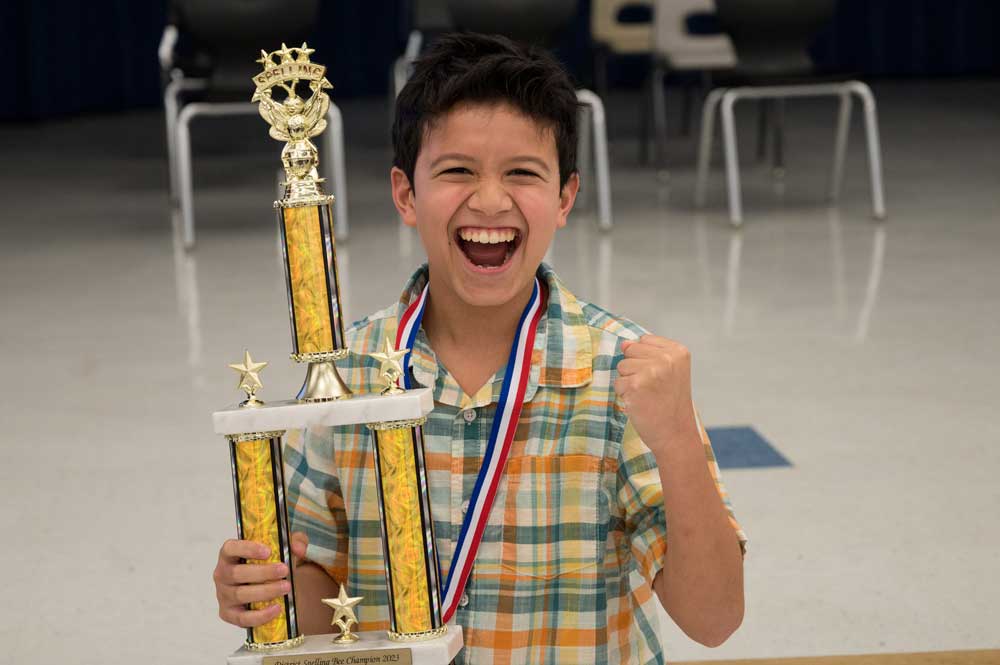 16 spellers. 16 rounds. 105 words, starting with beginning.
The spellers from some 10 schools had the first round mastered, with all 16 spellers making it through the likes of riffled, potential, deviation, menacing and aggravate, but the second round opened with a maniacal loss, and was followed by six more spellers tripping over variously uncooperative words (prophetically, infrared, incontrovertible).




On it went, with streaks of perfectly spelled rounds punctuated by words like "Headdress," "scruple" and "fluoride" picking off speller after speller.
In the end, Buddy Taylor Middle School 8th-grader Mitchell Spencer Edelstein had the stamina to survive the challenge and emerged as the Flagler Schools Spelling Bee Champion.
The championship word? S-t-a-m-i-n-a. Might as well have been r-e-i-t-e-r-a-t-i-o-n: It's Mitchell's second consecutive county victory.
When did he know he won?
"Right when they gave me the word," said Edelstein. "I knew it right away. I've been studying these words for the last few months. I woke up today and knew the Spelling Bee was tonight, and grabbed my word list and kept studying."
Christ the King Lutheran School 5th-grader Teddy Totten was runner-up. The word "affluent" tripped him up.
Edelstein now moves on to the 79th Annual First Coast Regional Spelling Bee in Jacksonville on March 31.
School/Grade Spelling Bee Champions:
Puthiheureka Men, Belle Terre Elementary School, 5th grade
Alexander Belisnskiy, Buddy Taylor Middle School, 6th grade
Savannah Brown, Buddy Taylor Middle School, 7th grade
Mitchell Spencer Edelstein, Buddy Taylor Middle School, 8th grade
Larry Covington, Bunnell Elementary School, 5th grade
Theodore Totten, Christ the King Lutheran School, 5th grade
Evren Kabir, Christ the King Lutheran School, 6th grade
Sophia Zambrano, iFlagler, 6th grade
Alexander Langer, Imagine School at Town Center, 5th grade
Adylyn Kirks, Imagine School at Town Center, 6th grade
Maya Rowicka, Imagine School at Town Center, 7th grade
Kaitlynnan Libby, Imagine School at Town Center, 8th grade
Alyssa Rogers, Indian Trails Middle School, 6th grade
Jaeden Gorcheck, Indian Trails Middle School, 7th grade
Rafaella Ribeiro, Indian Trails Middle School, 8th grade
Sophia Campbell, Old Kings Elementary School, 5th grade
Brighlynn Urbaez, Rymfire Elementary School, 5th grade
Jasmine Soler, Wadsworth Elementary School, 5th grade