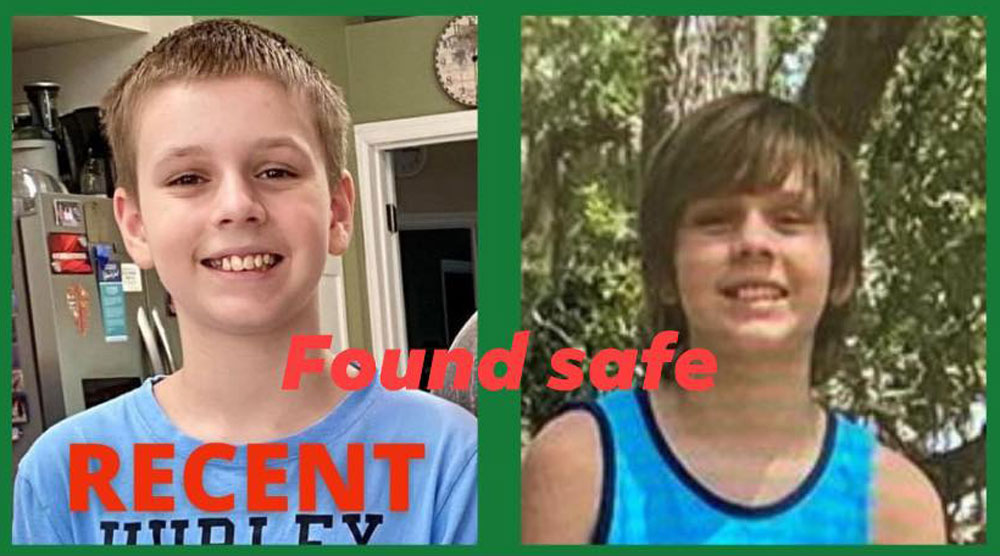 Last Updated: Monday, 1:38 p.m.
Xandar Garrett, the 13-year-old boy who disappeared from his home on Oct. 22 after telling his step-mother he was going to walk the dog, was found safe in Pinellas County, where he'd run away.
Xandar had been hiding at a friend's house in Pinellas County for many days, until his friend's parents found out, a Flagler County Sheriff's spokesperson said Monday afternoon. The friend's parents then called Xandar's father, who had recently moved to Palm Coast. Xandar had not left his parents completely in the dark: he had contacted them at one point to let them know he was OK, but did not reveal his whereabouts.
Xandar's mother posted the following on her Facebook page: "A mother of a friend from his past found him hiding in a closet in her house and was able to look us up on Facebook and contact my husband he spoke to Xander briefly before giving the lead for pinellas county sheriffs to pick him up they brought him in and my husband drove over and got him thank you all for your kind words, shares, and support through this hard time it is greatly appreciated! The shares worked see something say something ❤️"
Xandar is not telling authorities how he made it from Palm Coast to Pinellas County on his own, and it's not yet clear why he ran away.
"I guess he had just recently gone to live with his dad, so I guess sit was a new town for him," the sheriff's spokesperson said. He lives in Palm Coast's F Section. "He wanted to run away." Xandar's father drove to Pinellas County Sunday night to pick him up.
Xandar has a probation officer from previous encounters with the law.
"We want to thank the Pinellas County Sheriff's Office for locating Xandar and helping to reunite him with his family," Sheriff Rick Staly said. "We are happy that he was returned home and is safe. Thank you to the community who helped share the message and kept a lookout for this boy."
The previous stories are below.

Vanished Since Last Week, Jamal M. Bell Is Found Safe in Georgia; Xandar Garrett, 13, Still Missing
October 31 update–The Flagler County Sheriff's Office Major Case Detective Butler received credible information on Friday that missing Palm Coast man Jamal Bell is in East Point, Georgia. The agency sent a teletype to authorities in the Atlanta area asking them to attempt to locate Bell and to conduct a welfare check. Authorities with the East Point Police Department successfully made contact with Bell and said he was of sound mind and body, and that he was there willingly. Detective Butler made contact with Bell's family to update them on his status.
"We're pleased to learn that Mr. Bell is safe and is no longer missing," Sheriff Rick Staly said. "Our detectives did a great job in following this case and we thank the East Point Police Department in helping to locate him."
Detectives are continuing to investigate the case of missing Palm Coast juvenile Xandar Garrett, who is still believed to be out of state. Anyone with information regarding the whereabouts of Xander Garrett is asked to call (386) 313-4911 or email [email protected]

Sheriff Renews Call for Help Finding Xandar Garrett, 13, and Jamal M. Bell, 30, Now Missing 5 Days
The Flagler County Sheriff's Office today renewed its call for help from residents near and far in finding two people who went missing last week, in unrelated cases: Xandar Garrett, 13, and Jamal M. Bell, 30. Both were last seen leaving their homes, Xandar in Palm Coast's F Section, Bell in the E Section. Bell has mental health issues. They have been missing five days as of Tuesday.
The most up-to-date information received by detectives is that neither subject is in Flagler County at this time. Detectives have reached out to outside agencies (both in and out of the state) who are cooperating with the Sheriff's Office to locate both subjects safely. There is currently no evidence to suggest either missing person is the victim of any foul play.




Major Case Detective Darrell Butler has been working with the sheriff's Real Time Crime Center and its Digital Forensic Unit since October 23rd in order to gather intelligence and data on the locations of both Bell and Xandar. Detectives have remained in contact with family members and friends of both individuals, and have kept both families apprised of the investigations, most recently updating the families on the afternoon on October 26.
Detectives continued to work through the weekend to make sure the information gathered is promptly followed-up on. "The FCSO is doing everything to locate these missing individuals and bring them home safely," Sheriff Rick Staly said. "I'm asking their friends, relatives or anyone that has seen either of them to call us so we can re-unite them with their family."
Anyone with information regarding the whereabouts of Jamal Bell or Xander Garrett is asked to call (386) 313-4911 or email [email protected] These two missing person's cases are not related.
The previous story is below.

Sheriff Seeking Help Finding 2 Missing People in Separate Cases: Xandar Garrett, 13, and Jamal M. Bell, 30
October 23–The Flagler County Sheriff's Office on Friday was pursuing two unrelated missing-person cases: that of 13-year-old Xandar Garrett, who went missing from his F Section around midday Thursday, and Jamal Matthew Bell, 30, a resident of Palm Coast's E Section missing since Thursday morning.
Xandar's stepmother mother told sheriff's deputies she last saw him at home at around 12:30 p.m. Thursday, when he said he was taking the dog for a walk in the backyard. She found the dog alone in the yard some time later, and no sign of Xandar. Her surveillance cameras indicate he jumped the fence and disappeared out of view.
Xandar is white, of thin build, approximately 5 feet tall, blonde hair, last seen wearing a light blue shirt with sharks imprinted, gray gym shorts and white/ red "Air Jordan" slides.
Xandar has a history of juvenile delinquency, according to his mother, and is on juveniles' equivalent of probation, though he's not run away since moving to Palm Coast with his biological father. He previously lived with his mother out of county. A grandmother from Ohio has "attempted to pick him up in the past," according to his stepmother, though she doesn't believe that's the case this time. "Xandar does not have any local friends and does not frequent any locations in the city," according to the sheriff's report, nor does he have a cell phone. His tablet left at home revealed no clues.
Xandar does not have any mental or physical limitations and does not require any medications. Deputies unsuccessfully searched the boy's neighborhood, including gas stations, Holland Park and the woods.
Jamal Bell's fianciee reported last seeing him Monday morning at 8:30. Bell has mental health issues and has a history of being suicidal. He and his fiancee had recently returned from Jacksonville where Bell had been arrested after allegedly threatening a security officer at Walmart. His fiancee then tried to have him admitted at a regional hospital for a mental evaluation, but he was denied admission. They returned home to Palm Coast.
Thursday morning he left the house "without permission" she told deputies. He suffers from depression, paranoia, and anxiety, making his disappearance especially concerning. He's also left home before. He has family in Jacksonville, where deputies are checking. But he was last seen on foot going into the woods.
Jamal Bell is Black, 6 foot 4, brown eyes, black hair, approximately 250 lbs., last seen wearing a green sweater, dark jeans, and black dress shoes.
If you have information about either missing-person case, call the Flagler County Sheriff's Office at 386/313-4911 with any information. Bell's case number is 2020-98844. Xandar's case number is 20-98898.