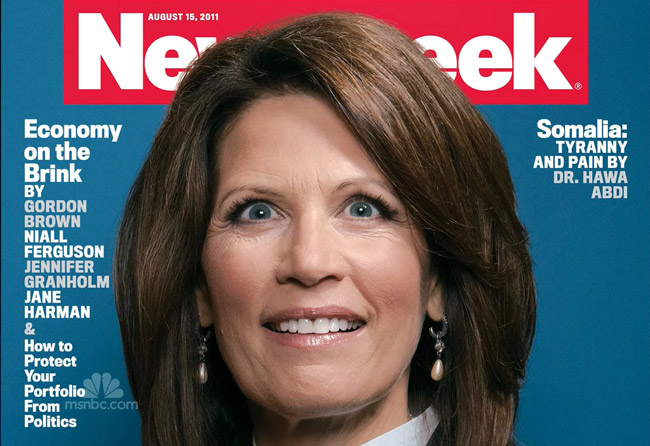 Senator John McCain took to the Senate floor on Wednesday and began: "Rarely do I come to the floor of this body to discuss particular individuals. But I understand how painful and injurious it is when a person's character, reputation, and patriotism are attacked without concern for fact or fairness. It is for that reason that I come to the floor today to speak regarding the attacks recently on a fine and decent American."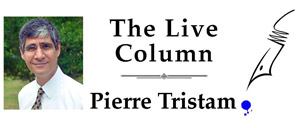 For a second there McCain sounded as if he was going to talk about John Pollinger, the local Flagler County sheriff's candidate who's been the target of a very silly and demeaning witch hunt by fellow-Republicans. Actually, what McCain was referring to is the latest silly and demeaning witch hunt by Michelle Bachmann, the Republican congresswoman from Minnesota, who is doing her best to channel Joe McCarthy for a new generation of xenophobes.
Bachmann has never been good at drawing dots. She's been worse at connecting them. Her latest claim, she and a few other reactionary members of Congress, is that the Muslim Brotherhood is infiltrating the U.S. government. Exhibit Number One, according to Bachmann, is Huma Abedin, an aide to Hillary Clinton, the secretary of state.
Pack of lies usually depend on a beefy mixture of unsubstantiated allegations, shady sources, fear and bigotry. Bachmann's witch hunt has it all. Abedin is of Pakistani descent, she's Muslim, she spent several years in Saudi Arabia and she has really dark hair. So in Bachmann's cook book of course she is a terrorist sympathizer. Bachmann rests her entire case on the baseless whisper campaign by the Center for Security Policy, a slipshod organization with an important sounding name that got press opposing the mosque at ground zero and making up stories about Sharia law taking over the United States. Smearing Muslims like Abedin is the latest fund-raising ploy.
Bachmann has her groupies in media's fox dens. John McCain, who can have his good days, is having none of it. "Ultimately, what is at stake in this matter is larger even than the reputation of one person. This is about who we are as a Nation and who we aspire to be," he said. "When anyone—not least a Member of Congress—launches specious and degrading attacks against fellow Americans on the basis of nothing more than fear of who they are and ignorance of what they stand for, it defames the spirit of our Nation, and we all grow poorer because of it."
The words have particular resonance in light of the ongoing election season in this neck of Florida, where accusations about one candidate or another haven't involved the Muslim Brotherhood quite yet, but they have relied on the same technique of inventing dots and connecting them for a public too lazy to check behind the dots and dittoheads.
Many candidates I speak with point to a sort of political climate change almost as calamitous as the other one, hot air notwithstanding. It's not an increase in venom or slurs. That's the stuff of every campaign. Rather, what we're seeing is a radical disconnect from empirical, scientific fact for the sake of political expediency. The tenor of local debates is indistinguishable from its national equivalent. Whether it's tax policy, health care, education funding, global warming or whatever the latest inventions about an Islamist threat may be, the notion of so much as a set of agreed facts is out the window. For some—and let's not quibble about this in the name of bogus balance: it's an almost exclusively Republican disorder—those facts no longer exist.
The non-partisan number crunchers and analysts at the Congressional Budget Office, at the Government Accountability Office, at the Congressional Research Service, or their less famous equivalents at the state and local levels, whose sober reports were once the agreed-upon starting point of consensus-building, might as well be deviants of an ideological purity that needn't bother with facts. We see it locally. We see it nationally. Bachmann's slander of Abedin is part of the same syndrome.
We don't have a Muslim Brotherhood infiltration problem. We have an infestation if red-blooded Americans so eager be misinformed that the idiotic claims of a Michelle Bachmann have currency enough to command national attention and inspire local mutants. That's the threat to our democracy, and it is more pronounced than any infiltrations imaginable from Bachmann to Joe McCarthy.

Pierre Tristam is FlaglerLive's editor. Reach him by email here.