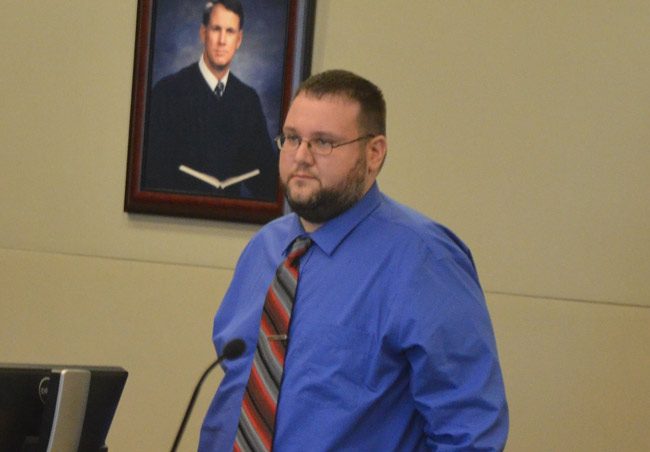 Michael Stavris is the ex-Bunnell cop imprisoned in July 2016 for impersonating a teen-age girl's Facebook account–a girl 16 at the time toward whom he had some custodial authority– and using it to solicit explicit images of minors. He'd initially faced two felony charges of violating the Computer Pornography and Child Exploitation Prevention Act. A plea deal reduced his charges to felony child abuse and fraudulent use of a personal identification. Stavris had claimed he'd done what he'd done merely to provoke a break-up between the girl and a boy he didn't approve of. (The boy was black, the girl white.) Thus he avoided being branded a sex offender for life.
He was released from prison 16 days ago. He's on probation through February 2024.
Tuesday evening, Stavris was arrested for violating his probation–by allegedly doing some of the very same things that got him arrested in 2014: he created a false Facebook account under the abbreviated name of a victim whose family believes he impersonated back then. Under the terms of his probation, Stavris is prohibited from creating social media accounts.
"You understand that you're absolutely not allowed to go online and use social media sites, right?" his attorney, Aaron Delgado, had asked Stavris while he was on the stand at his sentencing in 2016.
"Correct," Stavris said.
"It's basically like sex offender light probation, so to speak, understand that?"
"Yes," Stavris said.
Tuesday afternoon, Stavris's probation officer, David Gargon, carried out a probation check at Stavris's home at 5 Farr Place in Palm Coast. Probationers are required to submit to such checks, which may include warrantless searches. A Flagler County Sheriff's detective and a special agent of the Florida Department of Law Enforcement accompanied Gargon.
There was a cell phone on Stavris's bed. Gargon asked Stavris if it was his. Stavris said yes, according to his arrest report–and that it was the same phone he'd owned before going to prison. (At the time of his plea and sentencing he was required to "forfeit any electronic devices that were seized and searched as part of this investigation," his plea agreement read. But an amended plea agreement Stavris argued for, saying it should match what was said in court at the time it was approved, eliminated that requirement. But the prohibition on "any" social media accounts remained.)
The FDLE agent searched the iPhone. The search "produced evidence that the cell phone was used to access, maintain, and upload photographs on the social media website 'Facebook,'" the arrest report states, in violation of his probation.
After he was read his Miranda rights, Stavris denied wrongdoing and claimed at that point that the phone was actually his mother's, though later on, when speaking with the sheriff's detective, he "admitted post-Miranda that he logged into his old Facebook account, and also created a fake account" under the barely abbreviated name of the victim he'd impersonated five years ago. "In addition to creating the account, Stavris stated he sent Facebook instant messages to [the victim's] Facebook friends," naming her in full as he spoke to the detective. Stavris told the cops he had "fucked up" and had had a "lapse in judgment," according to a violation-of-probation report.
The victim and her family had become concerned earlier this month that Stavris may have been at it again as he had several years ago–with the impersonator of a Facebook account asking the victim about her family members, inquiring about her own car as if to let on that he was all-seeing. The family was obviously concerned about some form of retaliation. That's all still under investigation, a sheriff's spokesperson said today.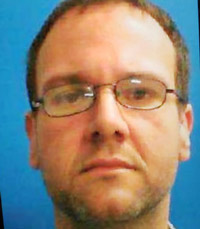 Though he was arrested and booked at the Flagler County jail Tuesday evening, Stavris's booking record still did not appear on the jail's website as of early afternoon Wednesday–not of his arrest Tuesday, nor of his previous arrest and incarceration there. It isn't the first time an ex-cop's record was entirely scrubbed, or at least not visible, at the jail's website, though Stavris's record is not protected from public disclosure (as his picture may be). A sheriff's spokesperson said it was an IT issue and that it would be fixed. His arrest was listed on this morning's bookings from the sheriff's office, albeit with his address at 5 Farr Place blacked out.
A probation violation generally means the offender spends a stint in jail until his or her probation hearing. Violations can result in the offender being sent back to prison, but hardly ever do. Instead, judges typically wrist-slap the offender and release him or her. The context and history behind Stavris's arrest, however, is likely to weigh on the prosecution for a stricter outcome, if Stavris is found guilty of the violation.
And in fact Stavris's probation officer, in a Feb. 28 violation-of-probation report, is recommending that his probation be revoked and Stavris be sent back to prison.
At his sentencing in July 2016, Stavris had been contrite, apologetic, regretful throughout. He dispensed apologies to several victims and their families. He elicited sympathy, making himself out to be a victim. He spoke about his father dying. He spoke about his mother's diabetes, high blood pressure, congestive heart failure, her being bedridden. (In a motion last year to reduce his sentence, he claimed he was suffering from high blood pressure, high cholesterol, diabetes and congestive heart failure. The motion was denied.)  He said he was fired from his last job because of a newspaper article. And he worried about his fate in prison. "It's known that cops and pretty much if anyone finds out you have a conviction for hurting children  or anything you're pretty much not going to make it out," he said.
To the prosecution's surprise, Circuit Judge Matthew Foxman, who was presiding at the time (he's since moved to Volusia) did not let Assistant State Attorney Jennifer Dunton cross-examine Stavris after Delgado was done, downplaying the impersonation as something that happens "all day everyday that's happening, that someone's assuming someone's identity, sending false stuff all the time," a startling assertion in the context of the Stavris case, as Dunton corrected the judge.
"I don't think it's always your quasi-stepfather, and I don't think it's always a law enforcement officer, and it's different," Dunton said. "It's different when you're violated by a parent figure. And we have to remember he was sworn to uphold the law. It's different. He's held to a different standard."
Delgado had downplayed Stavris's checkered history with the Bunnell Police Department. "Apparently there's some write-up or something like that, but that's the sum total of criticism levied against him as a police officer," Delgado told the judge, pleading for a lesser sentence by calling on the judge to recognize Stavris's near-decade as a police officer. Delgado, of course, was dissembling Stavris's record: there hadn't been a mere "write-up." FDLE uncovered evidence that he'd conducted illegal computer searches of sitting Bunnell city commissioners. He avoided penalties because Bunnell's system was new and the city had not developed a policy on the database's use–though the city a few years earlier fired another officer for doing the same thing.
And there'd been another instance of Stavris impersonating women and triggering an internal affairs investigation at the Bunnell Police Department. "He was reprimanded for it," Dunton had told the court in 2016. Two adult women have complained on him for doing this. He does it to a minor. He uses pictures of her mother to send out there, purporting to be her knowing she's going to school, getting harassed about it, all to break her up with a boyfriend because he doesn't agree with the fact that he's black."
He could have been sentenced for anywhere from just shy of a year at the county jail to four years in state prison, followed by up to 14 years and one day of probation. He got three years, and was allowed out after serving 85 percent of his sentence.
He was to have no contact with the victims (four of them were listed, three of them minors at the time), no unsupervised contact with any minor without the court's approval (a condition dropped in the subsequent, amended plea agreement), a psychosexual and mental health evaluation, and a requirement that he disclose all his email addresses to his probation officer, and a prohibition on creating any social media or online dating accounts. If Stavris had any doubts about what he was allowed to do, he was to contact his probation officer.
In exchange for the plea, the state agreed to stop pursuing any additional charges for "potential crimes currently under investigation or known to law enforcement or FDLE" as of the time of the plea, strongly suggesting that there were such potential crimes.
"Another thing," Judge Matthew Foxman, who accepted the agreement three years ago, told Stavris at the time, "I accepted the plea under these terms with the understanding that you would not be in trouble with the law between now and then, if you were to get in trouble with the law it would be disastrous, meaning like this could go all the way and get worse; you understand what I'm saying?"
"Yes, sir," Stavris told the judge.