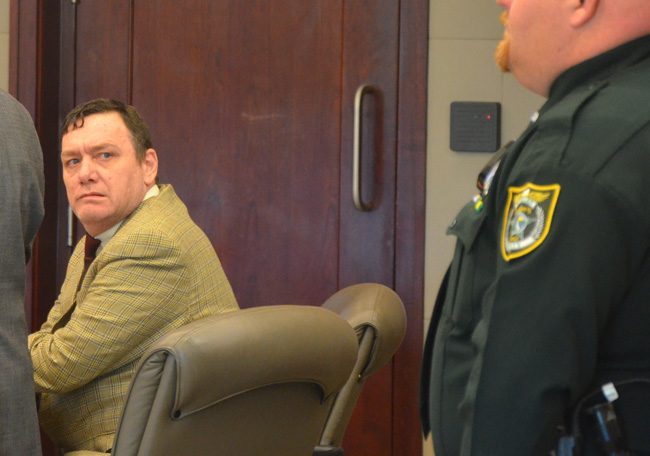 A week-long trial and nearly four hours of deliberations ended in a deadlocked jury this evening in the case of 47-year-old Michael Craig Bowling, who is accused of molesting a 15-year-old girl in a dark closet during a girls' sleepover two years ago, and of masturbating in front of her.
Bowling, facing up to 15 years in prison on each charge if found guilty, will have to go on trial on the same charges again next year. But he faces an even more grave trial, originally set for next month, exposing him to life in prison on charges that he raped and sexually abused his step-daughter for years, starting when she was a few years old. Those allegations did not emerge until the second girl's revelations of the assault in the closet.
It became clear in early evening that was it not an easy deliberation for the jury of four women and two men. Twice they had questions, or rather, requests. The first time was for the depositions of the two girls. But the depositions were never introduced as evidence. The judge told them they'd have to rely on their memories and notes. The second time they asked for a transcript of the two girls' long testimonies. They were told it would take hours, and possibly until Saturday, if then, for the transcripts to be ready.
Both questions and the length of the deliberations suggested the jury was having a difficult time gauging the veracity of the girls' testimonies. That was the defense's goal. But the timing was not propitious for prolonged deliberations–not on a Friday evening, less so on a Friday evening before a four-day weekend, and far less so on a Friday evening preceding the Christmas weekend. At 6:50 p.m., the jury told the court in a note that it was "undecided." When Circuit Judge Terence Perkins summoned the jury back out and asked the foreman to specify, he said: "Your honor, I think we're deadlocked."
Perkins gave the jury the standard instructions in such cases, requesting that each juror, back in the deliberation room, examine his or her weakest points before finally settling either on a verdict or on reaffirming deadlock.
Deadlock it was. The jury said so again at 7:15 p.m.
Fifteen minutes before the jury started its deliberations, a full rainbow could be seen to the northeast outside the courthouse windows, stretching from east to west. It was neither for Bowling nor for the victim, who attended every moment of the trial after her testimony, sitting in the first row next to an equally patient victim's advocate–and who endured Bowling's further denigration of her character and intelligence Thursday and today. The girl was clearly shaken by the outcome as she stood surrounded by the advocate, the prosecutor and others outside the courtroom afterward. In another trial, she would have to testify again, again relive what she says she was forced to do, again near Bowling putting her down, and watching her in court, from a few feet away.
Bowling for his part seemed little short of triumphant after the deadlock, giving his suit jacket and tie back to his attorney and exiting the courtroom, with a spring in his step.
The closet incident took place in the summer of 2016 in a Mondex home, where the 15 year old had gone for a sleepover with Bowling's step-daughter of the same age. After Bowling's wife and young niece had gone to sleep, Bowling invited himself to his step-daughter's bedroom (the words the prosecution used were "inserted himself") and started playing card and truth-or-dare games with the two girls.
At one point, according to the alleged victim, he was asking her to lift up her shirt, then to do it again without a bra. At another point he was on his stomach, getting a backrub, and complaining of the friend, whom he called "blondie here," that she wasn't helping. Finally, he ended up with the girl he called "blondie" in the closet twice, fondling her breasts, then masturbating inches from her face, holding her head–a detail similar to an identical instance alleged to involve his step-daughter–and ejaculating on her arm.
The girl had gone along, she said, because her friend, Bowling's step-daughter, was insisting that she play along so they could get a bottle of champagne Bowling had promised them.
Bowling, originally from Kentucky, where he'd met his step-daughter's mother and lived with her there for several years, testified in his own defense for some five hours between Thursday and Friday. He claimed the two girls conspired to make-up a story about him, because his daughter was worried that he would take the family back to Kentucky and split her from her boyfriend in Flagler. That was only one of the many Bowling stories the jury seemed not to have believed: his ex-wife–who could outdo Bowling's adamance but more matter-of-factly and without theatrics–had testified that she'd had no intention of returning to Kentucky, her whole family being here, and that her daughter knew it.
Bowling's ex-wife had also refuted several of his other claims, undermining his credibility at least as effectively than the defense tried to undermine the credibility of the stepdaughter.
Bowling tried to portray an Everyman demeanor on the stand, though it wore thin at times, frequently betraying something more akin to an aggrieved diva's seeing indecency and impudence in everyone but himself, and seeming to make no difference between a child's behavior and an adult's. Faced with accusations during his testimony, Bowling repeatedly turned tables to accuse either of the two girls of improprieties–his step-daughter of "humping" his leg sexually on two occasions, of walking in four times on him and his wife as they'd be having sex, of exposing herself on the internet, or accusing the other girl of being sexually precocious and verbally promiscuous about her conquests with boys, of having "something wrong with her" even though he'd also claimed not to have known her for more than a couple of hours.
The jury had to contend with an accumulation of disturbing circumstances that Bowling admitted to but unfailingly found ways to explain away, at least on his terms: he had flipped through an endless array of porn websites showing young girls flashing their breasts, on the phone he shared with his wife and, at times, his own daughter, because he was "doing research" to find out if his daughter had posted a flashing picture of herself on one of those sites. (He also disputed that those were "porn" sites, because people weren't engaged in actual sex in them.) He had photographed or filmed himself masturbating, using that same communal phone, as a gift to his wife, supposedly knowing that his step-daughter could access the images. Speaking of blood supposedly deposited at the foot of his bed–though that was not part of the state's evidence–he said it had been his stepdaughter's menstrual blood from a time when she was "reaching" for the remote across his body, while watching TV in his bed.
Beyond all that, the case for the prosecution came down to two drops of evidence. Bowling had left those two small stains of sperm that came back with his DNA, placing him in that closet, committing a sexual act to the end during a strange game of "Seven Minutes in Heaven," when he had closeted himself with his step-daughter's friend. The stains were "on the left wall, right where you'd expect to find it," Assistant State Prosecutor Melissa Clark told the jury in her closing argument this afternoon.
When Flagler County Sheriff's detective Dennis Lashbrook interviewed Bowling about the allegations, asking him why his sperm might be in that closet, Bowling, who was not aware that a Crime Scene Investigator had already collected swabs of the evidence, was as adamant as could be: it couldn't possibly be his.
"You were adamant, 'I've never been in my daughter's room or the closet with my wife having sex,' that's what you told Detective Lashbrook," Clark told Bowling when he was on the stand, quoting the interview, "'there ain't no reason it's in there.' That's what you told Detective Lashbrook. 'I don't remember being in there with [his wife] whatsoever. And again you're gesticulating, adamant, waving your arms."
Not only had he adamantly denied the possibility that there could ever be sperm in that closet. But he then claimed that he had done so because he did not want to discuss his private sexual encounters with his wife, to protect her honor. He did not want to "put it out there," even though he was being accused of molesting two minor girls, even though, as he put it at one point in court today (outside the jury's purview) "this is my life we're talking about."
Then, in front of the jury, he said what really happened: he was playing with his wife, trying to surprise or frighten her as she was coming out of the closet one day when his step-daughter and niece were asleep on the couch in the living room. His wife was startled, then got frisky, then gave him a "hand job" in the daughter's closet. Again, Bowling could not help himself from adding an additional detail that seemed entirely unnecessary (and hard to believe) but for its incrimination of his step-daughter's morality, as if to deflect from his: he claimed that even as his wife was vigorously servicing him, his stepdaughter appeared in the doorway and he and her locked eyes. His wife allegedly did not notice. Nor did she notice when he, despite his virility being otherwise engaged, closed the bedroom door, then somehow repositioned himself in the closet just so to manage to climax, his arousal apparently–and disturbingly–never imperiled by his daughter's appearance. Thus spake the human stains on the wall.
As one juror volunteered afterward, that had not been a believable story, and had contrasted too conveniently with Bowling's original statement to Lashbrook, the detective, when he had no idea that his DNA had left its calling card, and had been analyzed.
Next to hard evidence, inconsistencies are the raw materials of prosecutors and defense lawyers. Bill Bookhammer, Bowling's public defender, built his entire case on the inconsistencies of stories told between the two 15-year-old girls. The account of the daughter's friend seemed ironclad: she had come across well on the stand the very first morning of the trial, her voice frail and unsteady from the experience, but not given to strange contradictions or unexpected flights of the imagination. For that reason, Bookhammer barely referred to her testimony the rest of the trial. He focused instead on the step-daughter and her claims that she had been abused, trying from every angle to discredit her, thereby eliminating corroborating testimony for the other girl's account–and perhaps playing to Bowling's next trial.
It was a risky strategy, though Bookhammer had plenty to work with. In his closing, he displayed a two-page single-spaced list of more than a dozen "inconsistencies" between what one girl had said and what the other one had said, the alternating statements printed in blue and red. "If this was a murder case and you had two people giving completely different answers as to details of what happened, you would question the credibility of these witnesses, because these are not minor things," Bookhammer told the jury. "Seven major inconsistencies as to what happened that night, and we're only halfway there."
It worked, at least to the extent that the jury did not render a guilty verdict. But nor did it find Bowling not guilty.
Bowling was returned to the Flagler County jail, where he'll spend his second Christmas. He will mark his first anniversary there on Sunday. It is not yet clear when the charges will be retried, but absent a plea, there's a relatively short time limit when the case must be retried.