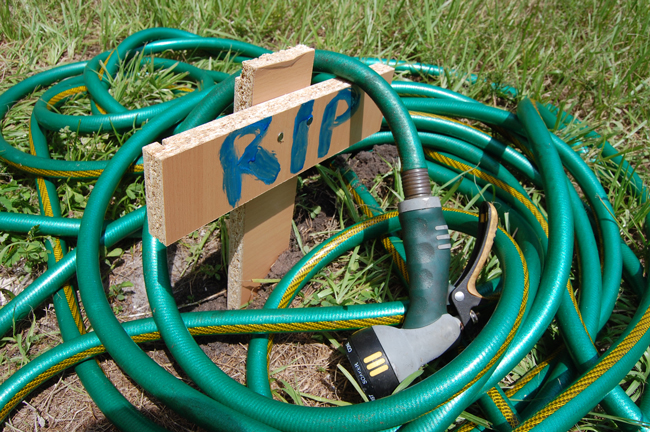 It's very simple, really: a 6-foot garden hose that, when filled with water, stretches to 30 feet. Your watering done, the hose shrinks back to its original size. No kinks, no mess, no hassles. "We've never shown it to anyone who didn't say, 'I want one,'" says MH Operations CEO Margaret Combs.
This evening, Combs will be in town as the Flagler County Commission is set to approve a deal that would rent to MH Operations, at deep discount, a 19,000-square-foot hangar and office facility at the county airport, where MH Operations plans to create 125 jobs over the next two years, manufacture the "microhose" in Flagler County, and ship it everywhere else.
For the county, getting a company into that 19,000-square-foot facility is something of a coup. The county built the hangar for Embry-Riddle Aeronautic University in 2004 in exchange for a 10-year lease. It was one of three buildings the county built for particular companies—the Ginn Co's bigger hangar and Cake Across America's smaller facility are the others—in exchange for long-term leases and the promise of well-paying jobs. All three enterprises flopped, leaving county taxpayers ultimately holding the bag for the mortgages on the buildings. (For now, the airport's own revenue is making payments on those buildings' notes, leaving taxpayers out of it, at least directly: taxpayers still own the airport). The airport was to be a hub of economic development. It's turned instead into a herd of white elephants. Embry-Riddle, however, bought out its lease, making back money for the county ($900,000).
Desperate for restarting economic activity at the airport, the county is prepared to rent the old Embry-Riddle hangar to MH Operations for just $2,000 a month from August through October 30, then for $5,000 a month for the following four months, then for $8,000 from March 2011 to February 2012. MH Operations would have the option of extending the agreement one year at $10,000 a month. The county is paying $111,000 a year in principal and interest on that building.
The county administration is also recommending spending $30,000 in public dollars upfront for fencing and parking lot improvements around the building, to facilitate the company's shipping operations. The state would also award MH Operations $48,000 under an economic incentive program that refunds the company $3,000 per job for creating jobs that pay better than 115 percent of the prevailing wage.
Clawing Back Against Deja Vu
Cakes Across America had a similar job-creation deal in exchange for a $500,000 grant the county used to build the cake company's building, but Cakes created just five of the promised 26. Earlier this month, the company abandoned the airport property. The county will look to recoup its loss by taking legal action. A car-rental company is looking at the building now, as is the county administration—for the new county employee health clinic.
---
Watch the Hose in Action (Microhose Video)[media id=82 width=400 height=300]
The hose is the invention of Gary Ragner and Robert deRochemont Jr., whose Gainesville-based Ragner Manufacturing was incorporated in 2001. The innovative hose has never been licensed or marketed before, so its Flagler County operation would be its debut. The company intends to market it through Direct Response Television—those 800 commercials you see on TV, sometimes taking up a whole half hour late at night. MH Operations is a 2010 start-up, incorporated in Florida last month. But MH Operations is also related to another company, Microhose LLC, incorporated in Kentucky. Microhose's website features deRochemont showing the innovative hose.
It also features an industrial building Microhose bought in 2009 to manufacture the hose there. According to an August 2009 sale agreement for the 48,000 square-foot facility, Microhose's Ragner Manufacturing bought the building for $250,000 on the promise of creating at least 125 jobs by January 2013, and the promise of retaining those jobs at least through 2015. If those terms aren't met, "clawback" terms kick in, and Ragner Manufacturing is required to pay an additional $250,000 for the building. (See the sale agreement, pages 51-55 of the pdf document.)
Combs, who described the clawback terms as a "second mortgage," said there are no immediate plans to start up an operation in Kentucky. If the jobs aren't created there, "then all we do is pay that second mortgage," Combs said. "There will be no outfit left in Kentucky," she said. "As of now, our first priority is to produce the consumer hose," and to do so with 125 jobs in Flagler County. The hose has big potential in industrial applications, Combs said. Those industrial applications may eventually be developed at the Kentucky facility, which Combs described as a temporary site.
"It is our intention to construct a new building in Flagler County," Combs said.
The County's Deal
If MH Operations is successful, it may have no choice but to leave the airport, because Federal Aviation Administration regulations set limits on how airport-based buildings may be used commercially for non-airport related purposes. The FAA is relaxing those regulations to allow communities to navigate through the recession. But ultimately, the old Embry Riddle hangar will have to revert to airport-related uses.
So what's the exposure for the county? "Very little," says County Administrator Craig Coffey. "That was a concern. We're going to offer the incentives and stuff, if you read my staff report, more as part of a package of a permanent location. I can't go out on a limb for a temporary facility. We essentially got them from Kentucky, and this is the second time. Like, with Palm Coast Data, we went over Colorado. Now we're winning over Kentucky, and I think that bodes well for us moving in the future. We've had competition and we won, because we've been more dynamic, we've come with different things."
Flagler County did not exactly "win" MH Operations over Kentucky. Combs, who gives credit to Enterprise Flagler (the county's private-public economic development partnership) for its persistence in pursuing MH Operations, stresses that the Kentucky operation and the Flagler operation are separate. MH Operations is locating in Flagler because three of its principals are in Florida, including Combs, who's been in Gainesville for five years. The company explored two other counties before settling on Flagler, after a Palm Coast Holdings executive, who's close MH Operations' principals, suggested they look here. It's also not clear how economic incentives in Flagler, however generous, would override the $250,000 incentive in Kentucky to produce 125 jobs there.
Pampering Enterprise Flagler
Coffey is going to some distance to make a connection between the success of landing MH Operations and Enterprise Flagler for two reasons: First, Enterprise Flagler Executive Director Greg Rawls is his old protégé; the two worked together in DeSoto County, where Coffey was the county administrator before coming to Flagler. Rawls followed him here. Rawls has been under criticism lately for leading an agency that few people know about, and that, for years, has had a poor track record as an engine of economic development. The MH Operations deal would be a useful counter-act to the criticism.
Second, Rawls and Enterprise Flagler are leading the campaign for the proposed tax referendum, on November's ballot, asking taxpayers to increase their property taxes in exchange for giving the county authority to build commercial or industrial facilities. The referendum is in trouble: most elected officials are unimpressed, so is the business community beyond core Chamber of Commerce types still pushing the initiative. Rawls plans to use the MH Operations deal as campaign fodder to reverse the referendum's fortunes.
So the hurried announcement of the deal is almost unquestionably tied to Rawls' and Enterprise Flagler's efforts to have something to show for their existence.
"We were going to wait to bring this lease actually to the board on September 8th ," Coffey said. "The company is doing its final thing with its investors, they've already received some money, the ink's not fully signed and everything, but they couldn't afford to wait the other two weeks, they need to get in business, get going, get operations started."
Locally, Enterprise Flagler came under withering criticism from the Palm Coast City Council last week for its lack of transparency and lack of results. The council asked for an accounting. Rawls is set to make just such an accounting to the council in a presentation tomorrow (Aug. 17)—conveniently, a day after the county's expected approval of the MH Operations deal and the strange singling out, in Coffey's memo to commissioners, of Rawls as the "bad itch" that made it happen. ("Enterprise Flagler could not have been more aggressive, more helpful," Combs said.)
MH Operations, in sum, is being used not only as fodder for Enterprise Flagler's campaign to rehabilitate itself, but also potentially as an example of a company for whom the county should help build a 50,000 square-foot facility down the line, should MH Operations prove successful and need to move off the airport grounds. "We are going to come out with more options for a permanent facility, and we can do a lot more if they're not on our airport property," Coffey said.
Like MH's magically expanding garden hose, the MH Operations deal with Flagler County is rich in its own expanding possibilities and ramifications when seen through the prism of Enterprise Flagler's struggles and the proposed tax referendum. As hose inventor deRochemont points out in his backyard video, however, the hose can shrink as quickly as it expands.