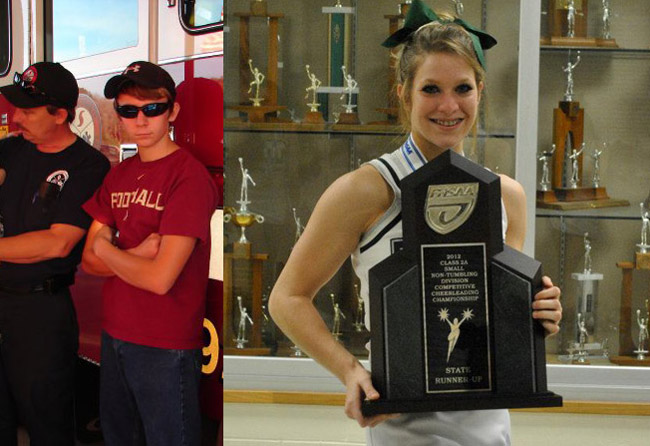 Note: The funeral service for Lane Burnsed was scheduled for Wednesday, Aug. 1, at 10 a.m., at First Baptist Church of Bunnell, 2301 Commerce Parkway. A graveside service at Espanola cemetery followed. People were then invited to Cattleman's Hall at the county fairgrounds.

Meredith Smith, a 17-year-old student and cheerleader at Flagler Palm Coast High School, and Lane Burnsed, a 19-year-old graduate of FPC, were killed Thursday night in a wreck involving at least three vehicles on I-95 in Ormond Beach.
Burnsed was at the wheel of a Ford F-150. Smith and one of her closest friends, Tuesday Coulter, 20, of Bunnell, were passengers. Early reports of the wreck indicate that Smith was in the center of a pack of vehicles when the wreck unfolded, essentially entrapping the F150 in what followed. They were driving south, two miles south of the State Road 40 intersection, the Florida Highway Patrol said.
Smith died at the scene. Burnsed was transported to Halifax hospital, where he died minutes after his father arrived at his bedside. His father, Jamey Burnsed, is a captain with Flagler County Fire Rescue. Smith is the daughter of Bob Smith, the public works director in Flagler Beach.
Louis Nicholas Prinzo, 22, of Ormond Beach, was at the wheel of a 4-door Ford involved in the crash. He was taken to Halifax with critical injuries, as was Doron Nirel Lyn, 30, of New York, who was at the wheel of a Chevy Blazer. None of the victims involved in the wreck were wearing seat belts, the highway patrol reports, with the exception of Burnsed.
"It is with great sadness that I must share with you the loss of one of our students," Lynette Shott, principal at Flagler Palm Coast High School, wrote the FPC Bulldog Family this morning. "Meredith was an involved and active student and this loss will be felt heavily. I would ask that your thoughts and prayers be with her family and friends during this difficult time. Details are still pending on the accident. We will share this information as it is received and impacts our FPC family. We are a tight knit community at FPC and the loss of any of our own is always difficult, especially so when it is a student."
A meeting of the FPC cheerleading team was set for 11 a.m. this morning at the school.
The loss of Meredith Smith and Lane Burnsed is rippling well beyond their families, a reflection of the innumerable live with which theirs were intertwined, and a shock of sorrow and empathy to any parent with children. Contacted for a different reason by a reporter this morning, a board member, was in tears, unable to contain her grief. At the Burnsed home, colleagues who have rallied by his and his wife Iola's side, were under the same emotional jolt.
Jamey Burnsed took a moment in mid-afternoon today to speak about his son. "He was generous. A big heart. And he loved the thought of being independent," Lane's father father said just before 4 p.m. Lane was planning to follow in his father's footsteps, to become a firefighter. "But he wanted to do that all by himself," Burnsed said. "That was his plan, was to get into the fire service." It might have been in Flagler, it might have been elsewhere. One of his great interests in life? "Shooting," his father said. "He'd shoot anything, from a sling shot to a bow and arrow to a machine gun. He shot it, and shot it well."
Burnsed added: "He was not afraid to challenge me in a respectful way. He made me make sure that I was right. That I knew what I was talking about. He didn't take a lot of BS from anybody, including his father."
Don Petito, Flagler County's fire chief, was with Burnsed's family through the night, leaving Halifax at 4 a.m. to return to the family home in Flagler County. "We spent the night in the hospital with him, we're arranging for lunches and drinks to be sent over there right now," Petito said. "We're going to post somebody at his house and provide whatever he needs," he said, referring to the captain. "Anything we can do for him, we're going to do it."
Funeral arrangements have not yet been set. They will be posted here as soon as they are made available.