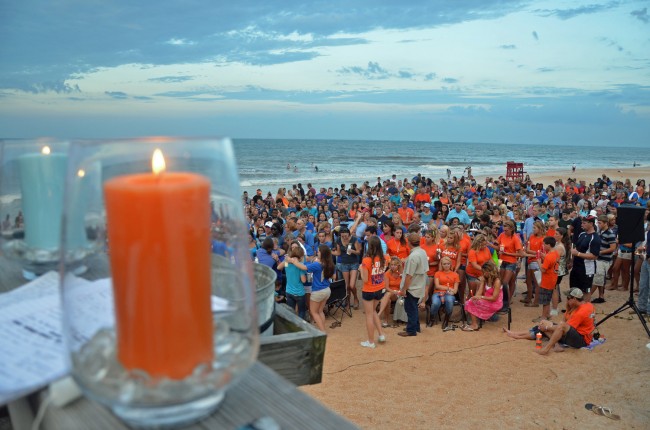 Some 300 people, most of them young like Lane Burnsed and Meredith Smith, turned out this evening for a candlelight vigil on the sands of Flagler Beach in memory of the 19 year old and the 17 year old killed Thursday evening in a wreck on I-95.
Their friends, friends of friends, classmates, friends of their parents and people who didn't necessarily know the teens but know the grief their parents and siblings are going through, formed a large, tight-knit huddle of orange and blue–orange was Lane's favorite color, blue was Meredith's–that circled around the teens' parents. One of the people in that crowd was Kirt Smith's sister: Kirt was just 15 when he was biking down Seminole Woods Boulevard with a friend one evening, and killed, almost a year ago, by a drunk driver.
The early evening's gray light was soon lit by countless candles, and an improvised sound system played songs that Meredith, a varsity cheerleader, and Lane, who was thinking of following in his father's footsteps as a fireman, had loved.
"When I received the news of the tragedy, just like the rest of you, I was devastated," Jessica Gendoes, 22, who organized the vigil with Emalee Imperio, 20, said. "I wanted to look at it in a positive way, and the least I wanted to do is get everyone together in one area and just be there for each other, and celebrate the lives that they had, and the memories and the laughter we shared with them. My hope for the whole gathering together was just to be supportive of one another. This is all a tragedy for all of us, and we all need the support and help that we can get. I can't thank you all enough for coming out here and paying your respects and condolences to the families. Lane and Meredith were two amazing individuals. They were taken too soon from all of us."
Jacob Oliva, the principal at Flagler Plam Coast High School until a few weeks ago, had known Meredith as her principal and as a teacher when she was at Wadsworth Elementary. "She's just one of those students that always stood out, was the star of every program, always had that smile," Oliva said. "Then you get to see them again at the high school, you're friends with their parents and you get to know them along the way, so it's a special relationship. It's a terrible tragedy."
"This is something you can never plan for, prepare for or get used to. It's unfortunate," he continued. "To lose a life of someone in their teens and to have so many years cut short, it's not fair. It's not the way it's supposed to work."
Oliva won't be at the high school when students return to class in less than three weeks. He's been promoted to the central office as Janet Valentine's deputy superintendent (she was also at the vigil, herself having spent the last several weeks helping her daughter recover from a shattering wreck on I-95). Today's vigil wasn't the kind of reunion the students had banked on. Oliva predicted a roller-coaster of emotions, but his advice to them was not to do it alone. "We've got plenty of adults and counselors and friends and family, and to seek their support networks and take care of themselves."
Over the weekend the cheerleaders met together with their coach and Oliva and "were able to remember some of the positive things about Meredith, It was a great assembly," Oliva said.
During the vigil, Oliva had addressed the crowd and, inspiring himself from the words of Dave Frohnmayer (the president of the University of Oregon who delivered a moving tribute during a candlelight vigil three days after the 9/11 attacks), had spoken of the vigil as, "by its own definition and our intention, a remembrance of the loss of life of two of our every own, Meredith Smith and Lane Burnsed. The candles that are soon to be lit, bright and flaming, yet small and extinguishable, will burn with many emotions, and the candles will reflect light in a time of darkness."
Deylon Bitner, Meredith's boyfriend of almost nine months–they were best friends since middle school–has been contending with the loss for the last few days. "It's been a blank memory. I don't really know what to do, know what to act, know how to be or anything. I freeze up at times, just lost," he said by phone earlier in the day. "I want you guys to know her as the fun, outgoing girl who never really cared about what anyone thought of her, and did as she wanted to live her life, and how she was going to go far and do so much. She was an amazing girl." She was intent on applying at Princeton University to study business and marketing.
Meredith's mother had come to Deylon's door at 7 a.m. Friday morning to give the terrible news. The previous evening, Deylon and Meredith had been texting steadily, and suddenly the texts stopped. Deylon thought Meredith's phone's battery had run out. He kept texting, then went to bed, thinking there'd be a text from her in the morning.