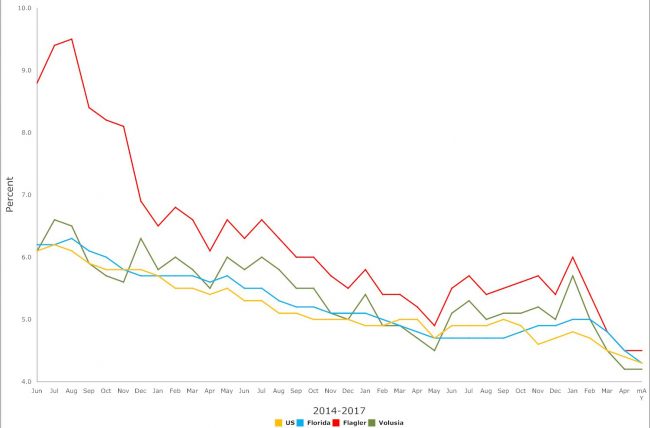 Death and taxes are certain. So are recessions. And with the national economy on its record 80th month of job growth, it's a matter of time before the next recession hits: it has more to do with the laws of economics than with the occupant of the White House. So enjoy the good numbers while they last. There were more of them in the May unemployment report for Flagler County and Florida.
Unemployment in Flagler stayed flat at 4.5 percent, a post-recession record low, even as the county added some 250 working-age people to a labor force total of 46,068. That's because 300 more people got jobs over the month. The number of unemployed persons–2,065–was essentially unchanged compared with April, but it's down by 250 people from a year ago. The total number of people with jobs rose to 44,000, a local record, and an increase of 1,200 compared with a year ago. The county's population is just over 100,000. A sixth of that population is under 18.
The figures reflect all employment, including part-time work (a worker need only have registered one hour of work to be considered employed during the period). And they are not necessarily Flagler County or Palm Coast-based jobs, but rather reflect the number of people with jobs who happen to live in the county. The unemployment rate is also not reflective of the people who have dropped out of the workforce. When all those factors are combined into what the federal Department of Labor and the Bureau of Labor Statistics call the alternative unemployment rate–which includes the under-employed and those employed part-time for economic reasons, because they couldn't find full-time work–the Florida unemployment or underemployment rate jumps to around 10 percent. The alternative rate is not broken down by county.
Florida's seasonally adjusted unemployment rate fell to a post-recession record low of 4.3 percent, matching the national rate in May. The state added 29,600 jobs for a total of 228,000 new jobs over the year, a healthy clip aided in large part with the addition of 7,700 government jobs, some 4,000 of them in local governments. Gov. Rick Scott touted the new unemployment numbers but again excluded mention of government jobs, saying, inaccurately, that "nearly 22,000 jobs were created across our state last month," even though the unemployment numbers he cited reflected the overall job-creation figures, including government jobs.
Other sectors that saw healthy job growth include professional and business services (12,300 jobs) and leisure and hospitality (6,200 jobs), though the latter tend to be low-wage jobs. Manufacturing lost 500 jobs, and construction gained an anemic 500.
The full report is below.